| | | | |
| --- | --- | --- | --- |
| Martin's Quick Briefing | For more tips, alerts & inevitable awful puns follow Martin: | | |

Our recent Boost Your Credit Score tips led many to report annoyance at not getting advertised APRs and then being stuck. Here are 10 tips to beat that...

1.
Beware the vicious circle of applications. Almost every card & loan is now 'representative APR', meaning only 51% of accepted applicants must get the advertised rate. The rest get much costlier deals. How do you find out? You must apply, but each application hits your credit score - a vicious circle.
2.
New 'can I get 0% credit?' no-fingerprints tests. A few lenders now do 'quotation' or 'soft' searches which indicate likely acceptance without marking your file (you may see it, lenders won't).

This lets you test if you can get credit with no consequence. We applaud this, and more lenders should follow suit, so let's celebrate them...
3.
Check if you can shift debts to 15mths 0% low-fee (no fingerprints). The Fluid* credit card lets accepted customers shift existing card debts to it at 15mths 0% for a market-low 1.5% fee. Do try to clear the debt before the 0% ends or the rate jumps to 18.9% representative APR.

Uniquely, this card lets you pre-apply, so you'll know your likely chance of being accepted (or not) for the 0% without marking your credit file.

Longer 0%s are available. Barclaycard* is 22mth 0%, for a 2.9% fee and 17.9% rep APR after, but its apps hit your file. Full best buys: Top Balance Transfers (Official APRs).
4.
Lock-in debts at 5.9% for life if you're accepted. Here, applications will go on your file, but if you're accepted for MBNA Rate for Life*, all debts shifted to it within 60 days are at a guaranteed 5.9% APR (1.5% fee) until repaid, ie, NOT representative rates. Don't miss your monthly min repayments though, or you'll lose the deal, and beware spending as it's at a much higher rate.
5.
Check you can get a cheap loan (no fingerprints). For loans over £7,500, Nationwide* is 6.8% representative APR or 6.3% for existing customers (it gets costlier for very large amounts) and it does a soft search, so you'll get a strong indication of the rate without it hitting your credit file (it could still reject you after). To compare it to the very best buys, see Cheap Loans.
6.
Compare cards and find which will accept you (no fingerprints). We're not a fan of credit card comparisons, as it's just as much about how you use cards as the rate. Yet MoneySup's Smartsearch* can predict likely acceptance from the 30 providers it compares. Then follow our 0% purchases, balance transfer & cashback card guides to ensure you use it correctly.
7.
What lenders really know about you... What's on your credit file? Addresses, CCJs/bankruptcies, 6 years' credit history, credit applications, some utility history. What's not on it? Criminal records, parking or speeding fines, your race/religion, savings, salary, CSA info, student loans, credit rejections, PPI or bank charge reclaims.
8.
Earn £100 cashback and (re)build your credit score. A key to (re)building credit worthiness is proving you can behave well, by getting a credit card and never missing a repayment. Of course, the difficulty is getting the card.

Aqua Reward* is aimed at poor credit scorers, even some with CCJs/defaults over a year old pass its credit score (applications go on your file). It uniquely pays a big 3% cashback on all spending (max £100/yr). However, it's a horrid 34.9% rep APR, so ALWAYS fully repay each month to avoid interest (& never withdraw cash). More options in Bad-Credit Credit Cards help.
9.
Checking your credit files doesn't go on your credit file. It's important to regularly check (see how to Check Your Files For Free) to spot any errors. When you do, you'll often see how many times you've checked in the past. Many worry this hurts them, but ONLY YOU see this, lenders don't.
10.
Don't worry, insurance comparisons are no fingerprints. Our Slash Car Insurance Costs and Home Insurance guides are big advocates of combining comparison sites. These often involve quotes for credit (if you want to pay monthly), but Experian confirms comparisons only use soft searches, so while they may appear on your file, lenders won't see them.

If this site or email has ever helped you, please forward this email to friends and suggest they get it themselves via moneysavingexpert.com/tips.

 
| | |
| --- | --- |
| The Ones Not To Miss | Wed 22 Aug 2012 |

Savings rates crashing - check yours now
The average savings account now pays just 1.1%, but push hard and you can earn over 4%
Increasing economic gloom's depressed long-term interest rates & savers are suffering, with rates slashed across the board. Last month's easy access best buy was 3.2%, now it's 3.06%. Check yours ASAP. All below have £85K UK Savings Protection.
Ensure you're getting at least 3% variable AER. If not, you're losing out as there are savings accounts that pay more AND allow you to put money in and take it out whenever you want. Derbyshire Building Society* (part of Nationwide) is 3.06% AER, though if you've over £20,000 you can get 3.07% AER with AA Savings. These interest rates include year-long bonuses, so plummet after. Diarise to ditch & switch. Full info & options in Top Savings.
Earn up to 4.06% AER if you can lock cash away. Fixed savings pay higher guaranteed rates, but you can't withdraw cash. Even here, rates have plummeted recently. Full best buys in Top Fixed Savings, but the highest are: 5yrs Vanquis Bank* 4.06%; 4yrs Halifax* 3.9%; 3yrs AA Savings 4%; 2yrs Shawbrook Bank (min £5k) 3.8%; 1yr Cahoot* (min £25k) 3.6%.
New cheap iPhone tool
Find one to suit your budget | 'Free' iPhone for £26/mth | Flog old iPhone NOW for max cash
Rumours are rife Apple may release the iPhone 5 in Sept. To stay ahead of the game once it's out, we've launched our new Cheap iPhone Tool with all current models and iPhones. Of course iPhones aren't money-saving, you'd be better off with our Cheap Mobiles guide. But if you're going to get one, at least do it cheapest. Coming soon: Cheap Samsung Galaxy tool.
New Cheap iPhone tool. Lets you find cheap iPhone tariffs with the right mins, texts & data. Or set what you can pay upfront & monthly and click show me what I can afford.
Current top iPhone 4S deals. No upfront cost: Vodafone* is £26/month with 100mins, 500texts and 250MB data, but on a two-year deal. Short contract: If you can pay £335 upfront, Tesco's* £25/mth with 250mins, 5,000texts and 1GB on a year contract, so you can unlock & switch to a cheap Sim-only tariff sooner. See all iPhone Best Buys.
Sell old iPhones now to get max value. You usually get top price for flogging old models in the months around a new iPhone launch. The MobileValuer finds top prices for working and faulty handsets, eg, iPhone 4 16GB best £228 for mint phones, worst £88.
Free £100 to get the KING of bank accounts

Revealed - is your account a dud or delight? The UK's best and worst current accounts
Even corking rates can't make up for crap service. Almost 10,000 voters in our latest poll show there's massive variance. If yours is poor, ditch & switch (you'll need to pass its credit score). Full info, including high payers with poorer service, in Best Bank Accounts. Here are the winners...
Is your bank a dud or delight?
 
Great
Poor
First Direct
91%
1%
Co-op
79%
4%
Nationwide
61%
7%
HSBC
42%
15%
Lloyds
39%
16%
Barclays
37%
16%
NatWest/RBS
34%
21%
Bank of Scotland
34%
23%
Halifax
33%
18%
Santander
32%
26%
Ulster
15%
61%
Six-monthly customer service poll. 9,403 votes. Bank Service News
GOLD (91% great) and free £100. Min salary: £23,000. First Direct's* fee-free account's won EVERY poll we've ever done, crowning it King. Right now, it pays switchers £100 and offers a 0% overdraft up to £250 (15.9% above). There's no in-credit interest, but the account gives access to its 8% regular savings.
SILVER (79% great) and top ethical account. Min salary: £10,400. The Co-Op* fee-free account is Ethical Consumer's top pick. Its fee-charging accounts are also worth a look, providing you'll use all the features. For £9.50/mth* it gives family worldwide travel insurance and insurance for mobile phones, for £13/mth* you get breakdown too.
BRONZE (61% great) and free travel insurance. Min salary: £9,600. Also high on the ethical scale, Nationwide* gives free Europe travel insurance (up to age 75) on its fee-free account. Plus lets you to open its 6% regular saver. Do also check if your local Credit Union offers daily banking.
the moneysaving community
Free Met Police Little Book of Big Scams
Go to the Met Police website for fraud alerts, latest news and to download its free Little Book of Big Scams. Every year, UK consumers lose billions of pounds via online, mail, door-to-door and telephone scams. You'll also find info on how to protect yourself in the MSE guide: 25 Tips To Stop Scams.
Suggest a campaign: This space is for MSE to support the work being done by other charities, community groups and campaigners. Send your Campaign of the Week suggestion.
Thursday 23 August
Lorraine, ITV1, between 8.30am & 9.30am. Real Deals.

Shelagh Fogarty, Radio 5, 12-1pm.
Consumer Panel.

Tuesday, 28 August
Daybreak, ITV1, between 7am & 8.30am. Subject tbc.

All Martin's Appearances

UK's Best Currency Rates
£100 will buy you:
Best
Worst
€
126.51
115.54
$
156.76
142.68
TL
275.75
247.42
Rates correct at 4pm Tue
Find all top currency rates
Compare travel cash

This week's poll: Is it time to end 'free' banking?

Some policy wonks are calling for the end of 'free' banking (it's not really free, it's just fee-free for those in credit). They say banks would mis-sell less, as they wouldn't need to flog as many other products to subsidise it.

So, a simple choice: would you change things?

First Direct triumphed once again, with 91% of its customers receiving great service (up very slightly from 90% from 6 mths ago).

New bottom of the pile is Ulster after its recent IT issues, with a huge 61% voting it poor. See Full Results.

Q: I am a single person with a mortgage and have three spare bedrooms. Can I rent out rooms without having to pay any tax? Terence, by email.

MSE Archna's A: Renting a room is income, like any other, so sadly you can't just rent a room out tax-free. However, there are two options to legitimately reduce tax, but you must choose one.

A. The 'rent a room' scheme means you can take in a lodger(s) to live in a furnished room in your home, and won't pay tax on the first £4,250 of income each year - above that, you pay tax at your normal rate.
B. Alternatively, HMRC allows landlords to deduct mortgage interest costs and certain other expenses from any rental income. This can be a bigger saving in some cases. See Directgov's info about allowances on rental income.

Please suggest a Question of the Week (we can't reply to individual emails).
007 - The Business of Bond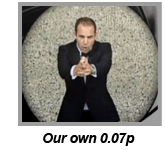 The makers of the Bond films really take "you only live twice" to heart, spending megabucks (but they make it too). This fun graph shows what each Bond film cost and how much it brought in at the box office: Diamonds are forever
We hope you save some money,
Martin & the MSE team
Important. Please read how MoneySavingExpert.com works
We think it's important you understand the strengths and limitations of this email and the site. We're a journalistic website, and aim to provide the best MoneySaving guides, tips, tools and techniques - but can't guarantee to be perfect, so do note you use the information at your own risk and we can't accept liability if things go wrong.

What you need to know

This info does not constitute financial advice, always do your own research on top to ensure it's right for your specific circumstances - and remember we focus on rates not service.


We don't as a general policy investigate the solvency of companies mentioned, how likely they are to go bust, but there is a risk any company can struggle and it's rarely made public until it's too late (see the section 75 guide for protection tips).


We often link to other websites, but we can't be responsible for their content.


Always remember anyone can post on the MSE forums, so it can be very different from our opinion.


Please read the Full Terms & Conditions, Privacy Policy and how this site is financed. Martin Lewis, MSE, Money Saving Expert, MoneySavingExpert and Moneysavingexpert.com are registered trademarks belonging to Martin S Lewis.
More about MoneySaving Expert and Martin Lewis
What is MoneySavingExpert.com?

Founded in February 2003, it's now the UK's biggest consumer help website with over 6 million people getting this email and nearly 10m using the site. Its focus is simple: how to save cash and fight for financial justice on anything and everything. The site has over 30 full time staff about half of whom are editorial researching, analysing and writing to continually find ways to save money. More info: See About MSE
Who is Martin Lewis?
Martin set up and runs MSE, he's an ultra-focused money saving journalist and consumer campaigner. He has regular slots on Daybreak, Lorraine, Radio 2 Vine, BBC1 Watchdog, Radio 5 Consumer panel and presents ITV Tonight. He is a columnist for amongst others the Sunday Post as well as an author. More info: See Martin Lewis' biog
What do the links with a * mean?
Any links with a * by them are affiliated, which means get a product via this link and a contribution may be made to MoneySavingExpert.com, which helps it stay free to use. You shouldn't notice any difference; the links don't impact the product at all and the editorial line (the things we write) isn't changed due to it. If it isn't possible to get an affiliate link for the best product, it's still included in the same way. More info: See how this site is financed.
As we believe transparency is important, we're including the following 'un-affiliated' web-addresses for content too:

Unaffiliated web-addresses for links in this email

card.fluid.co.uk, barclaycard.co.uk, apply.mbna.co.uk, nationwide.co.uk, moneysupermarket.com, aquacard.co.uk, thederbyshire.co.uk, theaa.com, securetrustbank.com, cahoot.com, affordablemobiles.co.uk, phone-shop.tesco.com, firstdirect.com, co-operativebank.co.uk, my.edfenergy.com, energyhelpline.com, uswitch.com, confused.com, directline.com, aviva.co.uk, admiral.com, money.marksandspencer.com, sainsburysbank.co.uk, santander-products.co.uk, carrentals.co.uk, kayak.co.uk, holidayautos.co.uk, coverbox.co.uk, ikubeinsurance.com, co-operativeinsurance.co.uk, energyhelpline.com, comparethemarket.com, homephonechoices.co.uk, productsandservices.bt.com.

Financial Services Authority (FSA) Note
Referring people to insurers or insurance intermediaries can in some circumstances require FSA authorisation. For this reason, Martin Lewis of Shepherd's Studios, Charecroft Way, Shepherd's Bush, London W14 0EH is authorised and regulated by the Financial Services Authority.
To change your E-mail or stop receiving the weekly tips (unsubscribe): Go to: www.moneysavingexpert.com/tips