Drive down insurance, petrol, MOT & more motoring costs





Owning and running a car is pricey. So as well as knowing the official Highway Code to stay safe, everyone should know our rules for MoneySaving motoring. Fasten your seatbelt and check out our exhaustive tips so costs don't send you into a spin ahead of the bank holiday getaway. In all, we've 50+ Motoring MoneySaving tips, here are the 16 biggies...

CHECK your photo driving licence or risk a £1,000 fine. You might think you haven't aged, but over 2m face a penalty for out-of-date photos. See photo licence alert.

NEVER auto-renew car insurance - compare quotes at speed. With prices up 11% in the past year, it's never been more vital to keep costs in check. Renewal prices are almost always hideous, so use comparison sites to find your best price. As they don't all search the same insurers, the best route is to follow our order and use as many as possible.

Our current order's: 1) MoneySupermarket* 2) Gocompare* 3) Confused.com* 4) CTM* (Why? See comparison order.)

Yet there are some hot deals and insurers they miss, eg:
- Age UK*, get a £50 M&S gift card (sent within 120 days of policy start date).
- Also try Aviva* and Direct Line* which aren't on comparison sites.

We're not saying these will be cheapest, but they're worth trying and comparing with the best comparison results.

You could save even if not at renewal...

- Less than 2mths from renewal? Some firms such as Aviva* and More Than* give quotes valid for 45-60 days (see full list of long-quote insurers). So get one now, then check against the best deals at renewal time.

- 2mths+ away? If you've not claimed, you can usually cancel for a £50ish fee and get a pro-rata refund. So check if you can find a cheaper policy than you've got and do the maths to see if switching mid-policy works out.

SLASH car insurance further with our counter-logical tricks. How risky you're perceived to be by insurers - ie, how likely they think you are to claim - affects costs, so it's about making yourself look less risky...

- Use trial and error to see if comprehensive's cheaper than 3rd party.
- Save by legitimately tweaking your job title. Ratatatat did: "Went from accountant to auditor - I'm both. Saved £60."
- Adding mum, dad or Aunt Dot can save £1,000s. If they're a lower risk, it can bring the average down; especially when adding a responsible older driver if you're young. See adding extra drivers.

FIND the cheapest petrol or diesel in seconds. A nifty tool finds the cheapest forecourt near you. Differences can be huge, eg, in Manchester, 111.9p to 123.9p. Petrol price comparison

GET full breakdown cover from £43, basic from £22. For full cover, AutoAid* is our top pick - it covers any car you, your spouse or civil partner drive, for £43.31/yr. Unlike most basic policies, it covers for home breakdown, plus onward travel if stuck elsewhere. An equiv AA policy is £100+.

If you don't need such comprehensive cover, see how to get AA/RAC cover from £22. More help and tips in Cheap Breakdown Cover.

HAGGLE when renewing AA, RAC etc cover. These are among the easiest firms to haggle with. In our last annual poll, the AA was the top service provider to haggle with, with 86% of those who tried succeeding. RAC was 85%. Jacqueline emailed: "Thanks. I cut my RAC bill by £144 simply by haggling." See our breakdown haggling tips.

APPLY for an emissions sticker if driving to major French cities or risk a £60+ fine. Should arrive within 10 days (but best to apply earlier to be safe). How to get one and why

RIDE your way to motorbike insurance savings. It's not just car insurance - you can also slash bills if you're on a motorbike or scooter. See our motorbike insurance cost-cutting system, including the best comparison sites to use.

IMPROVE your driving to slash petrol costs by 30%. Drive clever and you drive cheap. 7 tricks to use less fuel

TEST your car before your MOT. Many fail needlessly, yet a simple 5min check can fix that. 9 pre-MOT checks

FIND hidden 'fewer fails' MOT centres. Council MOT centres are mainly for buses and ambulances, but are also open to the public. As they don't do repairs, there's no vested interest to fail you. Our Council MOT Centres Help shows your nearest and how it works. Faye tweeted: "Thanks for the council MOT tip, our car flew straight through. #whoop."

DON'T believe private parking firm 'fines' - they're just invoices. Yet many will try to make you think they're council tickets. Some will even call them Parking Charge Notices to mimic official Penalty Charge Notices.

If you do get a private ticket and it's unfair, you can fight it; see our Fight Unfair PRIVATE Parking Tickets guide.

ALWAYS challenge unfair council parking tickets. Even after initial rejection, 56% WIN. Council tickets are fines, but they can still be given unfairly. If that happens to you, take them on. See Fight Unfair COUNCIL Parking Tickets.

QUIT smoking in your car if you've kids with you - or risk a £50-£100 fine. Quite apart from the health risks, it's illegal to smoke in a vehicle in Eng, Scot and Wal if there's an under-18 in it. You could be fined £50 in Eng/Wal or £100 in Scot - the ban's not yet in force in NI but one's coming.

KEEP your motor in top nick with a Halfords FREE '£15' summer car check. Get a totally free six-point inspection including oil levels, air conditioning, bulbs and a free screenwash top-up. See Halfords car check.

ASSESS if your caravan needs cover. Car insurance usually only gives you the minimum third-party cover if your caravan damages someone else's property. Check our top tips to see if it's worth adding comprehensive caravan insurance.
Saved cash? Shout it from the rooftops.
If this email's ever helped you, please forward it to friends and suggest they get it via moneysavingexpert.com/tips.
Used right, they're a key weapon to STOP paying credit card interest, but there's a crackdown on cheap credit
With a balance transfer, you get a new card that pays off existing store/credit card debt, so you owe it instead but at 0%, making you debt-free quicker, as repayments cover debt, not interest. Yet 0% lengths started getting shorter after the Bank of England warned in July that lenders may be dishing out too much cheap credit. Of our top picks, in May you could get 0% for a max of 43mths, now it's 40. So if a balance transfer is right for you, why wait in case top deals worsen?
- Will you be accepted? Don't just apply, our Balance Transfer Quick Eligibility Calc shows which cards you've best odds of getting, or our FULL Credit Club will give you your free Credit Report and Credit and Affordability Scores. Both do a 'soft' search on your credit file that lenders can't act on, so there's no impact on your creditworthiness. And for some cards you can be 'pre-approved', meaning you'll definitely get the card & offer shown, subject to an ID check.
TOP PICK 0% NEW-CARDHOLDER BALANCE TRANSFER CARDS
CARD
0% LENGTH (APR AFTER 0% ENDS)
TRANSFER FEE (1) + PERK
Barclaycard (eligibility calc incl pre-approval / apply*) - Longest 0% card, but it's an 'up to'
Up to 40mths (19.9%)
1.68% (2)
MBNA (eligibility calc incl pre-approval / apply*) - Next-longest 0% card, again an 'up to'
Up to 39mths (20.9%)
1.48%
Lloyds Bank (eligibility calc / apply*) - Low fee + £20 cashback on £100+ transfers, but it's an 'up to' (3)
Up to 33mths (18.9%)
0.58% + £20 cashback (2)
Sainsbury's Bank (eligibility calc / apply*) - Low fee + £20 cashback on £1k+ transfers
33mths (18.9%)
0.59% + £20 cashback (2)
Halifax (eligibility calc / apply*) - Longest-ever NO FEE card but it's an 'up to' (3)
Up to 29mths (18.9%)
None
Sainsbury's Bank (eligibility calc / apply*) - Longest 'non up to' NO FEE card
28mths (18.9%)
None (2)
Barclaycard (eligibility calc / apply*) - For those with a limited credit history
18mths (24.9%)
2.99%
(1) % of debt shifted. (2) You pay a higher fee upfront & it'll be refunded to the level shown (3) Pre-approval available for Lloyds and Halifax cards if you're a current account cust. Full info: Best Balance Transfers (APR Examples).
Tip 1: Go for the lowest fee in the time you're sure you can repay. Calculate how long you need to clear the debt, add a bit for safety, then pick the lowest fee within that time. Unsure? Play safe and go long, even with a bigger fee.

Tip 2: Some have an 'up to' 0% length, so you may get a shorter deal even if accepted. That's why we include the best 'non up to' options, where you'll get that length if accepted (our eligibility calc says if you've good odds).

Balance Transfer Golden Rules. Full help and ALL best buys: Balance Transfers (APR Examples).
a) Never miss the min monthly repayment, or you could lose the 0% deal and it'll cost far more.
b) Clear the card or balance-transfer again before the 0% ends, or the rate rockets to the higher APR.
c) Don't spend/withdraw cash on these. It usually isn't at the cheap rate and cash withdrawals hit your creditworthiness.
d) You must usually do the balance transfer within 30, 60 or 90 days to get the 0% and cashback.
One of many hot deals in our new Broadband Unbundled comparison tool which blows open the complex market
The secret to slashing the cost of up-to-£600/yr broadband and line is pouncing on short-lived promos - this week, a top BT fast fibre and a top Sky standard-speed deal are ending. Both are in our new Broadband Unbundled comparison tool we launched last week, which shows YOUR cheapest deal - and we've added new features this week based on your feedback.
The ultimate b'band, line & TV comparison. Our new Broadband Unbundled tool compares 13 providers' deals, our Blagged deals and others' top exclusives to show which are available in your postcode. Plus it shows if it's cheaper to use a different provider for TV than for b'band and line - ie, unbundling. And following your feedback we've made it even better by adding firms' customer service ratings and more. While it works well, if there's anything you'd like improved, let us know via feedback@moneysavingexpert.com.

Ends 11.59pm Thu. BT fibre b'band & line rental '£14.74/mth'. Via this BT link*, new BT broadband customers can apply for this 1yr deal and get up-to-52Mb speed fibre (3x normal) with unlimited downloads. Fibre's best for heavy downloading, streaming, gaming or multiple users. Here's how it works...

- It's available to 83% of the UK. It depends on your postcode - you're told if you can get it when applying (or use Broadband Unbundled which only shows deals available in your area).
- Choose to pay line rent upfront if you can afford to. It's cheapest to pay £208.80 for the 12mths (you must opt for this at sign-up) or it's the usual £18.99/mth. Either way, you get inclusive weekend landline calls - see BT call costs.
- Discounted fibre is £9/mth for the year. A huge reduction on the standard £31/mth.
- £9.99 set-up, usually £59.99. Again, a big discount on standard costs.
- Get £150 on a prepaid Mastercard that you MUST claim. Annoyingly, as BT won't remind you, diarise to use this Mastercard claim link within 3mths of activation (takes up to 45 days after to arrive).

Cost analysis: It's a steal. You pay £326.79 over the year before calls, if you pay line rent upfront. But claim and use the Mastercard (as good as cash where it's accepted) and it's a net £176.79 cost, equiv to £14.74/mth. Pay line rent monthly, it's equiv to £16.33/mth. See full BT fibre info.

Anything else? It's possible BT could hike prices, but you may be able to leave penalty-free if so. Plus you can sometimes get bigger cashback via a top cashback site - but prices and lengths can vary.

Ends 11.59pm Fri. Don't need fibre? Get up-to-17Mb b'band & line for equiv £11.17/mth. We've blagged this 1yr Sky deal for anyone who's not had Sky broadband, line or TV in the past year. Already got a code for this? You must use it by Fri as well. If you can't get it, check Broadband Unbundled for top alternatives.
Tell your friends about us
They can get this email free every week
Chris's story shows just how easy it can be to get your money back if wrongly flogged paid-for bank accounts...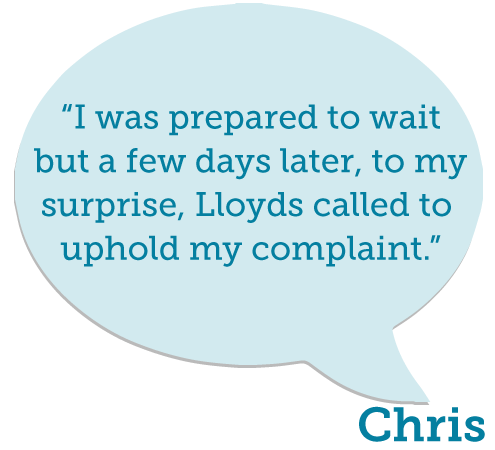 "Looking at your email I saw the section about packaged accounts. I remembered I had my Classic Lloyds account upgraded to the paid-for Platinum account 10 years ago when I applied for a loan - I was told it was best.
"But I wasn't using the 'benefits' as I had RAC breakdown cover, while medical conditions meant I needed special travel insurance, so I later downgraded as it clearly wasn't right for me.
"So after your email I filled in the Resolver complaint info on a Saturday. I was prepared to wait a few weeks but to my surprise I got a call on the Monday from Lloyds asking some questions and I was honest that I couldn't remember some of the details 10 years on. I was told there'd be a decision by the end of the week.
"On the Tuesday Lloyds called to uphold my complaint. It agreed the account wasn't right for me, and would refund all my payments plus 8% interest. That's £435 to be transferred to my account within two days. Thank you MSE."
Packaged accounts are where you pay a monthly fee for 'benefits' such as travel, mobile and breakdown insurance, but millions were mis-sold. If you think you've been a victim too, see Reclaim Packaged Bank Account Fees For FREE.
THIS WEEK'S POLL
What puts you off / frustrates you about switching energy? During the election, we were gobsmacked when the man in charge of UK energy policy, business secretary Greg Clark, said: "I haven't switched, one of the reasons is... it is quite a hassle." If he's never switched, how does he know it's too much hassle? We want to find out what - if anything - puts you off switching (even if you do it regularly). What puts you off / frustrates you about switching energy?
Frequent flyer status helps scoring upgrades... In last week's poll we asked if you've ever had a free flight upgrade. From the 8,542 responses, perhaps unsurprisingly, more with significant frequent flyer status had an upgrade with no questions asked - yet many without still did it too. See how common free flight upgrades are.
MARTIN'S APPEARANCES (WED 23 AUG ONWARD)
23, 24, 28 and 29 Aug - Countdown, Channel 4, 2.10pm
MSE TEAM APPEARANCES (MOST SUBJECTS TBC)
Wed 23 Aug - BBC Radio 5 Live, Wake Up to Money, 5.45am
Wed 23 Aug - BBC Breakfast, 6.50am
Fri 25 Aug - BBC South West stations, breakfast, top credit card deals
Tue 29 Aug - BBC Radio Cambridgeshire, 2.20pm
QUESTION OF THE WEEK
Q: Can a 17-year-old have a cash junior ISA and a normal cash ISA in the same tax year? Suzie, via email.

MSE Karl's A: Yes. Those aged 16 or 17 can open and pay into a normal cash ISA and a junior ISA in the same tax year. That's because normal cash ISAs are for those aged 16+ and junior ISAs for those under 18, so there's that two-year crossover.
When you turn 18, the junior ISA automatically becomes a normal cash ISA. At that point, while you can have two cash ISAs at the same time, you can only pay into one per tax year.
Lots more help - and best buys - can be found in our Cash ISA and Junior ISA guides.
Please suggest a question of the week (we can't reply to individual emails).
'Got a letter saying my 0.01% savings rate was being upgraded to 0.05%.'
That's it for this week, but before we go... what's been the most pointless upgrade you've ever had? If it's anything like MSE Helen's interest rate increase (for an account she doesn't use) it's hardly worth writing home about. Or there's Lauren who told us: "Got a letter from a credit card provider, telling me that as I was a 'valued customer' they were upping my limit from £350 to... £350." Let us know your most pointless upgrade in our Facebook post.
We hope you save some money,
The MSE team
We think it's important you understand the strengths and limitations of this email and the site. We're a journalistic website, and aim to provide the best MoneySaving guides, tips, tools and techniques - but can't promise to be perfect, so do note you use the information at your own risk and we can't accept liability if things go wrong.
What you need to know
This info does not constitute financial advice, always do your own research on top to ensure it's right for your specific circumstances - and remember we focus on rates not service.
We don't as a general policy investigate the solvency of companies mentioned, how likely they are to go bust, but there is a risk any company can struggle and it's rarely made public until it's too late (see the Section 75 guide for protection tips).
We often link to other websites, but can't be responsible for their content.
Always remember anyone can post on the MSE forums, so it can be very different from our opinion.
Please read the Full Terms & Conditions, Privacy Policy, How This Site is Financed and Editorial Code. Martin Lewis is a registered trade mark belonging to Martin S Lewis.
More about MoneySavingExpert and Martin Lewis
What is MoneySavingExpert.com?
Founded in February 2003, it's now the UK's biggest consumer help website with more than 12 million people getting this email and about 13 million using the site every month. In September 2012 it became part of the MoneySupermarket Group PLC. Its focus is simple: saving cash and fighting for financial justice on anything and everything. The site has over 80 full time staff, more than a third of whom are editorial - researching, analysing and writing to continually find ways to save money. More info: See About MSE.
Who is Martin Lewis?
Martin set up and is chairman of MSE. He's an ultra-focused money-saving journalist and consumer campaigner with his own ITV prime-time show The Martin Lewis Money Show and weekly slots on Radio 5 Live, This Morning and Good Morning Britain, among others. He's a columnist for publications including the Telegraph, Sunday Mirror and Woman magazine. More info: See Martin Lewis' biography.
What do the links with an * mean?
Any links with an * by them are affiliated, which means get a product via this link and a contribution may be made to MoneySavingExpert.com, which helps it stay free to use. You shouldn't notice any difference; the links don't impact the products at all and the editorial line (the things we write) isn't changed due to them. If it isn't possible to get an affiliate link for the best product, it's still included in the same way. More info: See How This Site is Financed.
As we believe transparency is important, we're including the following 'un-affiliated' web-addresses for content too:
Unaffiliated web-addresses for links in this email
moneysupermarket.com, gocompare.com, confused.com, comparethemarket.com, ageuk.org.uk, aviva.co.uk, directline.com, morethan.com, autoaidbreakdown.co.uk, barclaycard.co.uk, lloydsbank.com, sainsburysbank.co.uk, halifax.co.uk, productsandservices.bt.com, tsb.co.uk, bank.marksandspencer.com
Financial Conduct Authority (FCA) Note
MoneySupermarket.com Financial Group Limited is authorised and regulated by the Financial Conduct Authority (FRN: 303190). The registered office address of both MoneySupermarket.com Group PLC and MoneySupermarket.com Financial Group Limited (registered in England No. 3157344) is MoneySupermarket House, St. David's Park, Ewloe, Chester, CH5 3UZ. MoneySavingExpert.com Limited is an appointed representative of MoneySupermarket.com Financial Group Limited.
To change your email or stop receiving the weekly tips (unsubscribe): Go to: www.moneysavingexpert.com/tips.