- Monzo card - NO credit check and near-perfect rates
- Get £20 cashback with a top overseas credit card
- Plus should you buy your holiday cash now or later?




Let's make no bones about it, if you're heading abroad on hols this summer it's going to be more expensive. Two years ago £500 bought you €703 and $785, yet now it's closer to €560 and $637, so getting the best rates is vital and it's no wonder we're swamped with your questions about how to do that.

Ann asked: "When I'm abroad and use my debit card it says pay in euros or pounds. What's best?", while Tony wrote: "I'm going away in Sep - when would be the best time to exchange pounds into euros?"

1.
Should you buy your holiday currency now? No one can predict the future, and anyone who says they know what currency markets will do is telling porkies. But there's a simple solution if you're worried. Buy half your spending money now at the best rate (see points 5 and 6) and the rest just before you head abroad. This means...

- If the rate gets worse: you've locked in half at the better rate.
- If the rate gets better: you'll still get half your money at the improved rate.

If really nervous ask yourself: "Would I be content with today's rate?" If the answer's yes, and your real fear is further rate falls making your holiday unaffordable, play safe and buy more now.
2.
Top overseas credit cards - get near-perfect rates everywhere, every time. When it comes to spending abroad we always start with a specialist credit card. Most debit and credit cards add a 3%-ish 'exchange fee', so £100's worth of euros costs £103. Yet specialist overseas credit cards don't charge that fee, giving you the near-perfect exchange rates the banks get.

You'll need to pass a credit check, then stick one in your pocket, only for use abroad, and pay off IN FULL each month. The cards often take 1-3 weeks to arrive, so use our Overseas Credit Card Eligibility Calc now to see which you've best chances of getting.

- Get £20 cashback on our long-term top pick. The Halifax Clarity (eligibility calc / apply*) card has got better. Newbies who buy anything abroad by 30 Sep 2017 get £20 cashback within 90 days. It's a Mastercard too, which usually beats Visa/Amex on the underlying exchange rate, and it has low cash withdrawal costs. The rep APR's 18.9% on spending and cash withdrawals.

- Top credit card for cash withdrawals. The Barclaycard Platinum travel credit card (eligibility calc / apply*) has no exchange fees on purchases or cash withdrawals till Aug 2022. You'll also pay no interest on overseas (not UK) withdrawals if you pay your bill IN FULL (18.9% rep APR on spending and 27.9% on cash if you don't).

- Top easy-to-get card but bad for cash withdrawals. The Aqua Reward (eligibility calc / apply*) card also has no exchange fees, pays 0.5% cashback and accepts some with a poor credit history. Don't withdraw cash though, as you'll pay a high fee and high interest (rep APR's 34.9% on spending and 44.9% on withdrawals).

See Top Overseas Spending Cards for full help and more options.
3.
New hybrid card - acts like a top overseas credit card, but has NO credit check. Monzo* offers a new type of card, and we've been impressed. It acts like the overseas credit cards above, giving near-perfect rates wherever you are, with no fees - and crucially no credit check (though it will ID-check). Plus apply via our link above and you jump the queue.

But it's a prepaid card. So you use its free app to load pounds onto it, which are converted at the near-perfect exchange rate when you spend or withdraw on it. Plus you can spend any leftover money once home.

Martin says: "It's tough to see how Monzo's prepaid card will make 'em money. I suspect it's a loss leader, as part of this new bank's drive to gain customers. Yet even if the super-cheap rates don't last long, it's no problem, as you can always just spend what's on there in pounds."

See our Monzo analysis for more.
4.
So which should you go for? You get near-perfect exchange rates on overseas credit cards and the Monzo card, and apart from Aqua, they all can be used cheaply or free for cash withdrawals.

So if you don't want a credit check, don't trust yourself with a credit card, or want to set a budget in advance and track it easily, Monzo may be better.

Overseas credit cards offer more though, including:
- Section 75 protection on purchases over £100. This means if something goes wrong with a purchase, even if bought abroad, the card firm must take responsibility.
- You can use 'em for car hire. Most car hire firms insist on a deposit on a credit card to cover potential damage.
- You don't need an app. Monzo is run through its app. It helps keep your spending on track, but isn't for everyone.
5.
Top prepaid cards - lock in at the rate on the day you load them. But you'll lose out if rates improve. Unlike credit cards which require you to pass a credit check, anyone over 18 can get a prepaid card. The rates can be very good, but unlike the options above you lock on the day you load. Great if the rate drops, bad if it improves.

- Top pick for euros, dollars and some others: Revolut can be loaded in pounds, euros, dollars, zlotys and Swiss francs. It gives the perfect interbank rate, with no fees on spending or ATM withdrawals (up to £200/mth, 2% above that). £5 standard delivery when you order.

- Get £10 when you load £50+, but fee-free for first year only. Apply via our link and WeSwap gives an extra £10 when you first load £50+ onto it. You load in pounds, and decide when to swap to one of 18 currencies, but it charges up to 2% if you need access in less than 7 days.

Full details and more options in Cheap Prepaid Cards.
6.
Need cash? Find the best rates from 30+ bureaux with our TravelMoneyMax site and apps. Speedily compare 30+ bureaux with our TravelMoneyMax (TMM) comparison tool to find the cheapest travel cash near you. The app (iPhone or Android) does the same plus does things like storing details of your plastic to show which is your cheapest way to pay.
7.
A trick to buy cash now AND protect against currency swings. While not at the market's best rates, a couple of bureaux's T&Cs can be manipulated to give you protection against currency swings, as you order at today's rate for collection before your holiday. Then if the rate gets worse, you've done well, but if the rate gets better, you cancel and buy at the new rate.

Travelex* and Moneycorp* let you book rates for collection now, up to 14 days ahead, and cancel for free. Sainsbury's* lets you book up to eight days ahead but there's a £10 fee to cancel.
8.
When they ask 'Do you want to pay in pounds or euros?', what do I reply? Say you want to pay in euros. That's EUROS. If you pay in pounds, it means the overseas store/bank is doing the conversion, and rates are awful. For a detailed explanation, see Martin's Pay in euros? blog. It's the same for cash withdrawals. We've seen an extra £30 charged for a €200 withdrawal when you ask the machine to convert it to pounds.
9.
Save over £100 per €1,000 spend. Whatever the rate of the currency you're using, don't throw more money away by paying the wrong way. To show you the scale of the difference, here's a comparison on Monday's rate.

The cost of €1,000 (5 x €100 at ATMs, rest spent in 20 transactions)

- Top specialist credit card repaid in full: £881
- Cash, via TMM's cheapest bureau (must pick up in London): £888
- Cash from M&S on the high st (non-cardholders): £919
- Using a debit card from hell (Halifax in this case): £942 (see point 11)
- Change at airport (not pre-ordered): £1,000
10.
Will withdrawing cash abroad hurt my credit file? On the right card it's cheap, but there's a possible impact on your creditworthiness - see withdrawing abroad.
11.
Check if yours is a DEBIT CARD FROM HELL. Not only do they add around 3% to the exchange rate and an ATM fee, they also charge up to £1.50 every time you use them to spend overseas.



GOT ONE OF THESE DEBIT CARDS FROM HELL?
Bank of Scotland | Halifax | Lloyds | Santander | TSB
NatWest/RBS & Clydesdale/Yorkshire (hell for small spends)

ANY other card, including a credit card (if repaid IN FULL), is cheaper to spend on than these. See full Beware the debit cards from hell info.

And to find what all your plastic charges, use our How good is your current plastic? checker.




PS: Did you see Martin's holiday special show last week? If not, catch up here - The Martin Lewis Money Show.
Saved cash? Shout it from the rooftops.
If this email's ever helped you, please forward it to friends and suggest they get it via moneysavingexpert.com/tips.
As banks slug it out for your custom, one top switch incentive is reduced while another's boosted
If you're fed up with your bank, don't bitch, just switch. With banks desperate for you to join, it's a buyers' market, choosing between BEST customer service, BEST upfront cash or BEST ongoing bonuses. Switching's easy and takes just seven working days, plus the new bank closes your old account and switches all direct debits, payments and standing orders. You'll be credit-checked when you apply and you need to use their switching services...
Ending. Free £125 + top service + 5% regular saver. New switchers have until Mon 3 Jul to apply via this First Direct* link to get £125 FREE (£100 after). It's won every customer service poll we've ever done, with 90% rating it 'great'. Plus you get a £250 0% overdraft and access to its 5% fixed regular saver. The account's free if you pay in £1,000/mth - if not, it's £10/mth.

New. Free £125 + £3/mth ongoing reward. Halifax has upped its switch offer by £50, now giving £125, paid before the switch completes. Plus you'll get £3 each month you pay in £750, stay in credit and pay out 2+ direct debits. Switchers may also get a 6mth 0% overdraft.

Free £150 to switch, £125 M&S vch OR £110 + up to £66/yr in ongoing bonuses. Other household names are offering bigger upfront cash bribes, or incentives to keep you. For full info and eligibility see our Best Bank Accounts guide.

- New HSBC Advance* switchers get £150 plus another £50 after a year, and access to a 5% linked regular saver. There's a £1,750/mth min pay-in, plus you need to start a full switch by phone or in branch incl 2+ direct debits/standing orders within 30 days of acceptance and register for mobile/online banking within 60 days.
- M&S Bank* gives new switchers a £125 M&S gift card plus a £100 0% overdraft and 5% linked regular saver (you must switch 2+ active direct debits). For the first year you get an extra £5/mth added to the card when you pay in £1,000/mth and keep 2+ active direct debits.
- Ends Fri. Co-op Bank pays £110 if you apply by 11.59pm on Fri 30 Jun, then switch - which must incl 4+ active direct debits. You can also earn up to £5.50/mth if you pay in £800/mth, pay out 4+ direct debits and make 30 debit card transactions per month, plus go paperless, use online/mobile banking and stay within your overdraft.
This matters as the more desirable you are, the more likely you are to get the best deals - we'll analyse it for you
Financial desirability is about more than just your credit score. It stretches beyond the world of mortgages, cards & loans into energy, insurance & mobile contracts. If you're undesirable but don't know, you may be offered substandard deals. So EVERYONE should check it. Of course if there's a problem, we'll show you how to boost your appeal...
Take the test - how desirable are you? To measure this we focus on what really counts - will you be accepted for the top deals? We analyse it via the free MSE Credit Club, using the Hit Rate metric. This shows what percentage of a basket of top credit card & loan deals you've a good chance of getting. While the data's based on card & loan lenders, others - eg, mobile phone contracts - use similar metrics, so it reflects overall desirability.

The Hit Rate is a better indicator of desirability than your credit score (which is shown too). It's based on lenders' actual criteria, including affordability (even good risks are rejected if they can't afford to repay).
Take the financial desirability test ...
via the free MSE Credit Club's Hit Rate measure. It takes a few mins to sign up.
Are you more desirable than your peers? As you'll see from the images letting you compare by age & region, the Hit Rate is a harsh (but fair) measure. Even 'perfect' credit scorers only average 82%, & those with 'good' scores only average 47%, ie, you've only a good chance of getting about half the top deals.

If you're not desirable, don't despair. The Hit Rate's part of the free MSE Credit Club, which'll also indicate from eight factors where you're strong & where to improve. Plus it shows your free Experian Credit Report which you should go through line by line to check for errors that could put firms off. For full info on how it all works, read 37 tips to boost your creditworthiness.
Tell your friends about us
They can get this email free every week
The big problem with PPI is millions were mis-sold by not being told it was added. Yet the banks know. Ask 'em...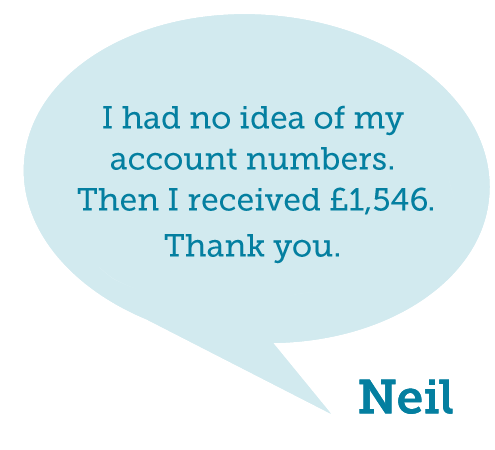 "Just wanted to say thanks for pointing me to the Resolver tool on your site. I submitted two claims for old loans from about 17 years ago - it took hardly any time at all to fill in and submit the forms.

"To be honest I didn't have high hopes as I had no idea of my account numbers, just the approximate years that I took out the loans and the bank branches I used.

"[Then] I received £1,546 in compensation from RBS including for three loans that I hadn't recalled taking out a long time ago - and I'm splashing out on three season tickets for Newcastle United's return to the Premier League, much to the delight of my two sons.

"I've been telling everyone I know to get onto your site and use the Resolver tool. Thanks again."
Are you like Neil? Check your PPI for free NOW.
MARTIN'S APPEARANCES (WED 28 JUN ONWARD)
Thu 29 Jun - Good Morning Britain, ITV, Deals of the Week, 7.40am
Fri 30 Jun - This Morning, ITV, Martin's Quick Deals, time TBC. View previous
Mon 3 Jul - This Morning, ITV, time TBC. View previous
Mon 3 Jul - BBC Radio 5 Live, Lunch Money Martin, noon. Subscribe to podcast
MSE TEAM APPEARANCES (MOST SUBJECTS TBC)
Wed 28 Jun - Facebook Live Q&A on travel money, 1pm
Wed 28 Jun - BBC Radio Cumbria, 'Money Talks', from 6pm
Thu 29 Jun - BBC Radio Tees, 10.35am
Fri 30 Jun - BBC South West stations, breakfast, travel money tips
Tue 4 Jul - BBC Radio Cambridgeshire, 2.20pm
QUESTION OF THE WEEK
Q: I have an old bank account I don't use anymore - I've never closed it because my mum told me some banks look more favourably on you if you've held an account for a long time. Is there any truth in this, or should I ditch it for a switching bonus? Ellie, via email.

MSE Karl's A: There's some truth in it. If you've held a bank account for a long time and have managed it well, it may help your credit score. But it's one of dozens of factors that can affect it, and is unlikely on its own to win or lose you a future credit application.
What's more, if you've not used the account for years, it may not be affecting your score at all - in which case, you may want to ditch and switch and grab the free cash. If you're unsure, it's worth checking your credit file for free with our MSE Credit Club, and see our Credit Scores guide for need-to-knows and how to boost your score.
Please suggest a question of the week (we can't reply to individual emails).
£100 wedding dresses... if you buy from Oxfam
That's it for this week but before we go... It's wedding season, and with her nuptials coming up soon, we sent MSE Sally to check out the donated AND 'new' (end-of-season) dresses at an Oxfam bridal shop. Watch her verdict and tell us whether you'd wear a wedding dress from Oxfam to avoid shelling out a four-figure sum, via our 'Oxfam bridal wear' Facebook post.
We hope you save some money,
The MSE team
We think it's important you understand the strengths and limitations of this email and the site. We're a journalistic website, and aim to provide the best MoneySaving guides, tips, tools and techniques - but can't promise to be perfect, so do note you use the information at your own risk and we can't accept liability if things go wrong.
What you need to know
This info does not constitute financial advice, always do your own research on top to ensure it's right for your specific circumstances - and remember we focus on rates not service.
We don't as a general policy investigate the solvency of companies mentioned, how likely they are to go bust, but there is a risk any company can struggle and it's rarely made public until it's too late (see the Section 75 guide for protection tips).
We often link to other websites, but can't be responsible for their content.
Always remember anyone can post on the MSE forums, so it can be very different from our opinion.
Please read the Full Terms & Conditions, Privacy Policy, How This Site is Financed and Editorial Code. Martin Lewis is a registered trade mark belonging to Martin S Lewis.
More about MoneySavingExpert and Martin Lewis
What is MoneySavingExpert.com?
Founded in February 2003, it's now the UK's biggest consumer help website with more than 12 million people getting this email and about 13 million using the site every month. In September 2012 it became part of the MoneySupermarket Group PLC. Its focus is simple: saving cash and fighting for financial justice on anything and everything. The site has over 80 full time staff, more than a third of whom are editorial - researching, analysing and writing to continually find ways to save money. More info: See About MSE.
Who is Martin Lewis?
Martin set up and is chairman of MSE. He's an ultra-focused money-saving journalist and consumer campaigner with his own ITV prime-time show The Martin Lewis Money Show and weekly slots on Radio 5 Live, This Morning and Good Morning Britain, among others. He's a columnist for publications including the Telegraph, Sunday Mirror and Woman magazine. More info: See Martin Lewis' biography.
What do the links with an * mean?
Any links with an * by them are affiliated, which means get a product via this link and a contribution may be made to MoneySavingExpert.com, which helps it stay free to use. You shouldn't notice any difference; the links don't impact the products at all and the editorial line (the things we write) isn't changed due to them. If it isn't possible to get an affiliate link for the best product, it's still included in the same way. More info: See How This Site is Financed.
As we believe transparency is important, we're including the following 'un-affiliated' web-addresses for content too:
Unaffiliated web-addresses for links in this email
firstdirect.com, hsbc.co.uk, bank.marksandspencer.com, halifax.co.uk, barclaycard.co.uk, welcometo.aquacard.co.uk, monzo.com, apply.mbna.co.uk, confused.com, gocompare.com, directline.com, moneysupermarket.com, aviva.co.uk, paybyfinance.co.uk, sainsburysbank.co.uk
Financial Conduct Authority (FCA) Note
MoneySupermarket.com Financial Group Limited is authorised and regulated by the Financial Conduct Authority (FRN: 303190). The registered office address of both MoneySupermarket.com Group PLC and MoneySupermarket.com Financial Group Limited (registered in England No. 3157344) is MoneySupermarket House, St. David's Park, Ewloe, Chester, CH5 3UZ. MoneySavingExpert.com Limited is an appointed representative of MoneySupermarket.com Financial Group Limited.
To change your email or stop receiving the weekly tips (unsubscribe): Go to: www.moneysavingexpert.com/tips.