Amsterdam On A Budget
Cheap footie tickets, bargain bikes, free ferries & more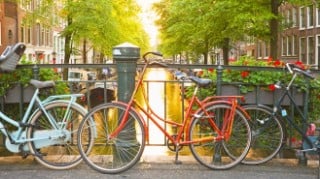 Amsterdam is awash with art, canals and a vibrant nightlife – and with so much to do the cost of your trip can soon creep up. Yet it is possible to enjoy the city on a budget, and you won't even need to go Dutch...
Whether you're planning to go to Amsterdam or have already booked your trip, we've 28 tips for making the most of your time and euros, from cheap airport transfers and bargain beds to free opera tickets and how to avoid the queues at Anne Frank's house. Plus Eurostar's just launched tickets for direct trains from London to Amsterdam.
28 cheap Amsterdam tips, including...
Get Our Free Money Tips Email!
For all the latest deals, guides and loopholes - join the 12m who get it. Don't miss out
Get Our Free Money Tips Email!
For all the latest deals, guides and loopholes - join the 12m who get it. Don't miss out
And finally... drugs are technically illegal, but some such as cannabis are 'tolerated'
Now, we're definitely not suggesting you partake, but we've had people ask about this so we wanted to cover it, since Amsterdam's 'coffee shops' are famous for much more than their mocha.

Regardless of their legality, drugs can be damaging to your health – for a full rundown of the risks of cannabis use, see NHS.uk. But if you're going to Amsterdam and are determined to visit a coffee shop anyway, it's important you know where you stand. Drug laws in the Netherlands aren't black and white and can be a little confusing.
The Dutch have an official policy of 'toleration' when it comes to 'soft' drugs. Production, sale and possession are technically criminal offences, but the authorities won't prosecute for small amounts under certain conditions.
Under the toleration policy, over-18s in Amsterdam (including tourists) are permitted to buy up to five grams of cannabis a day from coffee shops. You're NOT allowed to buy it in the street. You can consume it in a coffee shop or in a public place, as long as it's not at a children's playground or a secondary school (though it can be frowned upon anywhere outside a coffee shop).
Some other 'soft' drugs are also tolerated – see the Netherlands government website for full info. And remember, these rules apply only while you're in the Netherlands – bringing any classified drugs back home or across any borders is against the law, so DON'T do it.
Join the MSE Forum Discussion