If you click a link with an * to go through to a provider, we may get paid. This usually only happens if you get a product from it. This is what funds our team of journalists, and keeps us free to use. Yet there are two crucial things you need to know about this.
This never impacts our editorial recommendations – if it's in, it's in there because we independently rate it best.
You'll always get as good a deal (or better) than if you went direct.
For a more detailed explanation see How MSE is financed.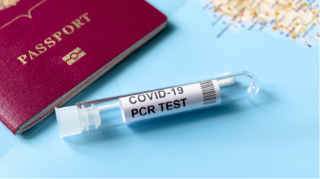 How to find the cheapest Covid tests for overseas travel
If you're travelling abroad this year, you'll need to pay for at least one coronavirus test before you can return home. Some destinations will also require you to take a test before you leave the UK. These tests could add up to over £1,000 for a family of four. Use our tips below to bring costs down in England, Wales, Scotland and Northern Ireland.
Testing rules for arrivals to the UK have changed
Those who are fully vaccinated no longer need to take a test before returning to England, Northern Ireland, Scotland or Wales from a non-red list destination.
Also, from Sunday 24 October, fully vaccinated travellers to England (arriving from a non-red list destination) will be able to take a cheaper lateral flow test instead of the day two PCR test. The change will mean the cost of coronavirus tests needed when travelling will drop significantly for many.
The Government says it will publish a list of approved providers on Friday 22 October – we'll update this guide shortly afterwards with the cheapest options.
This is a controversial market where firms don't always advertise true prices. We've checked as far as it's possible for us to go in the booking process to make sure the providers included in this guide offer the tests and prices stated. We've also checked reviews, but service quality can change rapidly, as can prices, so do your own checks too. Please give feedback.

For all the latest guides, deals and loopholes simply sign up today – it's spam-free!
Overseas travel Covid test need-to-knows
Whether you're returning to England, Wales, Scotland or Northern Ireland, everyone in the UK needs to get tested at least once after getting back.
If you're fully vaccinated and returning from a country not on the Government's red list, you no longer need to take a test before returning home.
Depending on where you travel, you now need to:
This remains a rapidly changing area with hundreds of providers registered with the Government. Bear the following in mind when booking travel:
If you're travelling back to England, Scotland, Wales or Northern Ireland, you can use a private provider, but it needs to be on the UK Government's approved list. We've seen some testing packages costing as much as £575 for two tests. But there's no need to pay these prices – see our cheap test tables below for help.


Until recently, those arriving back to Scotland or Wales were restricted to using the Corporate Travel Management (CTM) portal to book tests, costing £68 for a day two PCR test and £136 for both day two and day eight tests. Now, wherever you are in the UK, you've got full choice.

You're not allowed to use the free NHS tests for travel purposes. You'll have to pay for any required tests when you return to the UK. With some providers charging £100+ per test, this could be a hefty addition to your travel costs. A family of four (with children over 11) could end up paying over £1,000 all-in.

A number of countries (including Greece) now allow you to visit without taking a test, if you're fully vaccinated. For others, you'll need to prove you've received a negative test result. The rules vary depending on where you go – check exactly which test you need to take, as there are different types.

Some destinations, such as Spain, won't accept results from the cheaper rapid antigen test (commonly known as lateral flow). However, a number of popular destinations will now accept this test (including France). You can find each country's requirements within the Government's foreign travel advice.

You'll also need to make sure you have documentation (often called a 'fit-to-fly' certificate) which your destination country will accept as evidence – not every test will provide this. For example, Lloyds Pharmacy says it doesn't recommend you use its test kit for travel purposes, as your results won't include the information some airlines and countries require, such as your passport number.

Countries have now been placed into one of two categories: red list or non-red list, as set out below, with the Government scrapping the former traffic light system on 4 October.

It removed the green and amber lists in England, Northern Ireland, Scotland and Wales, and brought in this new "two-tiered system" in an effort to simplify the rules.

Bear in mind these lists are still subject to change, though. See full info in our Coronavirus travel rights guide.

Non-red list – 200+ destinations, including Australia, Austria, the Azores, Barbados, Canada, Croatia, Denmark, Finland, France, Germany, Gibraltar, Hong Kong, Iceland, Israel, Malta, New Zealand, Norway, Portugal, Singapore, Spain, Switzerland and Taiwan


Rules on returning


Fully vaccinated travellers (or under-18s):


• No pre-departure test required

• Must take PCR test within two days of return to the UK (excludes under-fives)

• Don't need to quarantine on return, unless you get a positive result


Unvaccinated travellers:

• Must take pre-departure test before returning

• Must also take PCR test on day two AND day eight after arriving back in the UK
• Must self-isolate for 10 days after arrival – can be at home
• You can end self-isolation early on day five by taking extra test (England only)

Red list – seven destinations: Colombia, Dominican Republic, Ecuador, Haiti, Panama, Peru and Venezuela. See full England list / Northern Ireland list / Scotland list / Wales list

Rules on returning



Fully vaccinated and unvaccinated travellers (including under-18s):
• Must take pre-departure test before returning (excludes under-11s)
• Must also take PCR test on day two AND day eight after arriving back in the UK (excludes under-fives)
• Must undergo 11 nights of managed quarantine in hotel, which could be pricey (currently single adult travellers are charged £2,285) (1)

The Government has an approved list of providers for each test, and says each scheme has different standards. If you need a day two test for your return to the UK, don't just get any PCR test – make sure the provider says it's suitable for day two testing.

You may think there's some repetition in the tables below, but although two tests may be labelled as 'PCR', don't assume they're the same test.

You'll need to fill in a passenger locator form online, any time in the 48 hours before you arrive in the UK. It will ask for a booking reference to prove you've booked the necessary testing package for your destination, though you won't need to prove that the tests have been delivered to you – only that you've booked them.

You'll need to show your form when you check in or board your plane, train or ferry.

Many private test providers have dropped their prices since we first wrote this guide, so while we do our best to keep the tables below up to date, it's well worth doing price comparisons before you order a test.

Check reviews online (Trustpilot is a good starting point), as some cheaper providers have struggled with the sheer number of tests ordered, and there have been recent reports of delays.

It's worth checking whether your travel provider offers flexibility if your test results are delayed. For example, Jet2 says you can change your booking for free if this happens.

This week, the Government has removed a number of providers from its official list which it says were misleading and not giving accurate prices, but we've checked the providers included in this guide do offer the prices and tests stated. And while we've checked reviews, we can't vouch for service so doing your own research before buying is a very good idea.

We've scoured lots of test prices and found they're often cheapest via airlines and tour operators where they've negotiated discounts with private providers, but you need to be travelling with them to get the deals. For example, British Airways and Easyjet told us these deals should be used by their customers only.


As you're reliant on couriers to deliver home testing kits, it's safest to book your tests well in advance of your trip, so they ideally arrive before you go away. The Government says arrangements for booking in advance vary between providers. Many of the provider websites we checked are encouraging travellers to book tests as early as possible.

Earlier this month there were many reports (including this BBC News story) regarding one of the biggest test providers, Randox Health, and its returned test kits being piled high in overfilled drop boxes, with people worried their samples weren't being checked. In response, Randox said it was adding more drop boxes and extra collections.

As Randox is one of the cheapest big providers, we're keeping it in this guide for now, but we're monitoring its Trustpilot and if you've had issues with it, please let us know.
For all the latest guides, deals and loopholes simply sign up today – it's spam-free!
Competition watchdog calls for Government action over PCR travel tests
The Competition and Markets Authority has said the Government must intervene in the PCR travel test market to improve the experience for consumers.
The call for action is the outcome of a review of the market launched last month, amid mounting concerns over the price, reliability and quality of service provided by some firms. Complaints from customers included paying high prices for poor service, test kits and/or results arriving late or not at all, and there being no way to contact a firm when things went wrong.
For more details, see our MSE News story Government must step in to address problems with PCR travel test market, says watchdog.