Can you take kids on term-time holidays without being fined?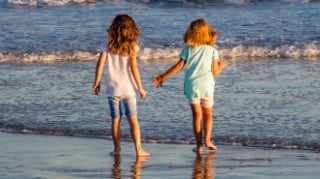 In 2017, a dad who took his daughter out of school to go on holiday, lost a long-running battle against the system. Each year 10,000s of parents are fined £60, yet with the cost of going away rocketing during school holidays, it's no wonder many are tempted. Here's the latest on what you can and can't do.
Before we start... Let's be clear, this is a fiercely debated topic and opinions are divided. Some see holidays as an educational experience – others argue that parents are criticised for not spending time with their kids, yet are sometimes only able to get time off from work during term time. Many call for a balance between education and family life.
On the other side of the fence though, there are claims that even one day off can be disruptive, and that term-time holidays can have a lasting impact on learning.
Here are just some of the tweets we've been sent:
I'm an airport employee, it's not always possible for all colleagues with school-age kids to get leave during school holidays!
@albafooty
Says a lot about the attitude towards education in this country where cheap holidays are a reason for children to miss school!
@MissTeeOfficial
Three children, three schools, all with differing holiday weeks & all within a 10-mile radius.
@ChrisKerrySmith
Get Our Free Money Tips Email!
For all the latest deals, guides and loopholes - join the 12m who get it. Don't miss out
I heard there's been a Supreme Court judgment that's clarified the rules... A Supreme Court ruling in April 2017 essentially confirmed what was already the case – parents CAN'T take children on term-time holidays without risking being fined (see more on the case below).
In a nutshell, if your child is at an English state school (private schools are exempt) and aged 5-16, you're unlikely to get permission for a term-time holiday. If you take them out of school anyway, you could face a £60 fine or worse.
Most of the following rules in this guide apply to state schools in England, but elsewhere in the UK:
In Wales, head teachers can still authorise 10 days in certain circumstances, but you can also be fined for unauthorised absences.


In Scotland, there's no £60 fine. Instead local education authorities (LEAs) can issue 'attendance orders' to make a parent explain a pupil's absence – if parents don't comply or give a reasonable excuse they can be taken to court and could face up to one month in prison and a fine of up to £1,000.


In Northern Ireland, parents can be referred to the Education Welfare Service if a child's attendance drops below 85%. If parents don't engage with the service, they could be fined up to £1,000, but this is only used as a last resort.
Is there any time I CAN take my child out of school in term time? Schools used to have the discretion to allow up to 10 days' term-time holiday each year in 'special circumstances'. The rules were tightened in Sept 2013 though – now head teachers at state schools in England can only give permission for term-time absences in "exceptional circumstances".
These could include visiting seriously ill family, attending a close family member's funeral or if a family member's in the Armed Forces and returning from operations. The Department for Education says you're "unlikely" to get permission simply for a family holiday.
There are also a number of allowances made under the law stating when your child can be absent. These are if they are sick, they are off for a day for a religious observance, they have no fixed address or if the child doesn't live within walking distance of the school (for under-eights this is two miles, for over-eights it's three miles) and the local authority didn't provide transport, boarding accommodation or the option for them to go to a closer school.
What if I just ignore the rules and take my kids out anyway – what are the financial consequences? Head teachers have to report absences (authorised and unauthorised) to the LEA (the council responsible for education in their area).
It's the LEA that can fine parents £60 for taking their child on holiday without permission. The fine's per child, per absence (and in theory each parent can be fined, though it varies).

The fine is an alternative to going to court, so you can't pay it and then decide you want to argue your case in front of a magistrate. The cash goes to LEAs to cover admin costs, but it's not actually ring-fenced and so could be spent on anything.
What if I don't pay the fine? The £60 fine jumps to £120 if you fail to pay within 21 days of the fine being issued. If you don't pay within 28 days you can be taken to magistrates' court under the Education Act 1996. If found guilty you could end up with a criminal record and face a fine of up to £2,500, court costs or even a jail sentence of up to three months.
Department for Education figures show councils dished out 157,879 fixed penalty notices in 2015/16, and 151,125 the year before for unauthorised term-time absences (so not just holidays).
In 2015/16 108,674 notices were paid within 28 days (about 94% were paid within 21 days at the lower rate of £60), and 15,828 parents were prosecuted for non-payment of the fine. Over 22,000 fines were withdrawn by councils.
The hike in holiday costs must be more than £60 – can't I just take the hit? That's for you to weigh up. Certainly the jump in prices can be steep – for example, when we checked, a five-day break for a family of four at Center Parcs went from £479 at the beginning of July to a whopping £899 at the end of July.
Be aware though that these aren't just rules, this is law. The fine is a penalty notice issued as an alternative to prosecution – in theory, the LEA could skip the fine and prosecute you straightaway, which could mean much higher financial penalties and a criminal record.
So what exactly IS the letter of the law? In England, Section 444 of the Education Act states it's an offence to fail to make sure your child goes to school "regularly". But it all hinges on exactly what's meant by the word "regularly" – which the Supreme Court has now ruled means in "accordance with school rules".
The Department for Education believes "regular" means a kid going to school every single day, except for authorised absences such as illness.
Why did the Supreme Court rule on the issue? Isle of Wight resident Jon Platt battled for two years against the fine he'd received for taking his daughter out of school for a term-time holiday – he argued that his daughter had still attended "regularly" as she'd had very high attendance.
But on 6 April 2017 the Supreme Court ruled against him – here's a quick rundown of how the case developed:
April 2015 – Jon Platt took his youngest daughter out of school for seven days to Disney World Florida, without permission, on a family holiday during term time – and was fined as a result.


October 2015 – Having refused to pay the fine, Mr Platt won his case at Isle of Wight Magistrates' Court. Magistrates said he had 'no case to answer' because of high attendance.


May 2016 – Mr Platt won his case at the High Court, which backed the magistrates' decision.


June 2016 – The High Court said the meaning of the word "regularly" is of public importance and must be decided at the Supreme Court.


January 2017 – The case was heard at the Supreme Court.


6 April 2017 – Mr Platt's case was rejected and the Supreme Court said he must face prosecution for not paying the fine.
Mr Platt's case was sent back to Isle of Wight Magistrates' Court, where he again tried to fight the fine, but was instead given a 12 month conditional discharge and ordered to pay £2,000 in costs. He has ruled out an appeal against this ruling.
What if I was in limbo awaiting the ruling for this case? The Supreme Court ruling is binding on courts and local authorities. So if you took your child out of school, were fined, refused to pay and were then in the process of defending your decision in court, the court WILL now take the Supreme Court ruling into consideration. So consider very carefully if you want to continue.
If you've yet to go to court it could be worth contacting the council if you now wish you'd paid the fine, and no longer want to go to court. Lancashire County Council and Derbyshire County Council, for example, have said if they receive the full fine of £120 before any proceedings start, they will withdraw the case (though you may have to pay via cheque or postal order).
I refused to pay a fine, took my case to court and won – what happens now? It's possible that in light of the Supreme Court ruling, a council could try to apply to have a case reopened. It could try this if it believed magistrates made a fundamental error in law, though it would have to apply to the High Court to do so.
In practice though, this seems very unlikely, and a solicitor who's successfully defended parents in term-time holiday cases told us he believes it would be difficult to do. If you're worried, you could contact the legal team you used, or ask Citizens Advice for further help.
What about private schools? All the above only applies to state schools – private schools don't have to follow the same rules and parents can't face fines or court action. Private schools may have a code of conduct or contract they expect you to follow, though, and they do have to report some unauthorised absences to the LEA.
Are there any educational consequences to taking my child out during term time? The Department for Education's adamant there are. It says: "It is irresponsible to take a child out of school without good reason. Every extra day of school missed can affect a pupil's chance of gaining good GCSEs, which has a lasting effect on their life chances. Following our reforms there are now 200,000 fewer pupils regularly missing school compared with five years ago."
Yet others argue if a pupil's attendance is very good and they're thriving at school it's unfair to stop them and their family taking a holiday they might not otherwise be able to go on.
It's also worth taking the dire warning about the effect on children's education with a pinch of salt – after all, what message does that send to those youngsters who've missed school due to illness? Even the Local Government Association, whose members enforce these rules, has called for head teachers to be allowed to take a common-sense approach to term-time holidays on a case-by-case basis, without parents being hit with an automatic fine.
In our April 2017 poll 59% of parents with school-age children said they should be able to take term-time holidays if booked in advance, for a strict number of days and not at a crucial time. So this is a law that's clearly unpopular – though one that seems likely to be here to stay, for the time being at least.

We're constantly updating this guide. Please give us feedback, let us know any questions we've missed and anything you want to know in the School Holiday Fines forum thread.
Get Our Free Money Tips Email!
For all the latest deals, guides and loopholes - join the 12m who get it. Don't miss out
Join the MSE Forum Discussion