How to stop spending
The MoneySavingExpert.com Demotivator
Sometimes waving a magic MoneySaving wand and changing all your providers isn't enough to really improve your finances. Two simple words are needed... STOP SPENDING. Whether you need scaring into it, or tips on cutting back, this guide and the frightening Demotivator tool will help tackle those spending demons.
For all the latest guides, deals and loopholes, simply sign up today – it's spam-free!
Do you spend more than you earn?
There's no need to stop spending for the sake of it. If you enjoy a cappuccino, can afford it, aren't in debt and aren't overpaying, sip away.
Yet as Mr Micawber says in David Copperfield:
Annual income £20, annual expenditure £19.96, result happiness.
Annual income £20, annual expenditure £20.06, result misery.
There are two ways to check if you're spending more than you earn.
The BIG danger signal. Are you in debt?
If you are, and can't answer the question 'what are your debts from?' there's a problem. If you didn't buy, for example, a car or a conservatory, but you've used cards or loans to fill gaps, an ear-piercing alarm should ring.
Debt is fine if it is planned, rational, budgeted for and as cheap as possible. But if you consistently need to use the credit cards to supplement your monthly spend, you have a problem. Do that, and it can have life-destroying consequences.

Get free debt advice
No debt problems are unsolvable. It might not be easy or quick to resolve, but there's always a route. The earlier you tackle them, the easier they are to deal with. Our free debt advice guide talks you through where to start.
If you're struggling with debt and mental health problems, we also have a free mental health and debt booklet to help.
Do a budget to work out where you're WASTING cash

If you are spending more than you earn, there's a simple way to accurately check. The specially designed Budget Planner calculates your genuine annual income and then tells you exactly how much more you spend than you earn.
Most people are shocked by the result, as many of those who think they're within budget month-by-month aren't when it's done over a year. This is the start point of sorting out your cash. If possible, sit down and spend the time to do the budget. The planner also then helps you prioritise your spending.
Of course, even if you're not spending more than you earn, if your aim is to save up for something specific, the techniques below will help too.
25 quick tips to help you stop spending
For the real top tricks to cut back, you need to ask those who live it. The Debt-Free Wannabe section of the MSE Forum is a community that works together to clear often-heavy debts at speed.
We asked regulars on there – many are the kings and queens of personal budgeting – for their top tips in the Great Stop Spending Hunt. Here are some of the best...
How to stick within your means
One of the big problems is asking the wrong questions. People often ask Martin something like:
How do I get the shiny new car / glamorous holiday / amazing Christmas / designer clothes I want on my paltry salary?
It's thinking this way that leads people to constantly overspend, because you're totally ignoring the financial reality. Instead the real question is:
On my paltry salary, what's the best lifestyle I can possibly have?
You have to start letting your finances rule your lifestyle, not vice-versa.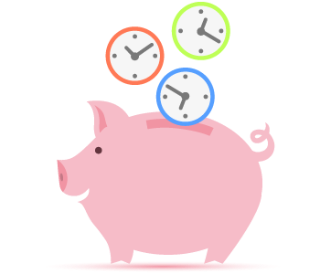 Be clinical when assessing yourself
Sit down for a brutally frank financial self-assessment. We don't mean a quick budget looking at just one month's expenditure. That omits the cost of Christmas, birthdays, summer holidays, MOT tests and more.
We mean scrutinise EVERYTHING, big and small, over a year, to prioritise what's important and cutting anything that pushes your spending beyond your income. Use the free Budget Planner tool to do it for you. But be warned, it's the real deal, so set aside two hours and prepare for a sinking feeling when pressing the "Do I spend more than I earn?" button.
Once you know what you've got and what you can spend it on, then you need to find a way to stick to it. An easy way to do this is to use the Piggybanking technique which uses different bank accounts to control your cash flow (if you're in severe debt, also see the the Problem Debts article).
Work out your priorities
If you haven't got enough income to pay for everything you want to, then you've got to work out what's most important to you.
First should come all necessary bills, rent, mortgage, food and clothing, but after that there's wriggle-room for making your own spending decisions.
The Demotivator – frightening but fun
The Demotivator is a special fun tool designed to complement the full Budget Planner that shows you the real impact of discretionary spending.
Simply enter items such as cigarettes, daily sandwiches, or newspapers and it'll tell you how much you spend a year, and how long you worked to buy them. Then print out the results and stick it to your wall or fridge as a constant demotivating reminder.
Here's an example from someone who buys a daily £3 coffee, and has an annual salary of £25,000:
For all the latest deals, guides and loopholes simply sign up today – it's spam-free!
For all the latest guides, deals and loopholes simply sign up today – it's spam-free!
Need scaring into this?
Martin met a family for a money makeover. First, they admitted shame at £60,000 credit-card debt, a sum that mathematically would take them two years of after-tax income to repay even if they'd no bills to pay or food to buy.
Yet what they initially hid from Martin, and themselves, was that a further jaw-dropping £120,000 of their mortgage had originally been splurged on plastic then shifted onto the home loan.
That's £180,000 overspending in less than a decade, yet these weren't obviously profligate folk. They'd simply stumbled into the trap of wrongly believing they were wealthy and tried to give their family the best. Solving such gargantuan financial indiscipline just takes two simple words....
That's easy to say and a nightmare to do. To get back on track, they needed to vow not to lay out for anything barring food, heat and essential bills. For most, that's unnecessary, but get it wrong and things can get that bad.
Surely it's only a little debt?
Putting a little debt on cards may not seem too bad, yet if it's unplanned and not budgeted for, it's simply willy-nilly overspending, and you're setting yourself up for a disaster, and not just financially. Debt crisis can impact homes, family, mental health and relationships.
You may feel this is over-dramatising. Yet when there's no money left, you can't borrow more, and the creditors are asking for money back which you've no ability to repay, it touches every element of your life.
The danger is what's called a 'debt spiral'. It works like this:
For all the latest guides, deals and loopholes simply sign up today – it's spam-free!
Use Martin's Money Mantras
Whether you're skint or not skint, there are a couple of questions to ask yourself before you buy.
You can print a free wallet-sized Money Mantra Card, pop it in your purse and whip it out before you buy.
Perhaps the most difficult question to self-assess is the "will I use it?" which examines what economists call 'opportunity cost' – in other words, could you get better use or pleasure out of the same cash buying something else? So is a stunning £300 dress that'll be used once worth it, if the same money could buy other items used more often?
A story from Martin...

My favourite example of this is shopping with a female friend, who hates me telling this story. She'd spotted two pairs of leather boots and was deliberating between them. I checked prices – one £40, the other £110 – yet she was only concerned with preferred style.
So I whipped £70 cash out and held it up with the £40 pair to show the real decision was one pair of boots plus the cash, or just the rival boots alone. She paused and with genuine interest said 'wow, I've never thought of it like that before'.
Five mins later she bought the more expensive boots anyway – you can't win 'em all!
Have your say in our forum!