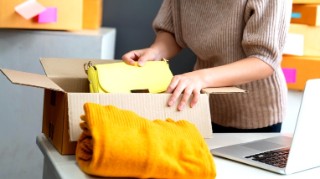 Make Money Online
30+ top paying sites and apps for making extra cash
If you've a computer or smartphone, there are a host of ways to boost your coffers – some are quick, others slow-burners. You could earn £1,000s/year by clicking and swiping, with no special skill needed.
This guide lists 30+ (legit) ways to make money online. You can get paid just to watch videos, write, search on Google, sell photos, make your own YouTube clips and much more.

Some dedicated users turn over a tidy sum, such one forumite who made over £3,000 last year – read Simon's full story.
Quick tips for making money online
Before you start earning money online, there are a few things worth knowing. The main thing to remember is that while some of these sites only pay small amounts, add them all together and you could be looking at an annual bonanza of £1,000s.
Don't store cash in online-earning accounts

Companies that offer you the opportunity to earn online aren't banks. There's no protection if one goes under, taking your cash with it. So withdraw your cash as soon as you reach the payment threshold.
Do set up a dedicated email address
Set up a dedicated email address for online earning. When it comes to powerful free options, Gmail is among the best. Doing this is also a quick way to check when new paid tasks become available.
Don't expect to be instantly rolling in it
With some sites, it can take a while to earn enough to be able to withdraw your money. And if you give up, it means you did the tasks for free.
For this reason, it's important to understand it's not quick cash. But it is nice extra income, provided you're consistent and have a little patience.
Do spend gift vouchers ASAP
If you're given the choice, opt to get paid in cash. If you get paid in gift vouchers, spend them ASAP. Doing so reduces your chances of being left with invalid vouchers should the retailer go bust on you. Plus it means you can't lose them or forget about them until they go out of date. For more info on this, see our Gift Voucher Warning.
If you earn more than £1,000, the taxman'll want his share
Before you start counting the dosh, remember that some of what you earn could be taxed.

The first £1,000 you earn each year 'trading' is tax-free. Basically this means you no longer have to report the first £1,000 you make from self employment or selling goods, whether online or offline. See Gov.uk for full details.
If you earn more than that - which is unlikely if you're doing this casually - some of it will probably belong to the taxman. For most people, it'll be around a third, but you'll need to register for self-assessment and check. Call HMRC on 0300 200 3300 and for full info read its self-employment info.
Get paid for easy online tasks
For all the latest guides, deals and loopholes simply sign up today – it's spam-free!
Get paid to write and create content
For all the latest guides, deals and loopholes simply sign up today – it's spam-free!