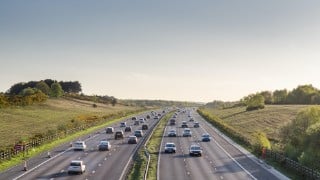 Diesel emissions claims
Owned a diesel car since 2007? Should you join the hundreds of thousands who have signed up to legal claims?
If you've been the registered keeper of a diesel car or van in England or Wales that was made between 2007 and 2020, you may be eligible to join a group legal claim over emissions – whether you owned it outright or bought it on finance. If you believe you were mis-sold to or paid over the odds, law firms suggest you could be due £1,000s in compensation – though that's far from guaranteed.
Which car manufacturers can I claim for?
Check the table below – if you've had a car (or van) from one of the brands listed, you may be able to join one of a number of active group legal claims currently being worked on.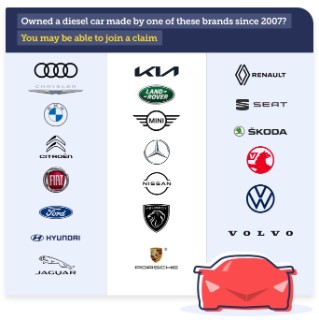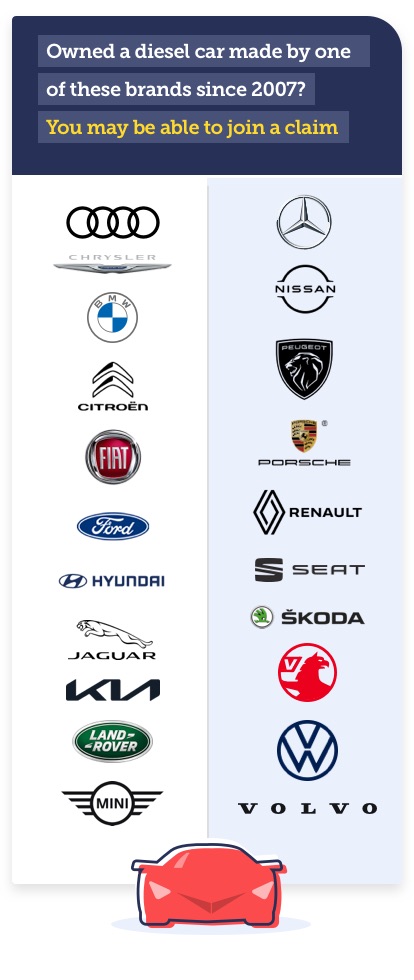 This article covers a developing – and complicated – area, and doesn't constitute legal advice.
Please let us know if you've feedback or questions we've not answered below by emailing news@moneysavingexpert.com.

What are these claims about?
This issue began when Audi and Volkswagen (VW), which are both part of the VW Group, faced regulatory action over some of their diesel cars in the US in 2015. The controversy, which became known as 'Dieselgate', has since grown to include other vehicle manufacturers.
The group legal claims allege, broadly, that the carmakers used illegal 'defeat devices' in their diesel vehicles to cheat the tests done by regulators to check their emissions levels, before approving vehicles for sale.
Law firms argue that affected cars and vans produce more harmful nitrogen oxide (NOx) pollution than advertised – and were therefore mis-sold to consumers.
In other words, you could be due money back because:
You'd never have bought the vehicle had you known about the alleged emissions flaws.


You paid more for it than you otherwise would have. For example, because you paid a premium for what you thought was a more environmentally friendly car, whether new or second-hand.


If the car or van had to be fixed to comply with emissions standards, the fix itself may have led to worse fuel efficiency or worse performance – potentially lowering its value or creating added costs, for which you may be able to claim damages.
Of course, the manufacturers disagree – for example, VW argues consumers haven't suffered any financial loss. It'll be for the courts to decide who's right.
If you sign up, the law firm may add your name to one of the claims outlined below (see the latest case updates).
For all the latest deals, guides and loopholes simply sign up today – it's spam-free!
Eight things to consider before joining a claim
While some law firms' marketing may make signing up look like a no-brainer, it's important to note that, as with all legal action, there are some serious pros and cons to weigh up. Here are the main points to consider...
How to join a claim – firm-by-firm overview
Generally, you can sign up if you bought, leased or financed an affected diesel vehicle – either a car or van – during the relevant period. We've put together the table below summarising the group claims five major law firms are working on in England and Wales and some of their key terms.
A sixth firm, Keller Postman (formerly Keller Lenkner), is still putting together a claim. But it's no longer accepting new sign-ups.
DON'T sign up with more than one firm over the same vehicle. If you do, it's possible your claim will be issued at court more than once. This could be considered an abuse of the process and could leave you liable for legal costs. You may also be liable for costs if you have to cancel your agreement with one firm because you signed up with another.
Important: Law firms are tricky to compare. Our focus here is on the overall claims process rather than analysis of individual law firms – which is not our strength or expertise. Plus, being frank, there's not a lot to go on given most of the claims haven't progressed very far.
For now, we've listed the firms in the table below – but we aren't recommending which to use. If you've dealt with any of the firms, please give us your feedback in the diesel emissions claims forum thread or by email at news@moneysavingexpert.com.
Law firm & number of claimants (1)
Manufacturers included + max fees (as a % of damages awarded) (2)
Client review score (3)

24,000

Mercedes: 35% (including expenses) + VAT


No reviews on Feefo or Trustpilot

245,000

Audi, Citroen, Nissan, Peugeot, Porsche, Renault, Seat, Skoda, Vauxhall, VW: 35% (including VAT & expenses)

Mercedes: 31% (including VAT & expenses)

BMW, Ford, Jaguar, Land Rover, Mini, Volvo: 30% + VAT + expenses

Feefo: No reviews

Trustpilot: 4.7 out of 5
(based on 1,103 reviews)

170,000

Mercedes, Vauxhall: 50% (including VAT & expenses)
Feefo: No reviews

Trustpilot: 4.4 out of 5
(based on 253 reviews)

Pogust Goodhead (My Diesel Claim)

1,200,000

Audi, BMW, Citroen, Ford, Jaguar, Land Rover, Mercedes, Nissan, Peugeot, Renault, Skoda, Vauxhall, VW: 50% (including VAT & expenses)
Feefo: 3.4 out of 5
(based on 10,419 reviews)

Trustpilot: 1.8 out of 5
(based on 60 reviews)


125,000

Mercedes: 30% + VAT + expenses
Feefo: No reviews

Trustpilot: 4.4 out of 5
(based on 17,285 reviews)
The firm you choose won't necessarily affect the outcome of your case
Provided more than one firm launches proceedings against a given manufacturer (which seems likely), the claims against that manufacturer will be grouped together when they reach court.
This means that if the claims get to trial, your chances of winning won't rest solely on the firm you signed up with, but on all of the law firms working together.
However, the firm you choose will affect how much of any compensation awarded by the court you actually get to keep if the claim succeeds (or is settled out of court) – which is worth bearing in mind.
In the first instance, contact the firm directly to see if it can resolve the problem. If that doesn't work, raise a formal complaint – you'll be able to find details of how to do this on the firm's website.

If you don't get a response to your complaint within eight weeks, or you're unhappy with the response you do get, you can take it to the free Legal Ombudsman, which can make binding decisions and has official powers to sort problems out.

Yes – but be careful. If you want a different firm to represent you, you'll first need to formally cancel any existing agreement you already have in place. It's important to do this to avoid having duplicate claims issued on your behalf in court.

But be aware that you may incur fees for doing so depending on the terms of the initial agreement and how far down the process you are.

Once you've correctly ended the existing agreement, you can then sign up with another firm as normal.
Latest case updates
1. Audi, Seat, Skoda & VW – settled out of court in May 2022
Case background
In 2015, the VW Group, which owns the Audi, Seat, Skoda and VW brands, faced widespread controversy over the way that software used in some of its Audi and VW diesel vehicles reported emissions while undergoing testing.
Legal action was brought against the VW Group and, in May 2018, the High Court granted a 'group litigation order' to lawyers representing over 90,000 vehicle owners in England and Wales, meaning that all claims were to be managed together.
Following an initial hearing in December 2019, the High Court ruled in April 2020 that VW had installed a 'defeat device' into a certain type of VW diesel engine – EA189 – used in various Audi, Skoda, Seat and VW vehicles.
This device allowed the engines to recognise when they were being tested for compliance with NOx emissions standards and reduce their emissions accordingly, while producing higher levels of emissions in normal driving conditions on the road.
Settlement reached
The case was settled out of court in May 2022 for £193 million, with VW Group also making a separate undisclosed contribution to claimants' legal costs. It's not clear how much individual claimants will get after all fees and costs are deducted – the law firms involved say this is confidential due to the terms of the settlement.
VW had previously denied anyone lost out financially and continues to insist that the settlement does not amount to any admission in respect of "liability, causation or loss" but was simply "the most prudent course of action commercially".
While this original claim has now concluded, owners of certain other Audi, Seat, Skoda and VW vehicles may be able to sign up to different group actions (see our firm-by-firm breakdown above).
This settlement only covers the approximately 90,000 claimants who were already part of the group legal action against VW Group in respect of certain vehicles with the EA189 engine.

If you're one of them, the law firm you were signed up with – Leigh Day, Pogust Goodhead (formerly PGMBM) or Slater and Gordon – should contact you about the next steps, including payments. But, as ever, be wary of unsolicited contact asking for personal or bank details. If in doubt, end the communication and contact the firm directly via the details on its website (links above).

This settlement has no direct bearing on any other cases (whether against VW Group or other manufacturers) since it reached a conclusion out of court – and therefore set no legal precedent. And there was no admission of liability on the part of VW.

It could have an indirect impact for other similar claims, potentially leading to more settlements, but it's impossible to say with any certainty, as the facts of each case will differ and different manufacturers may pursue different legal strategies.


And any ripple effect the settlement does cause is unlikely to be immediate – so it remains to be seen how the many similar legal claims across the UK will proceed.
2. Other manufacturers – claims filed but no major hearings yet
So far, the initial case against VW Group (detailed above) is the only one to have really gone anywhere.
While claims have been launched against other manufacturers, none has progressed very far yet – and they may not at all.
Nevertheless, law firms are asking customers of many other brands to register their interest in potential claims, and say that hundreds of thousands of vehicles could be affected by similar emissions issues. Manufacturers deny the allegations.
For all the latest deals, guides and loopholes simply sign up today – it's spam-free!
What about Scotland and Northern Ireland?
If you bought or leased your vehicle in Scotland or Northern Ireland, you won't be able to join the claims in England and Wales – you can only join a claim in the country where you bought or leased the vehicle, regardless of where you live. While many of the same issues apply, the claims in Scotland and Northern Ireland are separate and are at earlier stages.

In Scotland, the legal mechanism making group actions possible only came into effect in 2020 – so cases haven't progressed as far.

Thompsons Solicitors and Slater and Gordon are pursuing claims against Audi, Seat, Skoda and VW for vehicles fitted with EA189 engines. It is no longer possible to join these.

However, both firms are accepting registrations in relation to diesel vehicles from other manufacturers including Mercedes and Vauxhall – see a full list and more info on the Thompsons Solicitors and Slater and Gordon websites.

The law firm Jones Whyte is also investigating a potential group claim against Mercedes, plus several other manufacturers.


In Northern Ireland, solicitors are not allowed to take cases on a 'no win, no fee' basis, and there's only one firm we know of pursuing group claims against diesel vehicle manufacturers in respect of alleged emissions flaws.

Edwards & Co Solicitors is working on a claim against Audi, Seat, Skoda and VW in respect of vehicles with EA189 engines, though it's no longer possible to join.

The firm had previously told us that, to save costs, it was awaiting the outcome of the case in England before progressing its own claim further. We've asked for an update now that the case has been settled out of court, and will update this when we know more.

In the meantime, Edwards & Co is still inviting owners of some Mercedes vehicles to register their interest in a claim.

As mentioned above, claims in Northern Ireland cannot be run on a 'no win, no fee' basis – so, unlike in England and Wales, you would have to make a payment at the start of the case (likely about £120). Edwards & Co says it doesn't anticipate motorists will have to make any further payments beyond this and adds that it hasn't so far asked existing clients to pay more in its Audi, Seat, Skoda and VW case.
For all the latest deals, guides and loopholes simply sign up today – it's spam-free!
What do the manufacturers say?
Here's what the carmakers involved in the cases have said:
BMW Group, owner of the BMW and Mini brands, said: "BMW Group vehicles always comply with the necessary legal requirements and so the company categorically rejects any accusation that diesel emissions from their vehicles are manipulated in any way."


Ford said: "As we said back in 2016, we did not and do not have what are commonly known as 'illegal defeat devices' in our vehicles, and our advanced diesel engines meet all applicable emissions requirements."


Hyundai and Kia (Hyundai owns part of Kia) said: "All of the brand's vehicles sold in the UK and Europe comply with the emissions regulations in operation at the time of sale, and Hyundai and Kia have not infringed upon any European emissions testing rules."


Jaguar Land Rover, owner of the Jaguar and Land Rover brands, said it "does not use emissions cheat devices or software in any of its products. We have not yet seen any technical evidence in relation to this matter and will strongly contest any claims made."

Mercedes said: "We believe the claims brought by the UK law firms are without merit, and will vigorously defend against them or any group action."


Nissan told us it "strongly refutes these claims. Nissan has not, and does not, use illegal defeat devices in any of the vehicles that it makes, and all Nissan vehicles fully comply with applicable emissions legislation."


Renault said it "denies having committed any offence and reminds that its vehicles are not equipped with any rigging software for pollution control devices. Renault vehicles have all and always been type-approved in accordance with applicable laws and regulations."


Stellantis, owner of the Citroen, Peugeot and Vauxhall brands, said: "These claims are unfounded and we will defend ourselves against them."

With regards to claims against the Chrysler and Fiat brands, which it also owns, Stellantis said: "We believe this claim to be totally without merit and we will vigorously defend ourselves against it."


Volvo said: "Volvo Cars has never used any illegal defeat devices in any of its cars."
VW Group, owner of the Audi, Porsche, Seat, Skoda and VW brands, said regarding the initial UK case against it: "The group is pleased that we have been able to conclude this long running litigation in England and Wales. The settlement is another important milestone as the Volkswagen Group continues to move beyond the deeply regrettable events leading up to September 2015."

It added: "We have been advised that a claim has been threatened in England and Wales relating to newer diesel vehicles. The Volkswagen Group will examine the claim in detail and will defend itself robustly in relation to the new allegations, which we consider are vague, unsubstantiated and appear to confuse the different technologies and engines involved."
Have your say in our forum!