Cheap flights
Bag cheap scheduled & charter flights
Leave it till the last minute and flight costs are often sky-high – but plan ahead and book the right way and savings can soar. We've loads of clever tricks to help you find cheap holiday destinations, book flights at the right time and more.

Other cheap travel guides...

Step 1: Decide when and where to go
The key to nabbing jaw-dropping flight deals is to find them first, and snap them up as quickly as possible. If you want to take advantage, you often need to be flexible – ideally on both destination and dates – and able to book quickly.
If you've not decided the details of your holiday, and are happy to explore your options, this step is all about how to go about finding the absolute cheapest flights out there.
However, this isn't for everyone. If you've already decided where you want to go – or you're restricted to travelling on certain dates (such as school holidays) – head straight to step 2 to find out how to get there for the lowest price.
a) Flight finders will send you the best offers
If your travel plans aren't set in stone and you're just after a really keenly-priced deal, there are a few nifty flight-finding services which can help. While all work in slightly different ways, they'll alert you when an airline's dropped prices on a particular route – and also flag up pricing mistakes or 'error fares', which can be mega-cheap. Here's our pick of the best:
Site

How it works

Jack's Flight Club (JFC)*

JFC sends its members email alerts with details of cheap flights. If you're flexible about when and where you go, this can be a good way to grab a bargain.

Its basic service is free, though it also has a £39/year premium service which sends out more deals. See how to get a free 30-day premium trial.
Holiday Pirates

Holiday Pirates mainly searches for cheap package holidays, but it also lists deals on flights and hotels. You can get free alerts if you sign up to its email newsletter or download the app. Some deals can be booked through its website – for others, you'll be directed to a travel operator's site to pay.
Secret Flying
Secret Flying can also be a winner. There's no need to sign up – simply visit its free site to view cheap flights. You can filter by destination and month. It will direct you to the airline's website to book. Some deals may be in euros or dollars – make sure you pay with a specialist card to avoid hefty conversion fees.
An 'error fare' is exactly that: a pricing mistake. They happen when an airline or online travel agent has made a mistake which means the flight is listed on their site at a significantly cheaper price than normal.

There are several reasons why this might happen: all it takes is someone forgetting to add a zero, or for the flight to be accidentally advertised in Australian dollars instead of US dollars.

Because error fares are genuine mistakes, they crop up randomly and are impossible to predict. It's also impossible to predict how long they'll last for. Sometimes, error fares stay online for days, other times the airline spots the mistake very quickly and the price will return to normal within a couple of hours.

If you buy an error price flight, the airline can cancel it, but they must give you a full refund. But, in many cases airlines will often honour it simply to avoid any bad PR.

Jack's Flight Club says about 70% of error fares are honoured by airlines, but if you do book one, it recommends waiting about two weeks before booking any non-refundable aspect of your trip, just in case.

It can be difficult to know at what point your error fare is confirmed, as airlines' terms and conditions don't always clearly spell out at what point your contract with them is legally binding, and therefore your ticket is guaranteed. For an example of an airline refusing to honour an error fare, see our BA cancels cheap tickets to Middle East MSE News story.

Realistically, it may be difficult to fight your corner if an airline does cancel your flight. If you've already booked other aspects of your trip such as accommodation, you can try to claim it as a 'consequential loss' from the airline you booked with – but there are no guarantees this will work. Ultimately, you'd likely need to go to the small claims court to try to get back any additional costs incurred (but again, there are no guarantees).
Where else to look
There are a number of other places worth keeping an eye on to be sure you can pounce on deals first. For example, frequent-flyer sites God Save the Points and Head for Points sometimes flag cheap flight deals (though both sites' main focus is on making the most of schemes such as British Airways Executive Club, and the deals aren't always for economy fares).
HotUKDeals has a travel section, where users flag cheap flights they've spotted. And we'll flag any cheap flight deals we spot in our weekly email, and on Twitter and Facebook. Let us know on the forum if you've used the sites above, or found any others we've missed.
b) Sign up for airline email updates so you never miss a sale

If you're looking for a flight a good number of months away, it's also worth signing up to the email lists of all the relevant airlines. Often they email details of short-term sales, so if you've an idea of when you want to go, you can pounce when the moment comes.
Ones to try for sales are the newsletters of Air France*, Easyjet and KLM*. If you're set on a British Airways flight, it's worth checking BA's cheap fares finder for its lowest prices to worldwide destinations.
Remember, though, before you book in an airline sale, always use a comparison site to check that you've actually found the cheapest price.
Momondo* is a metadata search engine and works similarly to flight comparison sites such as Skyscanner. Its standout feature though is the 'Flight Insight' data it offers for a number of popular routes (you can find it at the top of your search results). It helps pinpoint when is the best time to book, which day of the week to fly and even which airport's cheapest to fly to.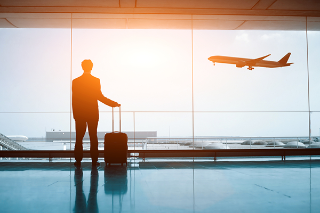 For example, when we checked, it was cheapest to fly from London to Phuket in May, and most expensive in December. Yet for a London to New York search, the cheapest flights were in November. Momondo's flight insights also showed us that the cheapest time to book for both destinations is at least 60 days before departure.

The results are a useful average to help plan your trip dates rather than a cast-iron guarantee. The data's based on prices quoted in flight searches and includes sales too, so take it with a hefty pinch of salt, and if in doubt book early.

When you're ready to book, don't assume Momondo will always come up cheapest either – try the other comparison sites first to see if you can beat it.
Quick questions
Put the dates you want to travel into Momondo* and click 'search'. If it's available for your route, you'll find a 'Flight insights' option at the top of the results. Click it to find handy stats to help you hone your dates.

As well as the cheapest month and day of the week to fly, it shows you the cheapest airline and the cheapest airport to fly to if there are multiple options (for example, London Gatwick to New York LaGuardia).

It works for over 150 of the most popular routes from the UK (most leaving from London), and about 1,800 worldwide. Sadly, it isn't available for every route yet, but Momondo says it's adding more routes as it gets more data.

Momondo's 'days to departure' graphs only go back 60 days, but it may occasionally be possible to get it even cheaper flights by booking further ahead.

The best time to book seems to be dependent on destination so it's worth looking into where you're going and playing around with dates.
For all the latest deals, guides and loopholes simply sign up today – it's spam-free!
Step 2: Find the cheapest flight
Once you've pinpointed when and where you want to go, follow these steps to ensure you're getting the best possible deal.
a) Head to a comparison site (or two)
Don't assume going direct to an airline is the cheapest way to book – use a price comparison site to double check first.
These comparison sites search online travel agents (such as Expedia and Ebookers), as well as airlines to find you the cheapest flight options for your destination and date, and the cheapest place to buy from. For example, we saw a London to New York City return for £250 booked through an agent, but it was £260 for the SAME Virgin Atlantic flight booked direct with the airline.
Below are our favourite flight comparison sites. We've ranked them based on features and ease-of-use (as well as prices returned) in our quick spot-check.
Remember: different comparison sites search different firms, so check at least two.
Comparison site

Why we like it





For comparison including baggage. We argue within MSE Towers about the very top pick, but Kayak* is Martin's favourite, so it wins. It's got a decent range of user-friendly filters – for example, you can specify at the start of a search whether or not you want to check in bags so you can compare costs more accurately.

For flight data info. We like Momondo* for its nifty tool that tells you the cheapest and most expensive dates around your flight, as well as helpful insights such as the cheapest airport to fly from and to. It doesn't do it for all destinations, but it has some of the biggies, including: New York, Dubai, Sydney, Cape Town.


Google Flights
For speed and ease of use. The search engine might not be the first place you think of when booking a holiday, but Google Flights is a decent rival to the likes of Kayak and Momondo. Once you've selected a route, it immediately shows you how prices vary depending on which dates you fly.

Other sites worth checking

Skyscanner*
Fly.com
Dohop
Expedia*
Many mistake Avios for a frequent flyer scheme. Actually, it's a points scheme similar to Nectar and Clubcard. You earn points in Shell, Tesco and by spending on credit cards, which can then be spent on travel-focused rewards.


You'll still pay taxes and fees on flights, which wipes out some of the gain, (these can be up to £100 for European return flights with BA, for example). But if you opt for its Reward Saver scheme, you pay a fixed fee on most short-haul economy flights, as long as you earn at least one point the year before you book.

For full info, plus 30+ ways to push it to the max, see Boost Avios points. Also see Airline credit cards for point-earning credit cards for Avios and Virgin Atlantic's Flying Club.

If you like flying with a specific airline, or know the exact flight you want, 'codesharing' could be a way to get a flight for cheaper. Codesharing is when airlines buddy up to sell seats on each other's flights, sometimes at a different price.

This works best on popular medium or long-haul routes – simply book through a partner airline to grab a seat on the same plane for less.

For example, when we looked, we found a Virgin Atlantic return flight from London to Las Vegas in October for £754, booking via Virgin Atlantic. But exactly the same flights booked via its partner Delta cost £655, saving £99.


Airlines typically list their partners on their websites. For example, Virgin Atlantic's partners include Air France, Delta and KLM. British Airways' partners include American Airlines, Cathay Pacific and Qatar Airways.
b) Check if stopping over could save you even more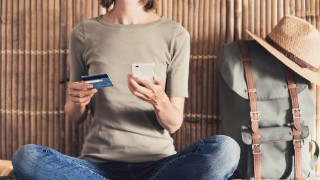 Direct flights are always more convenient. However, if you've a bit more time, sometimes an indirect flight only adds a couple of hours to the journey, but could save you some serious cash. Plus, if your flight does have a long stopover, some airlines will offer you a free hotel.

We checked return flights from London to 10 popular long-haul destinations to see how much you could save by flying indirect. The results are in the table below – as a rule, we found bigger savings on longer, non-US flights.
We haven't included Dubai, Los Angeles, New York and Miami in our comparisons below because when we looked it's often cheaper to fly direct.
| | | | |
| --- | --- | --- | --- |
| London to: | Direct | Non-direct | Layover time and location |
| Bangkok | £679 | £594 | 3h15 outbound, 4h25 return via Bahrain |
| Beijing | £627 | £487 | 3h15min outbound, 2h55 return via Shenzhen |
| Cape Town | £878 | £651 | 3h05 outbound, 1h45 return via Nairobi |
| Kuala Lumpur | £749 | £565 | 4h outbound, 1h return via Kuwait |
| New Delhi | £531 | £462 | 3h30 outbound, 55m return via Bahrain |
| Rio de Janeiro | £740 | £650 | 1h15 outbound, 7h25 return via Rome |
| Seoul | £792 | £608 | 1h15 outbound via Amsterdam, 1h15 return via Paris |
| Singapore | £836 | £601 | 2h15 outbound, 9h10 return via Athens |
| Tokyo | £1,159 | £848 | 4h40 outbound, 5h20 return via Shanghai |
| Vancouver | £564 | £500 | 3h40 outbound via Toronto, 4h35 return via Montreal |
To look yourself, search through the big price comparison sites we've used above. Kayak*, Momondo* and Skyscanner* all show you direct and indirect flights, so you can easily compare prices.
c) You can split tickets on flights too and sometimes save £100s
It's easy to search for flights from A to B but by being a little creative about the route and splitting the ticket, you might be able to slash the cost even further.
It's commonly associated with trains (see our Cheap train tickets guide) but it does work on flights too, you just have to be willing to do the research.
Ex-MSE Guy broke down his search for flights from London to Singapore and Malaysia and saved £170:
I wanted to book flights from London to Malaysia and Singapore, including a trip to the Malaysian island of Penang.
I originally searched for open-jaw tickets from London to Singapore, then Kuala Lumpur to London with the intention of booking internal flights from Singapore to Penang and Penang to Kuala Lumpur. The initial cost, including internal flights, was £910.
Being a MoneySaver and to fully compare costs, I tried searching London to Penang then Kuala Lumpur to London. The quote dropped to £760. But as the outbound flight was via Singapore anyway, I broke it down further – London to Singapore, Singapore to Penang, Penang to Kuala Lumpur, Kuala Lumpur to London.
New quote: £740, a huge £170 less than tickets on my initial search.
d) Check niche travel agents for cheap flights to specific destinations that aren't online

The UK's a melting pot of different immigrant and ethnic communities, and this can be used to great advantage for a cheap flight booking. Niche travel agents often specialise in finding deals to the relevant communities' linked countries.

For example, Shepherd's Bush in London and the surrounding area has some Caribbean specialist tour agents, and magazines such as the Jewish Chronicle feature firms advertising cheap flights to Israel.

Don't forget to check prices elsewhere before you buy to make sure you're getting a good deal. If you know of a cheap specialist travel agent, please add your finds in the forum.
e) See if a package holiday works out cheaper (even if you don't use the hotel)
Online travel agents allow you to book flights, hotels and car hire, and will often give extra discounts if you combine them in a 'package'. Sometimes you can even find a deal that includes travel and accommodation for less than the cost of the flight alone.
What's more, most package operators are ATOL-protected (though always check before you book). This means if the company goes bust, your holiday is automatically protected. You'll get a full refund if you haven't left yet, or you could carry on the trip and still get home if you're already there.
Step 3: Maximise savings when you book
So, you've figured out where you want to go, and found the cheapest flights on offer... but there's still opportunity to maximise your savings (or get accidentally caught out by high cost 'extras') when you're booking – especially when it comes to 'budget' airlines such as Ryanair and Easyjet.

Below are our tips for making sure you maximise your savings when you book.
a) Check the real cost of your ticket (and avoid hidden extras)
Booking budget airline flights can be a minefield. Luggage, check-in, reserved seats and food are just some of the extras you may have to fork out for. And what's worse, they're not always made clear until you've started making the booking.
To help, the CAA (Civil Aviation Authority) website has a useful airline charges comparison table which shows extra fees for a host of big airlines, as well as luggage allowances, seat selection charges and even whether a meal's included with your ticket. While you should always double-check these with the airline before you book, it's handy to see the real cost of your ticket so you can make a more accurate comparison.
Our Budget flight fee fighting guide also has tricks to beat those nasty charges, from paying the right way to beat the fees, to multi-pocket jackets so you can take extra carry-on luggage. Plus see our Easyjet tricks and Ryanair tips guides for specific advice if you're flying with them.
b) Can you beat airline baggage fees by POSTING your luggage?
For a more extreme way to save on flight extras you could ship your holiday luggage abroad. There are now a number of firms offering this service – we've crunched the numbers and found this can save serious cash.
We've found three firms that offer competitive prices for sending luggage abroad – Send My Bag* and Mybaggage. Both are well reviewed – though this is a new, untested concept so let us know what you think in the forum.
While doing this can be cheaper than paying to take your bags on the plane this isn't just about saving money. Shipping bags ahead means you don't need to lug them to and from the airport – handy for families, the elderly or those with disabilities.

What's more, this can be a way to avoid eye-watering last-minute luggage charges on your return from holiday, if your bag's over the weight limit. For example, Easyjet charges £12 per KILO for excess weight at the airport.
Need-to-knows
Having multiple web pages open could lead to a wrong booking
A few Forumites have reported problems booking flights while having two or more web pages open, where the flight details get booked using the wrong details from an older search.
If you're using more than one page to search, it's a good idea to close the other pages before you book, and try deleting your browser's cache to ensure you're seeing the most up-to-date price. Forumites recommend clearing your internet cookies and starting with a new browser page, or even using a different browser altogether to look for quotes.
If this has happened to you, contact the airline or booking site straight away to see if you can get it amended (see How to complain for help). Let them know it's a known fault others have reported too. Yet sadly you've few rights if the airline refuses to correct it, as it'd be difficult to prove it's their error, and it may charge you fees to amend or cancel.

If it's happened to you, let us know in the Wrong flights booked forum discussion.
Extra tips for before you get to the airport
Now you've secured your cheap flights and are getting excited for your trip, these next few tips will make sure you continue to get the best value for money at the airport.

a) Book parking in advance if you're driving to the airport
While public transport usually wins, for large families or groups, driving to the airport can be cheaper. Yet booking early is crucial. Wait till you get to the airport and you're a captive customer – a dream for airport parking companies, not so for MoneySaving. Even booking in advance on the day could save you money.
Some inspiration from MSE Forum user Bigdaddy10:
I paid £40 instead of £115. Granted we booked for the August bank holiday in March, but it goes to show there are bargains to be had by booking ahead.
To maximise savings, book well in advance. Just as with flights, comparison sites are the best place to start, but it's also worth trying booking direct, combining parking with a hotel room or renting a personal space near the airport. Our Cheap airport parking guide has full step-by-step help, plus we've blagged extra discounts on top to help bring costs down further.
b) Planning on treating yourself at duty-free? Pick it up on the way back
If you're looking to buy duty-free goods but don't want to have to carry them on the plane, website Duty-Free On Arrival has a handy airport search that provides info on whether you can buy duty-free when you arrive.
However, don't assume buying duty-free is always cheapest. If you're after a particular item, quickly check prices online before you go. This'll help give you a benchmark to compare with the duty-free price when you get there.
c) Cut airport transfer costs with shuttle buses or splitting airport travel with others
Holiday Extras* lets you book transfers between airports and popular resorts across the globe. It offers basic shared shuttle buses, as well as private transfers. There's also Hoppa*, which Forumites report can turn up some very competitive prices (though always check these for yourself before you book).
Allow plenty of time, and don't expect anything too fancy. Here's how MSE Jenny found it:
From my experience, don't expect anything too posh if you opt for a shuttle bus, and allow plenty of time to get to the airport. After all, if there are hordes of other passengers to pick up, you don't want to miss your flight.
Feedback's generally positive, though there are reports of occasional problems with missed pick-ups, so factor this in if you're considering it. If you've used it, please let us know how you've got on in the forum discussion.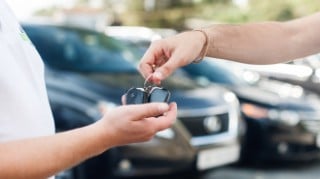 Holiday car hire can save a hefty whack on taxis to and from the airport, as well as transport costs while you're there, providing you do it right.

If you're going to need it, book the right way and generally as early as possible to grab it cheaply. What can be £5/day months ahead can be triple or more just before you go and far more once you've arrived at your destination, adding £100s overall.
You can find full details of current deals and tips 'n' tricks in the Cheap car hire guide, but here are the key points:
Work out what you need. There's often a mass of costly add-ons on offer, including sat-navs and extra drivers. Before you book, work out what you need and ditch the rest.


Quickly compare quotes. Next, take the legwork out of your search by using the right comparison sites to grab the most quotes in the least time. Our top picks are Skyscanner*, Kayak*, TravelSupermarket* and Carrentals*.


Check for extra discounts. See if you can squash the price further through fly-drive package deals, cashback, specialist travel brokers and online vouchers.


Get cheap excess insurance before you go. The hire firm will want you to get up to £25/day excess cover on top of the included insurance. Instead, get Cheap excess insurance for as little as £2 before you go.
More travel tips
We've a whole host of tips to get you prepped for your holiday. Below is a quick round-up of where we'd suggest you head next:
Have your say in our forum!