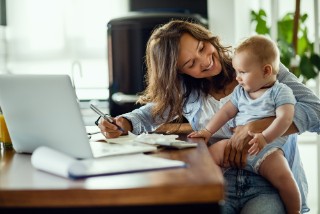 Universal Credit
Who can get it, how much you can get and how to apply
Universal credit is a monthly benefit to support those on low incomes (or no income) with living and housing costs. It replaces six benefits – including housing benefit and working tax credit. With millions of people struggling financially due to coronavirus, many will now be able to claim this benefit for the first time. See our Universal Credit and Benefits Calculator to see how much you could get.
This guide covers England, Wales and Scotland. Universal credit follows the same guidelines in England and Wales and there are some small differences for recipients in Scotland, which we outline. However the system works differently in Northern Ireland.
Universal credit is a monthly payment, paid in arrears for people who are out of work or on low incomes. It replaces six means-tested benefits, often referred to as 'legacy benefits'. If you're making a first-time claim you'll go straight onto universal credit, and eventually everyone currently in the old system will be switched over to universal credit. Right now though, this process has been temporarily suspended due to the coronavirus crisis.
Universal credit replaces these six benefits:
Income support. This is paid to people who are not expected to look for work – for example, carers or lone parents with children under the age of five.


Income-based jobseeker's allowance (JSA). You can get this if you're looking for work and your household is on a low income. It's paid for as long as you show you are trying to find a job. (Note that this is a separate benefit to contribution-based or "new style" jobseeker's allowance.)


Income-related employment and support allowance (ESA). This is paid if you are sick/disabled, your household is on a low income and you are unable to work, or have limited capacity to work. You will need to pass a 'capability for work' assessment.


Housing benefit. Housing benefit is help for those on a low income who struggle to pay their rent and can't be used to help with mortgage costs.


Child tax credit. This is paid to anyone with children aged 16 or under (under 20 if in education or training) and anyone, whether working or not, can apply.


Working tax credit. This is paid to anyone with children aged 16 or under (under 20 if in education or training) and anyone, whether working or not, can apply.
If you're unemployed, have been made redundant, are off work due to sickness, or are on a low income, you could be entitled to universal credit to help you meet your basic living costs. You could work for an employer, be self-employed and still apply.
You might be able to claim universal credit if all of the following applies:
You're out of work or on a low income or have been made redundant.
You're aged 18 or over (there are some exceptions if you're 16 or 17).
You or your partner are under state pension age.

You have less than £16,000 in savings – if you have a partner, their savings count too (if you're self-employed, some savings may not count if they're for business purposes, eg, tax. For full info on what counts, see below).
You live in the UK.
You currently receive any of the benefits that universal credit is replacing – eg, working tax credits, child tax credit, income support, housing benefit – and your circumstances change.
Is it the same in England, Wales, Scotland and Northern Ireland?
England, Wales and Scotland follow the same guidelines. Scotland has some extra flexibility when it comes to receiving the payments, known as 'Scottish choices'. This means you can choose to be paid monthly or fortnightly, and if you get an extra housing payment you can choose to get it in your bank account or paid directly to your landlord.
In Northern Ireland, it's a slightly different system and it's normally paid twice a month, though you can choose to be paid monthly. Find out more on the NIdirect website.

Check if you're likely to get universal credit with our 10-minute Benefits Calculator
Our 10-minute Benefits Calculator will give you a good idea of what you're entitled to depending on your circumstances.
Quick questions on who's eligible
You can still claim, but only if you have savings up to £16,000. Universal credit's a means-tested benefit. This means that the amount of income and savings you have will affect your eligibility and how much you might be entitled to, eg, you'll get less universal credit if you have savings over £6,000 or earn enough money to cover your basic living costs. If you've savings of £16,000 or over, you won't be eligible for universal credit.


If you live with your partner, you must make a joint claim. Your partner's income and savings will be taken into account, even if they aren't eligible for universal credit.

If you are or become self-employed, you may be eligible for universal credit. You will need to meet the general universal credit eligibility criteria.

Being "gainfully self-employed" means being self-employed in a way where you'll be able to become financially independent. You will need to show that:


Your self-employment is your main job or source of income
You're getting regular work from self-employment
Your work is "organised and developed"
You expect to make a profit

If you pass the test of being considered as gainfully self-employed, you'll be supported towards the goal of becoming financially independent. You won't have to look for other work. You will have to report your earnings to the DWP every month.

Yes. But you have to make the choice to move. Eventually everyone will move over to universal credit, but the process of "managed migration" has been suspended due to coronavirus. This means that right now nobody is switched over unless they actively choose to be, or has a change in their circumstances that triggers a switch.

Managed migration will eventually see everyone moved over to universal credit – not just those who make new claims or have a change in circumstance.

You won't lose out if you're moved over in the managed migration – if you have any drop in benefit payments, you'll get a 'transitional top-up payment'. The Department for Work and Pensions (DWP) told us these payments will continue until you've a change in circumstances – eg, if a partner moves out and you have to reapply as a single claimant.

You will ONLY get the transitional top-up payment if you are part of the managed migration – not if you were moved on to universal credit before July 2019 due to a change in circumstance.

If you're claiming a legacy benefit and have a change in circumstances – eg, you've moved in with a partner – you may get migrated over to universal credit.

The Government has a list of examples for what counts as a change of circumstances, and benefits specialist Entitledto has a list of circumstances which also gives an overview of how your benefits will be affected.

If you don't have a change of circumstance, you will stay on the legacy benefit until you're moved over as part of the migration. Do NOT try to beat the system – you have to report changes straightaway or you risk losing your benefits altogether.

Universal credit was designed to behave just like a paying salaried job, which means instead of getting the benefit weekly, or fortnightly, it is paid in monthly arrears, with the first payment coming after five weeks. This has meant that many people have struggled in those initial weeks. If this is you, there's

help you can get

.

Unlike other means-tested benefits in the past, there is no "set amount" you can earn before you stop getting the benefit. The government first looks at what you need to live on, given your circumstances, then it looks at what you have (income, assets, other benefits etc) and then it awards you the difference.


So while it allows you to work and still receive support, the amount you get is adjusted in line with your (and your partner's, if you have one) earnings.

Another big difference is you can't get it if you – or your partner – have savings or capital over £16,000. See more about the effect of savings here.

Other difficulties are:

Yes. The amount you get is based on your income (and your partner's income, if you have one) and the 'minimum income floor', a minimum amount which the Government assumes you'll earn. It's calculated on the national minimum wage for someone in your age group multiplied by the number of hours you're expected to be available for work.


If you earn less than the minimum income floor, usually you'd have to find additional work to top up your income, as universal credit won't make up the difference. But currently, the minimum income floor has been suspended due to coronavirus, so you can earn less than this, and the amount of universal credit you get will be boosted.

If you earn more than the minimum income floor, your universal credit payments will be based on your actual earnings.


The minimum income floor doesn't apply to everybody. You're exempt from it if:

You look after a child under the age of three
You're pregnant or gave birth in the past 15 weeks
You're caring for a severely disabled person
You've been assessed as having limited capacity for work, or limited capacity for work-related activity
You're in full-time education
You're temporarily too sick to work

How is the minmum income floor calculated?

Your expected working hours are multiplied by the hourly national minimum wage for your age group, and then calculated as a monthly salary. For example, if you're aged 25 or over and in employment, you must be paid a legal minimum of £8.72 an hour – though it'll be less than this if you're younger.

This weekly wage is then multiplied by 52 and divided by 12 to get an equivalent monthly salary. So someone who was expected to work a full 35-hour week would be expected to earn:

- £1,322.53 a month if aged 25 or over. This is based on a minimum hourly salary of £8.72.
- £1,243.67 a month if aged 21-24. Based on a minimum hourly salary of £8.20.
- £978.25 a month if aged 18-20. Based on a minimum hourly salary of £6.45.
- £690.08 a month if under 18. Based on a minimum hourly salary of £4.55.

The DWP then deducts tax and national insurance to work out your minimum income floor. This is deducted at an amount "the Secretary of State deems appropriate", so can differ from case to case.


While the tax and national insurance make it hard to state exact minimum income floors, the monthly wages above can be taken as a good approximation of the level of minimum income floor that will apply to you in your age group (assuming you'd be expected to work full time).
I'm on working tax credit - would I be better off switching to universal credit?
Before you think of switching, you must know that if you switch from a legacy benefit to universal credit you CAN'T switch back.

Your personal mix of legacy benefits may very well be worth less than the amount available via universal credit, however there are different rules around savings, earnings, eligibility and capital that makes generalisations about who is better off difficult.

As rough guidelines, those who are better off are typically those who pay private rents in expensive cities. Those who might be worse off are those with disabilities.

It's quick and free to get a good idea of if you'll be better off. Our Universal Credit and Benefits Calculator has an inbuilt comparison tool that clearly shows what you're currently getting and what you might get if you made the switch.

This is the latest incarnation of this guide. Please give us feedback, suggest improvements and share your tips in the universal credit forum thread.
Thanks to Wendy Alcock of Entitledto for fact-checking the guide.