If you click a link with an * to go through to a provider, we may get paid. This usually only happens if you get a product from it. This is what funds our team of journalists, and keeps us free to use. Yet there are two crucial things you need to know about this.
This never impacts our editorial recommendations – if it's in, it's in there because we independently rate it best.
You'll always get as good a deal (or better) than if you went direct.
For a more detailed explanation see How MSE is financed.
Prepaid travel cards
Lock in a top rate before you go away
If you're planning a trip overseas, making sure you'll be able to pay for things in your destination is crucial. But many don't like taking too much cash in case it's lost or stolen. A prepaid travel card could be a solution – they let you load your chosen currency to it before you leave, then use it while on your trip like any normal debit card. This guide has everything you need to know about these cards, and our top picks.
Prepaid travel cards let you lock in a rate before you go, but there are two main alternatives to consider...
Prefer cash? Useful if card isn't accepted, our tool helps you find the best exchange rates for your holiday money.

TravelMoneyMax
For all the latest deals, guides and loopholes simply sign up today – it's spam-free!
What is a prepaid travel card?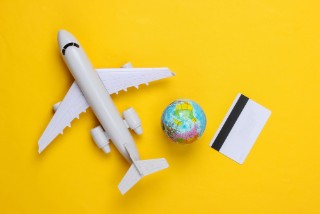 Think of it like a gift card, but for holiday money – you decide how much currency you want to add and then you can use it for spending or withdrawing cash abroad (or buying online in a foreign currency). As it works like a debit card, you know how much you have to spend and can't go over that unless you reload.
You'll either be able to load it in the currency of your choice before you go (and so locking in a set exchange rate) or load it with pounds so it uses the exchange rate when you spend – though in practice it's often the rate on the day or two after.
Providers will either use the 'interbank rate' (the perfect exchange rate), the rate set by Mastercard or Visa, or one of these with a fee added, often between 1% and 2.5%.
Locking in an exchange rate can be good if you need certainty over budgets. Plus if the pound weakens after you load the card, you'll gain – though obviously you'll lose if the pound strengthens.
A travel credit or debit card can be a better alternative
Before you consider a prepaid card, check out travel credit or debit cards. They're often less of a faff than loading before you go and the top picks consistently offer near-perfect rates every day of the week. Plus if you're using a travel credit card for a purchase costing £100-£30,000 (even abroad) you'll also get Section 75 protection.
Travel prepaid card need-to-knows
If you think a prepaid travel card is right for you, here are our key need-to-knows to consider before getting one.
Money on prepaid cards is classed as 'electronic money', and all prepaid card providers are required to hold your cash in a bank account ringfenced from their own operating cash.

So, provided the prepaid card company has followed the rules, if it were to go bust, the bank or building society where your money's held will still retain your cash and you'll be able to get it back.

The slight risk comes if the bank or building society goes bust, because your cash is NOT protected in this case. Always try and find out which bank the provider uses for its ringfenced accounts, so you can then understand the risk. For example, the accounts in this guide use Barclays, so it's arguably less risky than, say, a bank you've never heard of.

Either way, think of your prepaid travel card as one that you'll keep cash on for immediate or short-term spending requirements, rather than as a place to store heaps of it for long periods of time.

As long as you contact the provider of your prepaid card and get it blocked, you shouldn't lose out on any money, though you may have to pay up to £10 for a replacement card.

Pay special attention if your prepaid card is contactless as it could be used for a series of small, fraudulent transactions, so always alert your card provider as soon as possible. It's also worth alerting local police or security services if there's been a theft – you may need an incident number to claim losses back on your travel insurance.


When travelling, it's pretty common for a cash machine or retailer to ask if you want to be charged in pounds instead of the local currency. This is called dynamic currency conversion. In general, you should usually opt to be charged in the local currency rather than pounds, as exchange rates can often be appalling.

When we selected our top picks for this guide, part of our criteria was that they should have top exchange rates and minimal fees. So, with any card from this guide, always opt to pay in the local currency.

Even if you're using a normal card, as you've no idea of the relative exchange rates, it's usually best to stick with paying in the foreign currency. For a great example of this, read Martin's blog.

Prepaid cards have more fees than credit or debit cards. We take all these into consideration when picking our best buys, deliberately picking cards with low – or no – fees, but these are the charges you need to watch out for with bog-standard prepaid cards:

Application and replacement fees. Some cards cost £5 to £10 to open and display that fee prominently on their websites. However, many also charge a sneaky 'replacement fee', and set the expiry date to one year after opening. After 12 months, you'll have to pay around £5 to keep using the card and any funds already on it.

A few cards also charge a monthly fee of a few quid simply for holding it, which works out hideously expensive.


Transaction fees. Some cards charge you for retail purchases (just buying something in a shop), or withdrawing money from an ATM. Both fees usually jump when you're abroad.

Spending. Charged as either a percentage of the amount or a flat fee per transaction. If you make a high number of small purchases, go for a percentage fee. If you make fewer and higher-value purchases, go for a set fee.

Withdrawing cash. Usually £1.50 to £2.50 per withdrawal. It's also worth checking the cards for loading and transaction limits. If you're likely to want to withdraw lots of cash, it's no good picking a card with a £50 or £100 per day limit for cash withdrawals.


Inactivity charges. Prepaid providers want you to regularly use the card, racking up charges and boosting their profit. Therefore, you're often penalised if the card goes unused, typically £2/month if you haven't used the card in 12 months.

So use it frequently enough on small transactions to avoid this charge. Similarly, don't overload funds on to the card; most charge a fee to refund the money.


Charges for topping up your prepaid card with a credit card. There's a hidden charge you could fall foul of if you're using a credit card to pay for and to top up your prepaid card.

Buying currency on a prepaid card is counted as a cash withdrawal, so you could face a myriad of fees, including cash withdrawal fees, interest, or even a fee for using a credit card charged by the money changer.

Therefore, if you're buying and topping up currency on a prepaid card, ALWAYS use a debit card, which isn't allowed to charge this fee.

While these cards say they're accepted anywhere you see the Mastercard or Visa symbol, there are some notable exceptions. Most car hire places won't accept prepaid cards, or if they do, they're likely to also require a credit card for any excess deposit authorisation, so make sure you have back-up cards.

We've also heard from MoneySavers that prepaid cards aren't accepted at many petrol stations or motorway toll booths. Please let us know in the Prepaid Travel Cards forum if you've had a prepaid card declined in other places.
Top-pick prepaid travel cards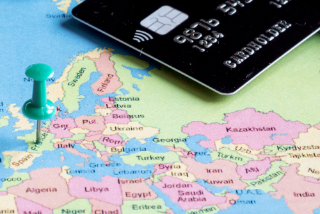 We've compared cards to find ones with the best rates and lowest fees. Though it's always worth comparing our top picks to the best you'd get in holiday cash by using our comparison tool TravelMoneyMax.
With these cards, you can just spend on them in pounds and you'll get the rate on the day you spend – or you can lock in a rate before you go on holiday, so you know the rate you'll get before spending.
To do this, you'll first need to find whether the currency you want can be exchanged in advance, as it varies per card. If it can, you'll need to load the card with pounds and then navigate to your account in the app or online. There's then usually an 'exchange' option where you can select the currency you want. If you're happy with the rate, hit 'order' and your pounds will be exchanged and you'll then have a balance on the card in the foreign currency.
Prepaid travel cards – our review
All our top picks use near-perfect interbank exchange rates (which tend to be slightly higher than Mastercard's or Visa's rates) and can be used anywhere in the world that accepts Mastercard or Visa. So the difference mainly comes down to the fees each adds on top.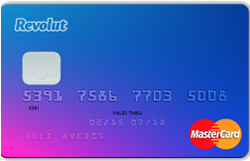 Revolut's standard plan doesn't charge exchange fees for the majority of currencies between Monday and Friday UK time, though you'll pay a 1% fee to exchange at weekends. However, you can beat this by loading the card with pounds in advance and exchanging on a weekday – you can do this with 30 main currencies, including euros, US dollars and Turkish lira. Though if you exchange more than £1,000 in a 30-day period, you'll pay an additional 1% fee.

You can use its free virtual card with digital wallets such as Apple Pay and Google Pay, or you can opt to pay a delivery fee for a physical card, which you'd need if you wanted to withdraw cash. Only the first £200/mth or the first five withdrawals are free (2% fee, min £1, after), so it's best to limit cash if you opt for Revolut.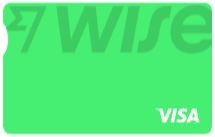 Alternatively, Wise charges a small exchange fee of at least 0.41% at all times. The fee depends on the currency – for example, exchanging pounds to US dollars or euros has a 0.41% fee, so would beat Revolut at weekends if you'd prefer not to exchange a set amount in advance. It also has two fee-free cash withdrawals up to £200 each month.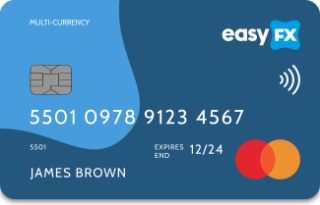 We've also included EasyFX as a decent option if you plan on making regular cash withdrawals, as it charges no fees overseas (you'll pay fees on both spending and ATM withdrawals in the UK). You won't get as good a rate as the cards above though, and you're limited to 10 transactions a day. EasyFX also charges a £2/mth fee if it's not been used in the previous 12 months, so make sure you use it regularly or close it if no longer needed.
| | | | |
| --- | --- | --- | --- |
| | Revolut* | Wise* | EasyFX |
| Card delivery fee | Usually £4.99 | £7 | None, but min £50 top up required |
| Uses interbank exchange rate? | Yes, though 1% fee at weekends and/or for Thai baht. 1% fee if exchanging over £1,000/month (i) | Yes, plus a fee of at least 0.41% (see its cost calculator for exact fee) | Yes, plus a 1.8% fee when exchanging up to £1,000, 1.2% up to £4,000 and 1% over (ii) |
| Overseas ATM withdrawal fee | First five/£200 free per rolling month, 2% after (min £1) | Two per month free up to £200/mth, 1.75% + 50p above | None abroad, but £1.50 in the UK |
| Currencies you can exchange in advance (locking in the rate) | 29 | 54 | 13 |
| Fee if not used? | No | No | Yes, £2/mth after 12mths |
| How to manage | App | App or online | App or online |
| | Apply* | Apply* | Apply |
Top cards for under-18s to use abroad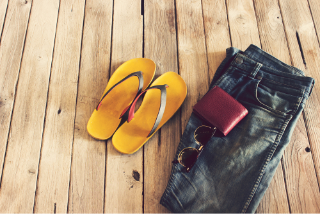 Many people don't use cash abroad anymore, making it tough to give children spending money. The solution is a kids' UK prepaid cards where you (or they) load up money to spend.
Most let you set spending limits and monitor via apps, plus some offer near perfect exchange rates too. Unlike the prepaid cards above, here you get the rate on the day you spend. Our top picks are below...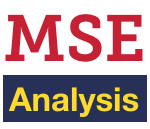 Top cards for under-18s – what we'd go for
Our top-three picks all offer fee-free spending abroad with no limits – which is best depends on whether you'd prefer a prepaid card or a children's bank account, and whether you value using ATMs.
HyperJar's prepaid-card is free to get, though it can't be used at ATMs, even in the UK.


Nationwide's kids' bank account is free to open and comes with a contactless debit card, though it doesn't have monitoring facilities like the prepaid cards do.


Via our link, GoHenry's prepaid-card is free for six months – after that it costs £3.99/month, though you could use it for the holiday season & then cancel.
Alternatively, if you already bank with Revolut, NatWest, RBS, Ulster or Starling, you can get prepaid cards that offer fee-free spending abroad – full details are below the table.
KEY FEATURES
HyperJar*
Prepaid card
Nationwide FlexOne
Children's bank account
GoHenry*
Prepaid card

Is the card free?

Yes

Yes

No, £3.99/mth
(get six months free via our link)

Age restrictions to get the card?

6 to 17 years

11 to 17 years

6 to 18 years

Fee-free ATM withdrawals? (1)
Can't withdraw from ATMs



Yes

Yes

Fee-free spending?

Yes

Yes

Yes
Next-best cards for under 18s to use abroad
We've some alternative cards below if none of the above suit – they're just shy of our top picks, but are all fee-free to spend on abroad, though most have monthly fees or ATM fees/limits.
Existing Revolut customers can open one Revolut <18* account for free, though there's a £4.99 delivery fee. It's free to spend on the card up to £250/month (0.5% fee above) and you can withdraw up to £40/month from ATMs without paying any fees (2% fee above).


If you already bank with NatWest, RBS or Ulster Bank, you can get the NatWest Rooster Money card for free (it's £1.99/month or £19.99/year if you don't bank with any of these). It gives fee-free spending and ATM withdrawals on up to £50 in total – a fairly low combined limit, but a decent option for smaller spenders.


If you already have a Starling current account, you can open the Starling Kite* for £24/year, which gives fee-free spending and ATM withdrawals with no limits.

Have your say in our forum!