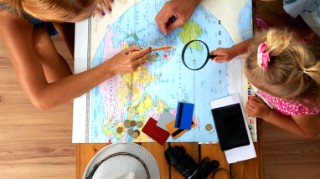 Prepaid Travel Cards
Lock in a top rate before you go
Prepaid travel cards, also known as currency cards, allow you to load them before you go abroad then use them as you would a debit card to spend or withdraw cash as you wish. And because they're pre-loaded, it allows you to keep tight control of your spending. Most also allow you to lock in a rate in advance.

The seven prepaid card need-to-knows
Before you consider a prepaid card, check out travel credit or debit cards. They're often less of a faff than loading before you go and the top picks consistently offer near-perfect rates every day of the week. Plus, if you're using a travel credit card for a purchase costing £100-£30,000 (even abroad) you'll also get section 75 protection.

All prepaid cards listed below deposit customers' cash in a bank or building society in a ring-fenced account, separate from the card provider's account. So, if the prepaid card company goes bust, the bank or building society where your money's resting will still retain your cash.

The slight risk comes if the bank or building society goes bust, because your cash is NOT protected in this case. Therefore, think of your prepaid card as one that you'll keep cash on for immediate spending requirements, rather than as a place to store heaps of it. Also be aware that not all of the cards below are FCA regulated – so you may be reliant on another country's regulations to protect you.

As long as you contact the provider of your prepaid card and get it blocked, you shouldn't lose out on any money, though you may have to pay up to £10 for a replacement card.

Pay special attention if your prepaid card is contactless as it could be used for a series of small, fraudulent transactions, so always alert your card provider as soon as possible. It's also worth alerting local police or security services if there's been a theft – you may need an incident number to claim losses back on your travel insurance.


Prepaid cards providers offer different rates to each other. Some use the 'interbank rate' (the perfect exchange rate), some use Mastercard's or Visa's exchange rates, others still set theirs by picking one of these rates, then taking a certain percentage as their exchange fee, usually between 1% and 2.5%.

To choose the cards in this guide, we do a comparison between the rates offered and the cards' fees and charges, then we list the ones with the best rates and lowest fees. Compare our top picks with the best you'd get for cash by using TravelMoneyMax.

Unlike debit and credit cards, which always calculate your exchange when you spend, with prepaid cards, some give you the ability to lock in a rate on the day you load them – good if you need certainty over budgets. If the pound weakens after you load the card, you'll gain, though conversely, if the pound strengthens, you'll lose.

There are also prepaid cards which allow you to load them in pounds. These ones will give you the rate when the transaction's processed by the card provider, which can take up to a week.

Prepaid cards have more fees than credit or debit cards. We take all these into consideration when picking our best buys, deliberately picking cards with low – or no – fees, but these are the charges you need to watch out for with bog-standard prepaid cards:

Some cards cost £5 to £10 to open and display that fee prominently on their websites. However, many also charge a sneaky 'replacement fee', and set the expiry date to one year after opening. After 12 months, you'll have to pay around £5 to keep using the card and any funds already on it.

A few cards also charge a monthly fee of a few quid simply for holding it, which works out hideously expensive.

Some cards charge you for retail purchases (just buying something in a shop), or withdrawing money from an ATM. Both fees usually jump when you're abroad.

Spending. Some cards levy a fee every time you spend, either a percentage of the amount or a flat fee per transaction. If you make a high number of small purchases, go for a percentage fee. If you make fewer and higher-value purchases, go for a set fee.

Withdrawing. Some prepaid cards charge for using ATMs, usually £1.50 to £2.50 per withdrawal. It's also worth checking the cards for loading and transaction limits. If you're likely to want to withdraw lots of cash, it's no good picking a card with a £50 or £100 per day limit for cash withdrawals.

Prepaid providers want you to regularly use the card, racking up charges and boosting their profit. Therefore, you're often penalised if the card goes unused, typically £2/month if you haven't used the card in 12 months.

So use it frequently enough on small transactions to avoid this charge. Similarly, don't overload funds onto the card; most charge a fee to refund the money.

There's a hidden charge you could fall foul of if you're using a credit card to pay for and to top up your prepaid card.

Buying currency on a prepaid card is counted as a cash withdrawal, so you could face a myriad of fees, including cash withdrawal fees, interest, or even a fee for using a credit card charged by the money changer.


Therefore, if you're buying and topping up currency on a prepaid card, ALWAYS use a debit card, which isn't allowed to charge this fee.


While these cards say they're accepted anywhere you see the Mastercard or Visa symbol, there are some notable exceptions. Most car hire places won't accept prepaid cards, or if they do, they're likely to also require a credit card for the excess deposit authorisation, so make sure you have back-up cards.

We've also heard from MoneySavers that prepaid cards aren't accepted at many petrol stations or motorway toll booths. Please let us know in the Prepaid Travel Cards forum if you've had a prepaid card declined in other places.
Best prepaid travel cards
With these cards, you can lock in a rate days, months or even years before you go on your hols, so you know the rate you'll get before spending – or you can just spend on them in pounds and you'll get the rate on the day you spend.
Prepaid travel cards Q&A
There's no right answer to this, which is why this guide focuses on how to get the best rate at any moment. If the pound is strong and the euro or dollar weak, many people think, "I'm not going away for a few months, but I'll grab my cash now." If the pound's weak, many want to hold off.

There's nothing wrong with doing this, but you need to understand it's currency speculation and you're effectively gambling on exchange rate moves. Playing the currency market is something highly paid traders can't always get right. Those who do make a fortune. Those who don't lose a fortune.


For more on this, read Martin's "Should I buy euros now?" blog.

Absolutely. You'll tend to pay the same costs on foreign websites as if you were actually abroad and spending there. If you're paying in a foreign currency, all the usual charges apply – the same cheap cards are cheap, the same expensive ones costly.

This is called dynamic currency conversion and usually should be avoided. Often the rate you get will be appalling, and someone will be making big money out of it.

If you've got one of the specialist overseas prepaid cards, you'll get a much better rate paying in the foreign currency rather than pounds. The good news is that from Friday 12 April, if you've a Mastercard prepaid card, you'll no longer be given the option to pay in pounds.

Even if you're using a normal card, as you've no idea of the relative exchange rates, it's usually best to stick with paying in the foreign currency. For a great example of this, read Martin's blog.

Watch out for this when withdrawing money from cash machines too. You'll often be asked if you want to have your money converted into sterling when withdrawing euros from ATMs. The general rule is to say no, as you could get a worse rate than the one you'd be given by your own plastic provider.

A few machines now tell you the commission/load they add to the currency. If this is less than your card's own load (eg, it's 2.5% and your card is 2.75%) opt to pay in pounds. But if you have one of the specialist cards featured here, they're usually unbeatable, so select the foreign currency.

If you're going to get the cash out on a specialist overseas prepaid card that you've loaded in the currency of the place you're going, then it's better to wait until you're there.

However, if you're just planning to use a normal debit or credit card or convert pounds when you're out there, there's no guarantee you'll get a better rate – and certainly changing in most hotels is normally a bad idea as they give poor rates.

This is less common with prepaid cards than with normal credit or debit cards, as prepaid cards are designed for use abroad, so it's unlikely a transaction will be blocked because of this. However, if it is, you can call the provider and ask it to remove the block.