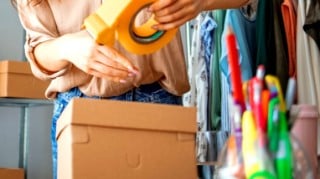 Boost your income
60+ ways to earn extra money
There are scores of legit ways to earn extra money, whether selling stuff, working from home or using the web. After all, no matter how good a MoneySaver you are, a little bit more money's always useful.
For all the latest guides, deals and loopholes simply sign up today – it's spam-free!
Make your money work harder
Don't let cash languish in rubbish accounts - make your money work for you instead.
For all the latest guides, deals and loopholes simply sign up today – it's spam-free!
Flog what you've got
Got junk? Declutter and sell it, whether outgrown kids' clothes or that embarrassing old CD...
Rent it out for cash
It's amazing what you can rent out for cash, especially if you live in a busy area. Ensure you get the most out of your property – even your parking space can be profitable.
Below are some of the top options to get you started.
Reclaim, reclaim, reclaim
Right across finance, companies have been taking or holding money when they shouldn't. These days it's easy to fight back. This can mean a boost of £1,000s to your finances in just one go.
Get paid for your opinion
Many companies' and public organisations' desperate need to test, talk about and try out their products or ideas on people gives you a great opportunity to cash in.
Make money from home
Working from your sofa, kitchen or spare room can leave you quids in too. Here are some ideas:
Work, work, work
If you're willing to travel, as well as the obvious McJobs there are many ways for second-jobbers to earn extra cash. You also can maximise what you get from your current job.
A tip on tax
Extra income is all very well, but don't forget the taxman will want his share. Any sources of extra income need to be declared. So make sure you're upfront with HM Revenue & Customs.
It's important to let HMRC know you're self-employed as soon as possible, either via the HMRC website or by calling 0300 200 3504. If you don't tell them, you may have to pay a penalty. You'll also get a £100 penalty if you fail to meet the deadlines for self-assessment: 31 October for paper forms, and 31 January for electronic submissions.
For full information, read HMRC's self-employment leaflet. Also, don't forget to make full use of your personal allowances: depending on what your other job status is and your age, the first £12,570 of any income is tax-free in the 2021/22 financial year.
If you spend money on items for your business, be sure to keep the receipts. They're tax-deductible. See the HMRC website for a full breakdown of what you're entitled to.
The Government introduced a tax break which means since 6 April 2017, the first £1,000 you earn each year 'trading' is tax-free.
Basically this means you no longer have to report the first £1,000 you make from selling goods and casual services, such as babysitting and gardening, whether online or offline.