Cheap package holidays
Slash costs with late deals and haggling
Booking a package holiday can offer valuable protection. But they can also slash the cost of going away, particularly if you're heading to a popular beach destination. This guide looks at what protection they give, when's best to book, where to go and how to weigh up if all-inclusive is worth it.
Package holiday need-to-knows
Here's what you need to know before you look for a cheap package holiday:
How to haggle down the cost of your package holiday
The most important thing to understand before haggling is:
Tour operators make holidays, travel agents sell them.
Admittedly, they're often both subsidiaries of the same company, yet the distinction is crucial. Just as a Game of Thrones DVD is available from different shops at different prices, many different travel agents will try to sell the same tour operator's holiday at different prices. The aim's to find the travel agent who'll sell it to you for the least.
Getting on the phone to agents to haggle used to be a fairly sure-fire way to slice prices – it's got harder, though it's still worth a shot. When we tried with four holidays we failed to get anywhere with three, but did manage to shave £80 off a £1,930 two-week break in Barbados.
Step 1: Benchmark a price for your perfect holiday
The aim's to locate a suitable holiday and grab all the details. First benchmark a decent price online (using the sites listed above). Then, once you've found a holiday you want within your price range, ensure you write down as much info as you can, for example noting meals and transfers, plus the name of the tour operator.
Step 2: Call up travel agents and ask if they can beat the quote you have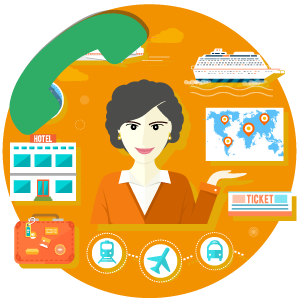 Now you've picked a holiday, the aim's to get EXACTLY THE SAME holiday cheaper.
It's worth remembering to stay polite, charming and smiley throughout this, as travel agents don't like the tactic – or us – much.
You'll need to act quickly, as prices and availability change.
To help, we've compiled a list of specialist holiday companies and brokers to try
This list below isn't exhaustive, but it's a good place to start. Note – we don't have specific feedback on how open these agents are to haggling – there's never any harm asking if they can beat a figure you've been quoted, but let us know how you get on in the Holiday haggling forum thread.
| TRAVEL FIRM | TEL NUMBER |
| --- | --- |
| Away Holidays | 0800 408 8000 |
| Balkan Holidays | 020 7543 5555 |
| Best At Travel | 020 3993 4455 |
| Blueseaholidays | 020 3474 3075 |
| Broadway Travel | 020 3368 6221 |
| Caribbean Classics | 01793 841421 |
| First Choice | 020 3451 2688 |
| Holiday Genie | 020 3771 3073 |
| Jet 2 Holidays | 0800 408 0778 |
| Love Holidays | 020 3897 1185 |
| NetFlights | 020 3918 4038 |
| Olympic Holidays | 020 8492 6868 |
| Perfect Holidays | 020 7725 7090 |
| Southall Travel | 020 8843 4444 |
| Teletext Holidays | 020 7741 1305 |
| Tui | 020 3636 1931 |
| TravelSoon | 01708 412134 |
| Travel Trolley | 020 8843 4400 |
Try to negotiate in price per person, not total cost, as discounts will seem less to the travel agent.

Then continue the process with a few more, quoting the best price you got (maybe knocking a tenner off to speed things up) and see who can beat it.
Step 3: Call the tour operator directly
Once you've hit the price floor, to be absolutely sure, call the tour operator's own direct booking arm and see if THEY can beat what you've been quoted.
Step 4: Give the first broker the chance to match it
Finally, just to try to be fair, if a travel agent spent a lot of time with you to find the holiday in the first place, why not give them the chance to match – not beat – the price to regain your custom?
We previously tried our own haggle on a two-week all-inclusive break to Cancun in Mexico staying in the five-star Hard Rock Hotel, based on two people sharing. The total cost booking direct with the tour operator was £2,166 per person.

We started by checking comparison sites and found the same holiday for £2,045 per person – a good start. From there, we called a few different agents all selling the same holiday and put our haggling skills to the test.

The first provider wouldn't budge, but the second offered a £20 per person discount – not groundbreaking given the cost of the holiday, but a discount's a discount. So we're now down to £2,025 per person.

We tried our luck at one more provider and the tour operator directly but sadly neither would go anywhere near what we were last offered. However, from initially seeing the holiday for £2,166 per person, we did save £141 per person by comparing then haggling the cost.
Be aware – travel agents don't like this very much
Martin's been showing us how to haggle with travel agents for years and a few years ago presented an ITV Tonight programme, taking a couple of families and showing how much they could save using this technique. While it may be a little old now, the method hasn't changed and it does still work.
Following the show, travel agents vented their spleen – letters were sent and their trade magazine devoted pages to it. Apparently showing people how to cut their costs is 'immoral'. Read their views and Martin's response and his later blog: 'Dear travel agents, I have nothing against you but I won't stay schtum to protect your profits'.
The aim seems to be to persuade us that travel agents have it tough. Yet that isn't enough of a reason for us to hide the fact that haggling with travel agents results in consumers paying less. This is a site for consumers, after all.
To be fair to travel agents, try to minimise the amount of their time you use when originally sourcing the holiday if you're going to buy it cheaper elsewhere anyway. It's one of the reasons we favour phone specialists, who deal with this all the time, over high street agencies.
I wanted to travel to Southeast Asia. I booked a year before the holiday. I visited one firm who said it would be £4,000-£4,500pp. The next travel agent quoted £2,700pp, but I tried one more and got it for £2,200pp. Couldn't get it any less after that, so this is the one I booked the holiday with.
- Cass61
Recently we booked a holiday for a family of four to Florida. Initial quotes were in the region of £5,000-£6,000 for chartered flights, accommodation and car hire. By employing the haggling technique, we managed to get the final price down to just over £2,000 all-in!
- MoneySaver2
For all the latest deals, guides and loopholes simply sign up today - it's spam free!
Have your say in our forum!