Prepaid Cards
Alternatives to credit or debit cards
Get Our Free Money Tips Email!
For all the latest deals, guides and loopholes - join the 12m who get it. Don't miss out

Liane | Edited by Johanna
Updated July 2018
Prepaid cards let you load cash on them and spend anywhere credit or debit cards are accepted. They're good to get if you're usually rejected for credit, or to give to your teens to help teach them how to spend responsibly.
This guide helps you understand what prepaid cards are, decide whether you should get one, and gives you the best buys for your circumstances.
What are prepaid cards?
Prepaid cards do exactly what they say on the tin. You load cash onto a card, which can then be used in shops and restaurants just like a debit or credit card. However, that's pretty much where the similarities end. First, there's the crucial point:
If you haven't loaded money on it, you can't spend on it.
Think of them like pay-as-you-go mobile phones. You can't spend beyond £0, forming a 'safe' barrier if you tend to overspend.
Another bonus is that you won't get credit-checked when you apply, making the application process much simpler. They're a good option for those who have just moved to the UK, or have a bad credit history.
Some people worry they may not be able to use a prepaid card in a lot of places. But most prepaid cards are Mastercard or Visa, meaning just like credit or debit cards, they're accepted by most retailers in the UK and abroad.
Get Our Free Money Tips Email!
For all the latest deals, guides and loopholes - join the 10m who get it. Don't miss out
Should I get a prepaid card?
For most people, getting a normal credit or debit card will be the sensible financial decision, but it all depends on why you want the card.
It could be a useful tool if you're on a tight budget as you can only spend what you've loaded onto the card. If you're a parent wanting to teach the benefits of money management to your child, it might also be a good option. Or if you want to stay safe online, you might opt for a prepaid card.
But in a nutshell, whether you should get one boils down to one thing – how financially attractive you are. If you can easily sign up for a credit card, and you have the discipline to pay it off IN FULL, every month – do that instead.
Are you eligible for a credit card instead?
Prepaid credit cards should only be a last resort for everyday spending if you can't get a credit card. Use our Eligibility Calculator tool, which leaves NO credit file mark, to see how likely it is you'd be accepted.
We do a 'soft' credit search which YOU can see, but lenders CAN'T, so it has no impact on your future creditworthiness.
We map the details you give us against lenders' criteria, including your chances for cards on this page, where we can.
Check your eligibility here
Quick questions:
Is my cash safe on a prepaid card?
There are safeguards, but it's important you know that funds on a prepaid card don't have the same protection as money in your bank account or savings account.
Money on prepaid cards is classed as 'electronic money', and all prepaid card providers have to hold your cash in a bank account ring-fenced from their own operating cash. This mitigates against the risk of the card issuer going bust. In that event, your money would be protected as it'd be in a separate account.
But there's an important caveat here. Your cash wouldn't be protected if the bank or building society your money was ring-fenced in went bust. It's not counted as a deposit, in the way that cash in a savings account would be, and therefore, it's not protected.
What if I bought a faulty laptop on the prepaid card and the supplier went bust?
Prepaid cards aren't like credit cards, which offer Section 75 protection as part of the Consumer Credit Act. But you'll have access to Visa and Mastercard's charge back schemes instead.
Charge back schemes give you a chance to get your money back if you buy faulty goods, a service isn't provided, or a company goes bust and goods aren't delivered. You'll get your money back straightaway. Our Charge back guide explains how it works.
You can also get purchase protection with the Cashplus Creditbuilder prepaid card, so if you're not happy with what you've bought, or a company you've bought from goes bust, you may be compensated through Cashplus's system.
Can I use a prepaid card for pre-authorisation and security deposits?
You may technically be able to, but you may not want to. When you offer a card for a deposit for services such as hotel rooms or car hires, or in-flight purchases, the company will 'lock' funds on the card for the duration of the hire and you won't be able to use it until the final bill has been settled and cleared.
So, if you can, use another card as a security deposit, preferably a credit card.
How much do prepaid cards cost?
There are a number of fees associated with prepaid cards that you need to keep an eye out for:
Application fees – You pay this one-off charge to open the account. Prices range from nothing to £10.

Monthly fees – Some cards require a monthly fee (typically between £2 and £5).

Renewal fees – Like standard Visas or Mastercards, prepaid cards are only valid for three years, so you may have to pay a renewal fee if you want to carry on using it. It's usually about the same price as the application fee (typically £2 to £7), however it could be waived if you top up a certain amount.

Transaction and ATM fees – For every transaction you make, both online or over-the-counter in shops, you could be charged a fee, usually about 50p. The same applies for ATM withdrawals. These will either be a percentage of what you withdraw, or a set charge, eg, 3% or £2. Decide how you're most likely to access your money and stick with the cheaper option.

Inactivity fees – Some may charge you a small monthly fee if your account is dormant, (if you don't make any transactions for, eg, three months). So just make sure you keep the account running – buy a packet of crisps if push comes to shove – to ensure you're using prepaid cards in the most cost-effective way.

Redemption fees – You'll be charged a fee if you want to get money back from the card you haven't used. On average this is £10, so how much you have left on the card will decide whether this is worth taking the hit for.
The costs of using a prepaid card can add up easily, so look at the fees associated with the card before you take it out. Do the benefits of using the card outweigh the costs?
Getting a prepaid card is my only choice. How can I keep costs low?
This very much depends on how you're likely to use the card. But there are some things you can do on all cards to cut the costs.
Opt out of any paper statements, as prepaid card providers can charge up to £10 per statement. Most of them have a online system or mobile banking app so you can view your balance or transactions on your mobile or tablet (watch for roaming charges when abroad).
Don't take your prepaid card abroad unless it's designed for it – or you could get hit with big charges. If it's a euro or dollar card, NEVER opt to pay in sterling. It may feel cheaper but it's a sly trick some retailers use so that they'll gain more from the transaction. For the best prepaid cards to use abroad, see our full guide to Prepaid Travel Cards.
Predict how you'll spend on the card on a monthly basis to figure out which card is best for you. Will you need to make lots of ATM withdrawals? Or is it just for over-the-counter transactions such as shopping and eating out? If you play your cards right, you'll be quids in.
Best for spending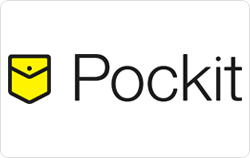 Low running fees, plus get up to 10% cashback
Pockit*
Unusually for a prepaid card, Pockit* pays up to 10% cashback on your spending at select retailers, including M&S (6%), New Look (7%), Ernest Jones (10%) and Pizza Express (8%), though cashback levels can change. It's also one of the cheapest around as it's free to spend on, though you're charged 99p for each cash withdrawal.
There's also a 99p fee each month you spend less than £500 – so if you think you won't use the card every month, look at the Optimum card below, which could be a cheaper option as it doesn't have a monthly fee.
Need-to-knows
The card costs 99p, as does each additional card, and there's a monthly fee of 99p unless you spend £500/mth.
If you withdraw cash using the card, it costs 99p each time.
The card's free to load by bank transfer or debit card.
You could use the card alongside cashback sites to maximise money earned – although only the Pockit cashback is guaranteed.
Don't use this card to spend abroad – it charges a horrible 4% foreign exchange fee and £2.25 cash withdrawal fee.
The main cardholder must be 18+ but additional cardholders can be as young as 13.
Application fee: 99p
Monthly fee: 99p (if you spend less than £500/mth on the card)
Top-up fee: Free by bank transfer or debit card
ATM: 99p (UK)
Transaction fee: None
Card issuer: Mastercard
Overseas fees: 4% load fee, plus £2.25 to withdraw cash
Fee to get your cash off the card: Free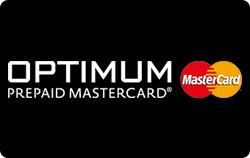 Decent to use for spending in the UK
Optimum
The Optimum contactless card has no fees for spending in the UK and if you use it right, there's no cost to you after the £5 application fee.
It does charge for ATM cash withdrawals and foreign transactions though, so it's not a great all-rounder. However, if you just use it for UK spending and top it up by debit card, standing order or online banking, it's totally free after your initial £5 outlay.
Need-to-knows
There's a £5 application fee to get the card, but then it's free to use for spending.
Watch out for ATM withdrawals, as they're not cheap, at 2.95%.
If you were an Orange Cash cardholder you would have been transferred to this card automatically.
Don't use this for foreign spending – look at a fee-free prepaid travel card instead.
Application fee: £5
Monthly fee: None
Top-up fee: Free by bank transfer, standing order or debit card
ATM fee: 2.95%
Transaction fee: Free in the UK, 2.75% abroad
Card issuer: Mastercard
Fee to get your cash off the card: £5
Best for teenagers
If you're looking for a card to give to teens so they can learn how to manage their money, then it's worth checking out our new guide analysing the Top cards for under-18s. It covers the best prepaid cards and children's bank accounts that allow parents a certain level of control over the cash, while still giving teens an easy way of spending both in stores and online.
Prepaid cards and bank accounts for kids offer different features so depending on what your child (and you!) want, one could be better than the other.
Best for rebuilding your credit
If your credit file's a sea of defaults, then you're not likely to be able to get a credit card, even one designed for poor credit. But there is a card you can get which purports to improve your credit file, helping you re-establish a good payment history.
Before going for this card – as it's not cheap – it's worth checking if you're likely to get any free cards by using the eligibility calculator for Credit Cards for Bad Credit.
If it's a no-go, then see if this card's right for you...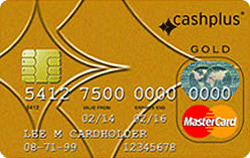 Expensive to run, but gives a one-year 'loan' to help rebuild your credit
Cashplus Credit Builder*
The Cashplus* card could help you improve a poor credit score, though it'll cost you £76 for the year to do it. Basically, you pay an application fee of £5.95, then you're 'loaned' £71.40 which you pay back in 12 £5.95 monthly instalments. This is then reported on your credit file, showing a history of good payment.
Need-to-knows
The card costs £5.95 plus a £5.95 monthly fee.
You have to select the 'Creditbuilder' function when you apply for the card.
Never miss a monthly payment as it'll negatively affect your credit score.
The card comes with purchase protection – which'll cover you if a retailer you buy from goes bust.
You can also earn cashback on spending from 100s of retailers including Boots, Tesco, BT and M&S.
Application fee: £5.95
Monthly fee: £5.95
Top-up fee: Free by bank transfer, standing order and at the Post Office
ATM fee: £2
Transaction fee: Free in the UK
Card issuer: Mastercard
Fee to get your cash off the card: £10
Cashback sites may pay you for signing up
As an extra boon, members of specialist cashback websites can be paid when they sign up to some financial products. Do check that it's exactly the same deal though, as terms can be different. And remember the cashback is never 100% guaranteed until it's in your account.
Full help to take advantage of this and pros & cons in our Top Cashback Sites guide.
Get Our Free Money Tips Email!
For all the latest deals, guides and loopholes - join the 10m who get it. Don't miss out