Cut your water bills
Big meter savings, freebies & more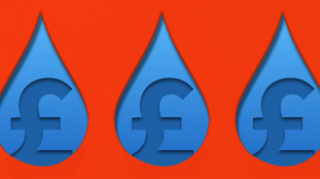 Water is the forgotten utility – many think they can't save, but we've seen successes from those who have slashed £100s off their bills by fitting water meters and cutting down on how much they use.
Help available during coronavirus pandemic
Many are concerned about paying their water bills if they can't work, but help is available. Water companies offer a number of ways to help if you're struggling, including payment holidays, capped tariffs, cheaper social tariffs and more. See full company-by-company info for what each is doing.

Water bills – the forgotten utility, but you can still save
Everyone knows that you can switch gas and electricity provider, typically saving £100s/year by doing so. People assume that because you can't switch water company, you can't save. Yet huge savings are still possible when it comes to water bills. Here's some inspiration before you start...
Switched to a water meter a few years back and now pay £45 a month less. Plus it makes me more conscious of what I use – I fixed a dripping tap!
- DenwantsJFT96
Thanks, we've water-metered. Monthly direct debit is down from £80 to £25.
- Helen
Unlike with gas and electricity, you can't switch to a cheaper water provider to reduce your bills. But the steps below can help some save by deciding how you're billed.
How you pay for water depends on where you are in the country. In England and Wales, your water supplier changes depending on where you live, so the key question is whether you should switch to a meter or not. We go through the pros and cons of getting a water meter and whether you should take the plunge (sorry) below.
In Scotland, it's simple, water and sewerage prices depend on the council tax band for your home and are covered by a 'combined service charge', and in Northern Ireland there are no domestic water charges. Yet you (and everyone else) can still save by cutting down on how much water you use – not only is this good for the environment, but it also reduces the amount of energy you need to spend heating the water you use.

Average prices to drop in April (though bills will go up for some)
Water bills across England and Wales will go down by an average of 4% in April 2020 – that's a fall of £16/yr on the typical bill. Northumbrian Water customers will see the biggest fall (21%), yet some water companies are increasing prices – eg, Hafren Dyfrdwy and Dwr Cymru's bills will rise by an average of 1.3%.
It was announced in January that rates in Scotland will go up by 0.9% on 1 April 2020. So those on the combined service charge in tax band A, for example, will pay £298/yr, while those in tax band D will pay £448/yr.
Water bill changes 2020/21 based on avg use – England & Wales

WATER AND SEWERAGE COMPANIES
ANNUAL COST
TOTAL DROP/RISE
% CHANGE
Anglian Water
£412
-£26

-6%
Dwr Cymru
£451
+£6
+1%
Hafren Dyfrdwy
£300
+£4
+1%
Northumbrian
£326
-£85
-21%
Severn Trent
£358
+£2
+0.5%
South West Water (1)
£470
-£17
-3%
Southern Water
£391
-£49
-11%
Thames Water
£394
-£2
-0.5%
United Utilities
£420
-£23
-5%
Wessex Water
£447
-£40
-8%
Yorkshire Water
£406
+£14
+4%
WATER ONLY (you'll be billed for sewerage by one of the companies above)
% CHANGE (water only)
Affinity Water Central
£161
-£12
-7%
Affinity Water East
£171
-£12
-7%
Affinity Water South East
£193
-£14
-7%
Bournemouth Water
£136
-£14
-9%
Bristol
£177
-£10
-5%
Essex & Suffolk
£223
-£34
-13%
Portsmouth
£100
-£6
-6%
SES Water
£187
-£12
-6%
South East
£211
-£1
0.5%
South Staffordshire (Cambridge)
£139
£0
0%
South Staffordshire (South Staffs)
£149
+£3
+2%
TOTAL CHANGE (combined bill)
Industry average (weighted)
£397
-£17 (2)
-4%
Source: Water UK. The household bill is an average across all customers. Individual bills may be more or less than the average because of their particular characteristics, eg, if they've a water meter. Changes to bills will vary by company.

(1) Since April 2013, South West Water customers have benefited from a Government contribution, which reduces the bill by £50/yr. This £50 reduction is applied to the combined average bill in this table. Without the Government contribution, South West Water's combined average bill would be about £520. (2) 2019/20's average bill was £413.33, while 2020/21's will be £396.60, giving a fall of £16.73 (figure rounded to nearest £).

Can you save £100s with a water meter?
Water meter installations are currently paused - but you can still apply
Water companies have halted all but essential visits to people's homes during the lockdown – including installing water meters. Most can still apply to get a meter, and your provider will then get in contact with you when it's able to install meters again, though it's unclear when that will be.
The water market may be privatised, but it's not open to competition, meaning you can't switch between providers – so you're limited in what you can do to cut how much you pay. This means the most important decision is how you're billed. There are two ways you can be billed:
1. You pay a fixed bill depending on your home's size

Without a water meter, your bill will be based on your home's 'rateable value'. The amount of water used is irrelevant.
Before 1990, councils assessed homes to produce rateable values, and they were based on what rent homes could raise in the private market. Criteria for rateable values included the property's size. All homes were last assessed in 1973. Between then and 1990, only new homes were assessed. Since 1990, all new homes have been fitted with water meters.
There are no plans to change the rateable value system and there's no prospect of getting your home's value reassessed. In Scotland, water bills are based on council tax bands and included in a 'combined service charge' along with other services. There are no domestic water charges in Northern Ireland.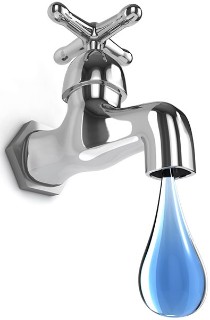 2. You pay for the water you use

Around half of all homes have a water meter, where the size of your bill depends on your consumption. But as well as water use, water meters usually calculate the sewerage bill too. The sewerage costs are higher than everyday water use (eg, showers) because of the processing involved in pumping waste water out of your home.
Companies have accused us of talking excrement in the past, but it's true here – "what comes in must go out".
Should you get a water meter?
To see if a water meter is right for you, first of all you need to work out if a meter is financially worthwhile, and here's the killer rule to remember:
In Scotland, it's not free to have a water meter installed (it's actually quite pricey), so unless you live alone in a manor-type property, you should stick to estimated payments. There are no domestic water charges in Northern Ireland, so no need for a meter.
How much can you save?
It varies depending on your household's usage, but we regularly see successes of £100s a year. Use the water meter calculator below to do a full check.
Whether a meter's worthwhile depends – as we've said – on your usage, but also your water company. There are two ways this calculation can be done for you – see the box below. And remember, you can always try it to see if it saves you money. Most have a right to switch back within two years – so if it doesn't work out, ditch it.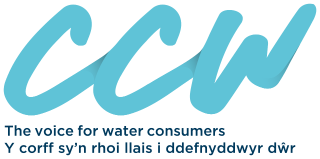 Free water meter calculator
The CCW (Consumer Council for Water) has a free water meter calculator that tells you if you can save with a meter.
It asks questions about your water use – for example, how many people live in your home, the number of showers taken a week, your dishwasher use and what you're paying at the moment – then tells you your estimated costs if you have a meter.
If it's less than what you're paying now, you could be quids in.
Alternatively, ask the water company
For a more accurate, albeit time-consuming comparison, call your water company and ask for its calculator, as this'll be the best indicator of whether you'll save.
Will you always save?
If you're weighing up whether to get a meter, there are a few more facts to be aware of...
If savings are minimal, stick to surety. Water bills give you surety of knowing exactly what you'll pay, regardless of usage.

You may have up to two years to try it out. Switch to a water meter and, if you change your mind, you may be able to switch back within 12 months (though many companies offer up to 24 months, while others don't offer a choice). However, if you move into a home that already has a meter, you can't switch back. Check with your supplier to find out your options.

Does having a meter hit your house price? Some say meters lower a house's sale price. There's a slim chance it'll put high-use buyers off, but it's rare. So if you're not planning to move soon, ignore it and bag the savings.

High water usage can force you on to a meter. If you use large amounts of water for non-necessities such as swimming pools, sprinklers or if you live in a water-stressed area, a meter will be fitted automatically. Some water companies – mainly those in south east England – are rolling out metering programmes, meaning households in some areas will need to have a meter fitted and won't have the option to switch back to an unmetered supply.
How to get a water meter (installations are paused but you can still apply now)
Due to the lockdown, all but essential engineer work has been paused by water firms, including fitting water meters, so there will be a delay getting one right now. Most providers still let you apply though, they'll just come and fit one when they can.
However, a few companies, such as Wessex Water and Yorkshire Water, have closed applications completely, so you'll need to check. You can either head over to your provider's website and see if you can apply – you'll usually need to fill out an application form – or give it a call and ask.
It's free to get one installed and most water meters are fitted outside your home, usually on the public footpath or in your front garden, and it can take around two or three days to complete once the work starts.
Once installed, the supplier should drop a leaflet through your door explaining your new charges and update your online account.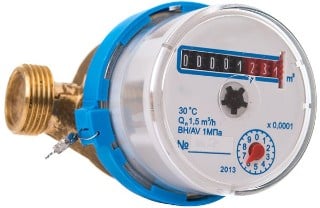 Water companies must fit meters for free on request (not in Scotland) unless it's justifiably impractical, such as flats with shared pipes. You can appeal against the decision if a water company says it won't fit a meter. Go to the regulator Ofwat.
If the water company actually can't fit a meter and your water usage is limited, ask for an 'assessed charge bill'. This is worked out on details such as how many people live in your home, but varies from company to company.
Some companies don't base assessed charges on the number of people living in the house, but instead offer a single occupancy rate. The most common assessed charges are based on:
The number of bedrooms in your property.
The type of property you live in.
The number of people who live in the property.
A fixed charge based on the average metered bill in your company's area.
Importantly, if you request a meter and the company's assessed charge is higher than what a metered charge would have been, you can simply stick to your current payment method. So you've nothing to lose by checking.
If you're having trouble paying your water bill and have fallen into debt, contact your water company to see what help it can offer. All companies offer some kind of help – this can be anything from providing repayment plans, discounts or even a cap on how much you pay.
What's available varies from company to company. Don't worry if you're unsure which scheme is best for you. Call your provider and it will assess your circumstances and decide which one will save you the most money.
Here's a brief outline of what you might be able to get:
Are you due a light sewerage rebate?
While the water meter billing system's mostly straightforward, it's assumed "what goes in, must come out", and that any water used creates roughly an equivalent amount in sewerage.

The general assumption is that 90-95% goes back. But this can be wrong in a few specific circumstances. If that's the case, you can get serious money back.
This is a large underground gravel pit that collects water from the roof or drive. They're more likely in a small town or village than an urban area. If unsure, check property deeds or see your local authority to check the planning application.

Water companies should give rebates to those whose surface rainwater goes into a soakaway or straight into a river or canal, rather than a mains sewers. To apply for a rebate, just fill out your water company's form. Call or go online to request it.

If you're on a meter and use lots of water from an outside tap, you can contact your water company to ask for a reduction in your bill. If you can show you haven't poured the water down the drain, you shouldn't have to pay the sewerage charge. But the onus is on you to prove water hasn't gone back to the sewer.

The usual scenario when this would apply is a large one-off amount of water, eg, filling a pond or pool. If it's more regular, ongoing use, it's possible to prove it by fitting a water meter to your outside tap, though that's expensive.

If you're in an area with no connection to the mains sewerage, so have a cesspit or septic tank, you don't have to pay sewerage charges. This only applies to a few people, but you should query any charges paid for sewerage services if your property isn't connected to the main sewerage system.
Refused a rebate request? Take it to the CCW
If your water company won't give you a rebate (usually backdated to the beginning of the current billing year), get in touch with your local CCW office. It should be able to help if you feel the company should reasonably have known you weren't connected, for example, if you live in a block of flats and other residents already receive an allowance.
Bag free water-saving gadgets - 10,000s up for grabs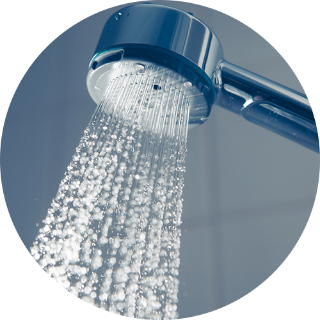 Households across much of England, Wales, Scotland and Northern Ireland can bag a range of free water-saving gadgets. While the freebies are funded by the water companies, it's water efficiency company Save Water Save Money which manages the distribution of 'em.
Products vary by water company, so what you can get depends on where you live and what's available at the time (and unfortunately some areas won't be able to get anything for free).

The gadgets on offer include shower heads (which help regulate water usage, normally £20), tap inserts (to regulate water flow, norm £5), garden hose nozzles (also to regulate flow, norm £2.50) and Buffalo cistern bags (which you place into your toilet cistern so each flush uses less water, norm £2).
How do I check if I can get them and how do I apply?
For most, you'll need to go via this Save Water Save Money link – enter your postcode in the 'free water-saving devices' box, then click through to your company to see the freebies available, and enter your details to get 'em sent for free within 28 days.
For Anglian, Northumbrian, Thames and Welsh Water customers, you'll need to use Save Water Save Money's savings calculator to access the freebies. This will also work for customers of other firms, if you want the free report, which'll let you know how much water you're using, what freebies you can claim, and also sets challenges that can help you cut back your usage.
If you're one of the few who can't get freebies through Save Water Save Money, contact your water company directly to see what's available.

Quick questions
Savings vary by supplier and usage, but the Energy Saving Trust estimates that replacing an inefficient shower head with a water-efficient one could save a family of four £70 on their gas bill and about £115 on their water bill (if metered).

What's more, reducing water consumption helps the environment too. Energy Saving Trust says it can cut energy use, reduce the impact on your local environment and limit carbon dioxide emissions by using less energy to pump, heat and treat the water.

You can only get the freebies if your water company provides them. So to find yours, check your bill or put your postcode in. There's a full list of water companies on the Water UK website.

You can get one of each item per household. If you want more of the same water-saving devices, you can buy them at DIY shops.
Change your habits
For those on a water meter, saving water means saving money. But for those not on meters, it can slash energy bills and help the environment. Nowadays we use an average 150 litres of water a day per person – our grandparents only used around 20!
Top tips suggested by MoneySavers
Below are some tips collected from MoneySavers (some are not for the faint-hearted). We'll start with our favourite. It's not for everyone, but some MoneySavers save it for when using the loo at night...
If that's not quite your thing, here are our other top tips:
Don't wallow, shoot into the shower. A quick shower uses far less than a long soak in the tub, so think twice before baths.

Save your washing up for one wash. Instead of washing up as you go, save it up and do it in one go to minimise the amount of water used. As one MoneySaver says, it's a great excuse to leave the washing up!

Turn off the tap when brushing your teeth. Simple but effective!

Steam your veggies. Healthier and tastier than boiling them.
Running your tap to temperature? Fill up empty bottles while you wait for it to heat up and use round the house to water plants or for the kettle.
Use rainwater for flushing the loo. One MoneySaver's tip: "I use rainwater for flushing the loo, after filtering through muslin. My tanks are 200 gallon metal, sealed, with a large tap. Charcoal in netting, the sort oranges come in, keeps water smelling sweeter. The bucket stands outside the conservatory door or in the bath, with a splash of half-strength bleach."

Fix leaky taps. Check your meter's not increasing when you're not using water. If it is, get leaks sorted.

Turn off the tap when you shower. After initially wetting yourself, turn off the shower until you are ready to rinse clean. One MoneySaver reckons you can shower with almost no water at all.
Here are some top tips to keep your garden watered or car clean without a hosepipe.


Clean the car smartly. When you really get to the point where you have to clean the car, use a bucket of hot soapy water and a watering can of clean water to rinse – no need to use a hose. Consider using waterless valeting products too.

Love the shade – keep plants out of the sun. Moving pot plants and house plants out of the sun helps limit the amount of water they need.

Watering the plants? Don't forget your roots. Use the simple trick of an upside-down water bottle with holes in it to get water direct to the roots of your plants. This should help save waste.

Fish-tank water is good for plants. Use dirty water from the fish tank on plants – it's rich in nitrogen and phosphorous.

Save rainwater – get a water butt. Sometimes you can pick these up free. Leave it in your garden to collect rainwater and you'll have a constant supply of water for the plants when you need it. Make sure you keep it covered so the water doesn't evaporate when it's needed most.

Recycle tea water. Empty the cold dregs from the tea onto house plants.

Use leftover tumble-dryer water. If you use a condensing tumble dryer and it's ventless, use the condensed water in your watering can or iron.

Share your bath... with your lawn. Run a hosepipe up to your bathroom and siphon bathwater out of the window to your plants.

Build a pond. It's great for wildlife and will provide hours of relaxation. Best of all it's the biggest reservoir you can create, even beating water butts for volume. Dip into it with your watering can as needed, returning snails and newts to the pond afterwards!

Collect water. Stand a washing-up bowl in the shower. Use the water for the garden and house plants.

Use a watering can instead of a hose. Use a watering can in the garden instead of a sprinkler or hosepipe. Garden sprinklers and hosepipes left running can use 500-1,000 litres of water an hour.

Want more tips to keep your garden growing? Ask our greenfingered MoneySavers.

Use your head – swap rinse-out hair conditioner for a leave-in version. Don't use hair conditioner in the shower that you have to rinse out, use a leave-in version.

Turn it off – don't run the tap. When cleaning, don't run the tap. Instead use a wash bowl to rinse cloths.

Bundle into the bath. Get up close and personal with your other half and share your bath. Or put the kids in together to save water.

Don't bathe pets, keep Fido dry. Check with your vet, but it can be bad for their skin and they may not need it unless they require medicated baths or have rolled in something awful.

Get a dual-flush loo. Use the small flush for number ones, or the stronger flush for bigger jobs!

The efficient way to wash your hair. If it's not a cold day, wash your hair and then soap up a sponge. Turn the water to a dribble while you soap up, then finish with a quick blast to get the soap off. This saves water, and ensures there's still enough hot water to last the day out.

Shave and save. Use half a mug of water while shaving to get rid of hair by dipping the razor in the mug and churning it.

Use a Save-A-Flush. Many water companies offer free Save-A-Flush bags that go in your loo's cistern, so you don't use as much water. It's good for the environment and saves roughly a tenner a year.

If you can't be bothered to contact your water authority for one, fill up a one-litre (two-litre for bigger savings) fizzy-drink bottle with water and it should do the same job.

There's a tool which shows you how to get water devices from your water firm at Save Water Save Money.

Buy efficient white goods. If you're looking to replace your dishwasher or washing machine, get some tips from the Waterwise or Save Water Save Money websites.

Load up the washing machine. Wait until you've a full load before using your washing machine or dishwasher. Some new washing machines use less than seven litres of water for each kilogram of clothes, while modern dishwashers can use as little as 10 to 15 litres of water a cycle.

Plus, for a rundown on your right to free tap water when out and about, check out our Free Tap Water Q&A.
Get Our Free Money Tips Email!
For all the latest deals, guides and loopholes - join the 12m who get it. Don't miss out
Join the MSE Forum Discussion