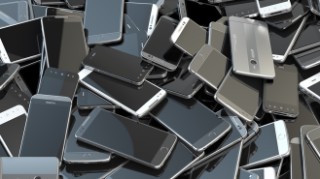 Sell Old Mobiles
Earn £100s for unused handsets
Do you have hidden treasure in the form of an old mobile? This is a step-by-step guide to phone recycling, to help you get the most for your unneeded handset.


How old-mobile-buying firms work
These are specialist, super-speedy, mainly web-based companies which will take an old phone and give you cash in exchange. You go to the website, enter in your mobile model and you'll be given a quote. We found one that pays £190 via Compare and Recycle for a 64GB iPhone 8.
Your mobile phone needs to be in reasonable condition, with no more than mild cosmetic damage. You must be able to switch it on.

Most mobile-buying firms tend to offer one price for a fully working phone, and another if it's damaged but still meets certain criteria.

If your phone's only slightly under the weather, check how much you'd get for a fully working model. Often all it takes is replacing the battery, so it may be worth doing that yourself to get a higher sales value. But factor in the battery price first, and some recyclers may ask for the original battery, so it's worth checking this before you send your handset off.

You don't usually need to provide the charger, but most will recycle it properly for you (you could keep it as a spare or flog it on eBay separately, though). Find out which firms pay the most for used mobiles.

Once you've entered your details, you'll be offered a price. If you accept it, you're usually sent a padded envelope or prepaid postage label for the phone, which you can return by Freepost.


Yet most of these free postage options DON'T include insurance, meaning you send your phone at your own risk – and some won't accept responsibility if your phone doesn't arrive. If so, it may be worth paying to send the phone by recorded 'Signed For' delivery, which insures it for up to £50. This normally costs a few quid though, depending on the weight of your phone.

Send the phone charged, switched off and without the Sim or memory card, and remove any security or Pin codes that'll hamper its testing. To do this, just opt for 'reset factory settings' on your phone's menu. Don't forget to wipe any private data.

If it isn't up to scratch, you'll be contacted and offered a reduced price. You can either accept this or opt to have the phone returned – depending on the company, you might have to pay for return postage.

If you've sent your phone to the company and something goes wrong, or the company goes bust before it's paid you, you've sadly little protection.


If the company goes into administration (when an insolvency firm is called in to run the company), the administrators will keep it trading, if possible. If the company isn't able to keep trading, you'll need to apply to the administrators for a refund, which can be harder. For more info, see our Administration Help guide.

To be on the safe side, before using an old-mobile-buying company, take the following steps:

Read reviews on sites like Trustpilot and Reevoo.

Have a look for people's opinions on Facebook and Twitter.

Read the small print – find out how long you have to accept or reject a quote and whether you have to pay for your phone to be returned if you reject it.

Check the company has published contact details, including a phone number, and/or what its complaint process is.
Find the top payer for your phone
There are dozens of mobile phone recycling companies out there, and depending on what handset you have and its exact specs, prices can vary widely.
To check lots of firms at speed and ensure you find the top payer, it's best to use a comparison site. No single comparison site covers ALL the mobile phone recyclers, and the price you're offered can vary depending on the site you're checking on, so ideally search all three big ones.
Below is our suggested order, though as prices are much of a muchness and change day-to-day, as do the number of suppliers on each site, we've simply based it on the number of features each offer, such as the price guarantee – so it's best to compare as many as you can. Once you've found a good price, check it against CeX and websites the below sometimes miss, such as Mazuma Mobile, before committing.
Then check CeX, too
Once you've found the best bid from a comparison site, it's also worth checking CeX too, as it can sometimes beat the prices offered by the sites above.
It won't send you a free padded envelope like most of the other recyclers, but it does provide a Freepost label you can print off and attach to your package (make sure you get proof of postage at the Post Office). Alternatively, you can drop your parcel off at a Collect+ point – if so, make sure you get a receipt, as this will act as proof of postage and allow you to track your package.
If you live near one of CeX's 370+ UK stores, you may find it more convenient to drop off your handset in person and get your cash in hand.
Damaged phone? You may still be able to cash it in
Most providers will look at non-working phones, offering a reduced price for these – expect to get around 10-50% of the working price. Others will at the very least recycle them for you.
Typical examples of mild damage include badly-dented casing or a phone that won't turn on. Phones that are water damaged, physically broken or have unresponsive or cracked screens aren't likely to net you any cash.
To see what price you can get for a damaged phone, select the 'damaged' or 'faulty' box when searching for the best quote.
Other options to cash in your phone
Specialist phone-buying websites aren't the only way to make cash from your old mobile. While they may be the quickest and easiest route, there are other options – some of which may get you more cash:
If you're prepared to put in a little more effort and flog your handset yourself, you can quite often get a better price on eBay* – though the nature of the auction site means it's more hassle and there are no guarantees. You'll need to list your phone yourself, and when it's sold, safely package it up and send it. See our eBay Selling Tricks guide for more details.

If you want to give eBay a shot, then it's worth having a look at the price your phone will fetch on recyclers' sites first to give you a benchmark. Set your reserve price at a level you'd be comfortable parting ways with your handset for.

If you don't want to just give your phone to a friend, selling it can be mutually beneficial, both earning you more and costing them less than doing it commercially. The difficulty is deciding on a price without ruining the friendship.

Our easy formula is... take the best price from the phone-buying companies and add 10%. If there's a dispute, simply show them this guide, proving it's an unbiased party's assessment.

Just because you no longer want to be tied into a pricey phone contract, that doesn't mean you need a new phone. Most phones can be unlocked legally and freely, so you can use them on any network (see the Phone Unlocking guide for more info).

You could also keep your phone as a handy back-up handset, as a phone for your children or for you to use exclusively abroad (see our Cheap Mobile Tips and Cheap Mobile and Data Roaming guides for more help).

Many people see 'we'll collect your old mobile for charity deals' and think woohoo – yet here at MoneySavingExpert, we're not fans. This isn't due to a philosophical objection to giving to charity, but simply because it isn't an efficient way to do it for mid- to high-value phones (it's not bad for lower-value ones).

These schemes work by giving the charity a cut of the cash you would've received. Yet if you sell your phone, you get more than the charity does. So to maximise your donation, sell it yourself, then donate the cash to the charity – it'll get more cash and because of the 'Gift Aid' scheme, it can reclaim your tax too, which means an extra 25% on top of your donation.


If you're trying to get a new phone and the recycling companies aren't willing to give you much for your old one, you could try to trade it in with the company you're buying a new one from (this applies mainly to high street retailers).

Carphone Warehouse, for example, offers competitive prices on old phones. Check its trade-in calculator to see how much you'll get. Don't choose a phone from it on this basis, but if you do fall into this category it's worth a look. For info on how to get the best mobile tariff, see Cheap Mobile Tips.
So where do recycled mobiles go?
Getting rid of your old phone isn't just about decluttering – there are potentially noxious substances in decaying phones. It's reckoned cadmium batteries can infect the water system, while lead, brominated flame retardants and beryllium can all harm the environment if disposed of incorrectly. So even if you can't sell it, don't throw your old phone out with your household rubbish.
What happens to the phones?
Once they're tested, if the phones are decent, they're shipped abroad and flogged. For example, Envirofone sells phones in the Middle East, Far East, Africa and South America.
If it's a particularly high value phone, there's a chance these companies will sell it on eBay* to get the most money. Therefore if you find your phone is high value, as noted above, you may want to consider doing that yourself and cutting out the middleman (see the eBay Selling Tricks guide).
If your phone is of a lower value, then it'll be broken down and sold off as component parts. And if it's not worth anything, these companies will dispose of it in an environmentally-friendly way.