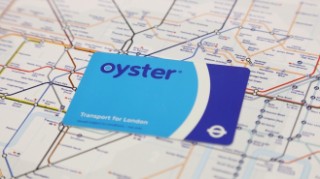 Oyster Card Refunds
Cash for old cards, delays & overcharges
Got an Oyster card or use Transport for London (TfL)? There's a chance you may be owed a refund in one or more of three ways – there's big money sloshing about.

If you've an old Oyster card lying around that you no longer use (perhaps because you've switched to contactless), you could reclaim a share of £387 million stuck on unused cards. You can also get refunds for tube delays, and reclaim up to a year's overcharges from failing to touch out (some have got £70+).

This is a guide focused on TfL travel in London. If you use a contactless or smart card in another area, contact your transport operator to check its rules.

The latest TfL figures show there are more than 64 million Oyster cards out there which haven't been used for a year. And there's a whopping £387 million sitting on them, made up of £197 million in deposits and £191 million in pay-as-you-go credit.
If you no longer need an Oyster card, you can get a refund of both the deposit and any remaining pay-as-you-go credit. (Bear in mind your Oyster card will be stopped when you request a refund of the deposit, and you won't be able to use it again.) Here's how:
Online. To apply online, log on to your Oyster account (or sign up free). Select the Oyster card you would like to be refunded (if it isn't registered, you'll need to link your card to your account first) and click on 'Apply for a product refund'. Follow the instructions to get a refund to your bank account.


By phone. To apply over the phone, call TfL customer services on 0343 222 1234 (this costs the same as a normal 020 number) with your Oyster card details.


At stations. If you have £10 or less pay-as-you-go credit, you can get a refund at tube station ticket machines. Just touch your Oyster on the yellow card reader, select 'Oyster refund' and follow the instructions. The ticket machine will dispense a refund in cash.


By post. Write to TfL Customer Services, 4th Floor, 14 Pier Walk, London, SE10 0ES.

Getting a refund can take just a few minutes, and the amounts aren't trivial:
I lived in London for eight years, and built up a stack of pay-as-you-go Oyster cards – it always seemed handy to have another one spare. But when I moved out of London (and started using contactless whenever I visited), suddenly I was left with a pile of blue plastic.
So I logged on to Oyster, spent a satisfying five minutes adding them to my account and claiming refunds, and ended up claiming £67.85 in total.
– MSE Steve
For all the latest deals, guides and loopholes simply sign up today - it's spam free!
Always claim a refund if your tube's delayed by 15 mins or more. Delays can be fury-inducing, but if your journey is delayed by at least 15 mins, you don't have to put up with it.
Whether you travelled using an Oyster card, contactless card or paper ticket, you can ask TfL for a refund. You'll get the value of a single fare for the distance you travelled.
The delay must be because of "reasons within TfL's control". This includes a defective train, faulty track or overrunning engineering work.

You can apply for a refund by on the TfL website by clicking 'Refunds and replacements' and logging in to your account, or by calling 0343 222 1234. If your card was unregistered at the time of the delay you can register afterwards to claim (but remember you've only 28 days to do so). Full help in our Tube Delay Refunds guide.
Check if you're owed a refund after failing to tap out. If you use an Oyster card or contactless payment on most TfL services (or National Rail in London), you must touch in and out. If not, you'll be charged the maximum fare, usually up to £8.
In 2018, TfL charged passengers a total of £114 million after they failed to tap their cards (though not all of that will be able to be reclaimed, as those reclaiming still have to pay for the journey they took). Yet there's a quick way to get up to a year's charges refunded, and some have got back £70+.
Log on to the TfL website to view your journey history – if your card was unregistered when you failed to tap out you can register afterwards and claim back for up to eight weeks. Look for routes with a yellow warning triangle – they're usually incomplete. Then submit your claim by filling in the form below the info. We've a full how-to in the TfL Overcharge Refunds guide.
What if my Oyster card is lost or stolen? If you lose your Oyster card or it's stolen, notify TfL and it will transfer your credit onto a new Oyster card and cancel the old card – as long as the card is registered (you can create a TfL account when you get your new card if you don't already have one). For more information on what to do in this scenario, see TfL's Refunds & Replacements guide.
For all the latest deals, guides and loopholes simply sign up today - it's spam free!