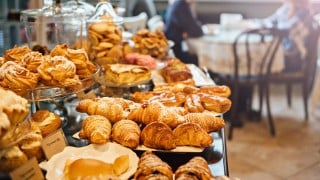 How to get free (or cheap) food
Save on your grocery bills and at restaurants
Think there's no such thing as a free lunch? From supermarkets and fast-food chains to high-end restaurants, we've 16 tips to grab free grub (or at least get it super-cheap) including how to get PAID to dine out.
For all the latest guides, deals and loopholes simply sign up today – it's spam-free!
Eat & drink for FREE
Yes, you really can get totally free food at cafés, restaurants and supermarkets. Here's how:
For all the latest guides, deals and loopholes simply sign up today – it's spam-free!
Tricks to get food super-cheap
If you can't find free food, there are still ways to eat well for a fraction of the usual cost.
For all the latest deals, guides and loopholes simply sign up today – it's spam-free!
Struggling to afford food? You may be able to get help from a foodbank
The tips in this guide are fun, clever MoneySaving ways to eat for free – but sadly many people struggle to afford food on a daily basis.
If that's you, there are places that can help. Foodbanks give out free parcels that should provide at least three days' worth of in-date, non-perishable food.

Who can use a foodbank?
To get help from most foodbanks, you need to be referred (though this isn't the case with some independent foodbanks).
You can typically get referred by a doctor, health visitor, school or social worker. But if you're not already getting support from one of these services, try asking Citizens Advice, which can also refer you.
You'll likely be asked some questions about your income and why you need to use the foodbank. This ensures the food goes to people who need it most. Common reasons for referrals include redundancy, receiving an unexpected bill or a delay in benefit payments.
The Trussell Trust is one of the biggest foodbank charities in the UK, where it runs two-thirds of foodbanks – use the Trussell Trust website to check if it operates near you. If so, there'll usually be details on your local foodbank's page of how to access its services.
Want to help? How to donate to a foodbank
The Trussell Trust says there's been a significant increase in demand for food parcels over the last year. However, it also told us many foodbanks are seeing a decrease in donation levels and have shortages of certain items. If you want to help (and can afford to), here's how:

1. Check where you can donate
One of the easiest ways to donate is to check for a donation point at your local supermarket. Many have them near the checkout, so you can add a few extra items to your grocery shop and pop them in the box on your way out.
Alternatively, look online for your nearest foodbank to find out where to donate. The Trussell Trust is one of the largest foodbank organisations in the UK – find your nearest location.
You can also check your council's website for info about other foodbanks, while charities will often put alerts on social media if they're accepting donations.
Places of worship often run foodbanks or welcome donations, no matter what faith you are. And many schools run 'food drives', so check these too – they'll explain the type of produce they'll accept.

2. Check what you can donate, and which items are in short supply

Generally foodbanks ask for food with a long shelf-life, such as cereal, pasta and tinned soup. Check out The Trussell Trust's list of what's in a food parcel for an idea of which items are needed.
It's always worth checking with your local foodbank first, to see which items they're most in need of. For example, Manchester Central Foodbank says it currently has plenty of pasta, but urgently needs tinned soup, beans and UHT milk.
It's also worth remembering, foodbanks don't just give out food. You can donate toiletries and sanitary products too.
3. Use supermarket coupons to make cheap donations

If you want to give, but don't have much spare cash, check out our Supermarket coupons page to see if you can get suitable items for free or at a discount. There are often coupons available for food, as well as for essentials such as toothpaste.
For all the latest deals, guides and loopholes simply sign up today – it's spam-free!
Have your say in our forum!