If you click a link with an * to go through to a provider, we may get paid. This usually only happens if you get a product from it. This is what funds our team of journalists, and keeps us free to use. Yet there are two crucial things you need to know about this.
This never impacts our editorial recommendations – if it's in, it's in there because we independently rate it best.
You'll always get as good a deal (or better) than if you went direct.
For a more detailed explanation see How MSE is financed.
Do I need a business bank account?
Five million of us are now self-employed, freelancing, contracting or part of the gig economy, whether that's as our main job or a side hustle. While most can use their normal bank account, there are times when you need to use a business account, or it's much easier to separate your finances.


Doing this guide is a bit of a departure for us. We're a consumer MoneySaving site, here to fight your corner against businesses overcharging and taking advantage of you. But for many of the five million who are self-employed, the business and the consumer are often one and the same, so it's a bit of a grey area.
For all the latest deals, guides and loopholes simply sign up today – it's spam-free!
What is a business bank account?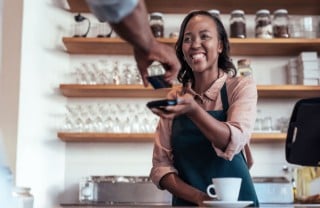 There's nothing really special about a business bank account. At its basic level, it's just like your personal bank account, but it's one you open solely for your business income and expenditure.

But a business account can range from that very simple money-in, money-out account to an account that helps you issue invoices, run payroll (if you employ others) and help with your accounting and tax return. Whatever you need it to do, there'll be an account out there to help.
Many are looking for free business banking, though that doesn't really exist - not in the same way it does for personal bank accounts anyway. However, later in this guide we'll run through the top pick accounts, including which business bank accounts are the cheapest.
You NEED a business bank account if...
You've set your business up as a limited company in the UK (ie, you've registered it at Companies House). In this case, your business is legally separate from you, so you shouldn't be using a personal account for its expenses.
You don't NEED a business bank account if...
You're a sole trader or freelancer, or contracting (but not through a limited company), eg, hairdresser, research interviewer, journalist, TV producer, gardener, designer, developer.
You're doing gig work, like Uber, TaskRabbit or Deliveroo.
You're not required to open a business account in these cases, as your business or your self-employment isn't legally separate from you. As a freelancer, sole trader or gig worker, you and your business are one and the same in the eyes of the law – and the taxman!
However, even if you're in the "I don't need one" camp, you may want to open one anyway, as sometimes it's easier to have one than to try and juggle your business's income and expenditure with your own, especially if your self-employment income is the lion's share of your total income.
As a rule of thumb, if you're offsetting business expenses (eg, travel tickets, phone calls or stationery) against your income, then you really should be looking for a separate business account.
Pros (and a couple of cons) of keeping business and personal finances separate
Business accounts work in a very similar way to personal accounts – you'll be able to set up payments, have people pay you and make debit card transactions. Setting up a separate account has a lot of positives going for it, through there are a few downsides too.

PRO: You save on admin and time (in one sense, see the second 'con' below). Keeping your business income and expenses separate will help when you come to do your tax return for HMRC. The info and numbers you need are all in one account, rather than you sifting through your personal account trying to work out whether that posh restaurant meal was a business meeting and can be expensed, or you and your mates heading for brunch.

Drawing this out further, it's also helpful if HMRC ever investigate your business finances. If they do, it's all there, and separate, and won't necessitate them looking into your personal finances too.


PRO: You build a credit rating for your business. If you want to apply for a business loan or credit card further down the line, then it's better to build up a credit history for your business now, and you can do this by managing a business account well. Keep only a personal account, and you may not be eligible for business products.


PRO: You don't break your bank's terms and conditions. The reams of small print that comes with your personal bank account will usually say that you're not allowed to use it as a business account. You're unlikely to trigger this if you're, say, a freelance writer getting earnings transferred into the account. But, if – for example – you own a food truck and you'll make a lot of cash transactions, then your bank will likely close your personal account, or ask you to open one of its business accounts.


CON: They may well cost you in fees, whereas it's easy to get a free personal account. Though there's now a new breed of digital accounts without monthly fees, most business accounts charge a monthly fee, often around £5. You'll also usually pay for cash deposits and withdrawals, and sometimes for making other transactions.


CON: You've two accounts, so it's twice the admin. You'll need to deal with more cards, more statements and more passwords. But, as we say above, the idea is that you do the admin now and save on doing more when it's time to do your tax return.
If you've decided to go for it, read on. If you just want a personal account, read our Best Bank Accounts guide.
For all the latest deals, guides and loopholes simply sign up today – it's spam-free!
Best business bank accounts - which should I go for?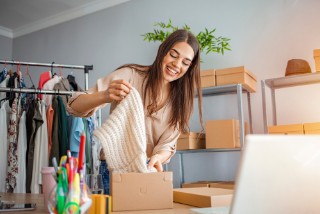 Here we run through the best business bank accounts for startups, sole traders, company directors and even larger SMEs. But which you go for depends on what you need the account to do for you...
Won't need to pay in cash / cheques often?
The new wave of fintechs offering business accounts is a good place to start, as they're easier to set up and much cheaper than their high-street counterparts. These banks let you set up an account within minutes, and offer an easy way to keep track of your income and expenses, integrating seamlessly with accounting software.
The below accounts let you attach photo receipts to transactions (which helps you prove expenses to HMRC, if needed) and set up linked accounts for tax (separate 'pots' so you can save for your tax bill). In general, you'll need to manage your account in an app, though some providers do have limited online banking portals.
Bank

Fees

Accounting software links (1)

FSCS Protection?

Starling*
- 0.7% of cash deposited, min £3 (Post Office)
- 50p per cash withdrawal at Post Office; ATM is free
Quickbooks, Xero and FreeAgent, or it has its own bookkeeping Toolkit for £7/mth
£85,000
Monzo Lite*
- £1 to pay in cash (Paypoint)
None (unless you opt for the £5/mth version of the account)
£85,000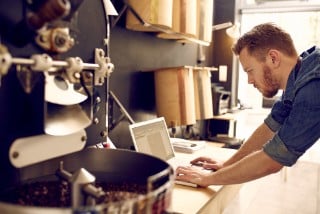 You may be able to use the accounts above, for example, you can scan cheques of up to £500 with Starling, or post cheques to it if higher value. However, you may be better using a high street bank, doubly so if you'll regularly be paying in cash (or taking it out for a till float).

If this is the case, choose a bank that has a branch near you, as many banks charge extra if you use the Post Office to pay cash or cheques in. Many high street banks have introductory offers, giving you a year or two's banking free of monthly charges, or free accounting software, though you may still need to pay for things like cash deposits or ATM withdrawals.
It's worth checking what fees will be once the intro period ends, as monthly fees for these accounts can be quite hefty (though you should be able to offset these against your profits as they're a business expense). These are the levels of fees you could expect, though it'll vary by bank:
Monthly fee: £6
Cash deposit/withdrawal fee: £0.70 per £100
Transfer fee in/out: £0.30
Cheques in/out fee: £0.50
Like the fintechs, most high-street banks – though not all, so check – let you sync your account with accounting software like FreeAgent, QuickBooks or Xero.
If these are the right accounts for you, check these comparisons:
We've linked to others' comparisons for now, but let us know in the forum if it would be useful for us to do a full comparison of high-street business accounts.
Can I get a business bank account if I have bad credit?
Yes, you can. There are providers which will let you open an account if you've had credit problems in the past, though you're unlikely to be accepted by the big, high street banks.
Instead, you're looking at online or app-based providers. For example, Cashplus' Business* account guarantees approval if you have the correct ID. There are no monthly fees, though there's a one-off card issue fee of £9.95.
There's a different link to use if you're switching your business bank account to Cashplus*.
For all the latest deals, guides and loopholes simply sign up today – it's spam-free!
Business bank account FAQ
Have your say in our forum!