16 Center Parcs Tricks
Bag cheap trips and slash food bills
Get Our Free Money Tips Email!
For all the latest deals, guides and loopholes - join the 12m who get it. Don't miss out

Updated August 2018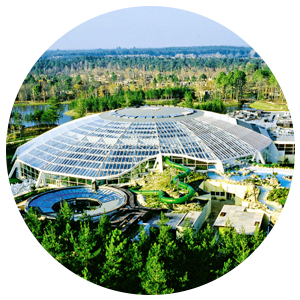 While Center Parcs will never be dirt-cheap, we've a host of clever tricks to bring down the cost. Whether you plan to go or have already booked, this guide has tips to help, including how to grab £199 four-night breaks, score last minute discounts on activities and effectively get an extra day for free.
This is the first incarnation of this guide. Please give us your feedback, suggest improvements and share your tips in the Center Parcs Tricks forum thread.
Center Parcs in a nutshell
With woodland settings and lodge accommodation, Center Parcs has five venues across the UK: Whinfell (in Cumbria), Sherwood (in Nottinghamshire), Elveden (in Suffolk), Woburn (in Bedfordshire) and Longleat (in Wiltshire).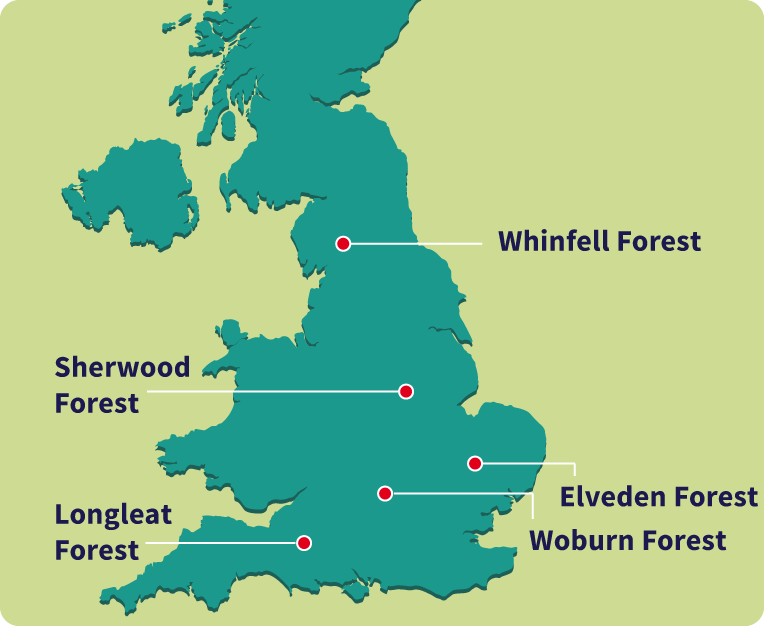 The parks feature the following facilities:
Pool complexes. At the heart of each resort are giant pools with lazy rivers, rapids and slides, which you can use at no extra cost.


Cycling. The sites are mainly car-free with tarmacked lanes – good for beginner cyclists and kids. (You need to bring your own bike or hire one.)


Beaches and a water sports lake. Take a bucket or spade, or pay extra for activities such as kayaking and paddle boarding.


Activities. At an extra cost, sporty types can book activities such as archery, horse riding and treetop rope adventures.


Indoor sports complexes. Each village has a 'Sports Plaza' where you can pay for climbing, badminton, snooker etc.


Spa. For an extra charge, visitors can book in at the spa, which has heated pools, steam rooms and saunas. You can also book face and body treatments.


Restaurants. Nosh options include chains such as Bella Italia, Café Rouge, Las Iguanas and Strada.
Center Parcs in France, Holland etc, can be less than half the price of the UK – especially in the school hols
Center Parcs resorts in Belgium, France, Germany and the Netherlands can massively undercut the UK parks – especially for longer breaks in the school holidays or in bigger lodges. That's even after you've factored in the cost of flights or ferries.
While Center Parcs UK and Center Parcs Europe are now run by separate companies, both feature lodges surrounded by woods and nature. Plus ratings on TripAdvisor are similar for both UK and European parks, so it's always worth a quick comparison to find the cheapest option.
To show the scale of the savings, at the Woburn Forest park in Bedfordshire, when we searched earlier this summer, we found three-bed lodges started at £2,200 in August. This was compared to just £890 at its Parc Sandur site in the Netherlands. Add in flights for a family of four at £350 and the total came to £1,240 – £960 less than the UK break.
Over October half-term, two-bed lodges at Sherwood Forest Park started at £1,448. But we found similar lodges at Les Bois-Francs for £539. Even after adding in £372 of flights for a family of four, that was a £537 saving.
Here's some of the feedback we've had:
We're going to France Center Parcs in the school holidays. Longleat for four adults and four children was £3,200. France is £1,500, including crossing.- Steve
We went to Center Parcs Erperheide in Belgium. It was much cheaper than UK, but an identical experience.- grintricha
When booking flights, don't just check one airline's prices – use the right comparison site. We like Kayak* and Skyscanner*. See our Cheap Flights guide for a full list, plus more tricks to slash flight prices. And of course if there are a few of you and you can get to a port easily, travelling by ferry with the car could work out even cheaper.
Get Martin's Free Money Tips Email
For the latest travel secrets and discounts, join the 10m who get the weekly email.
Slash the cost of European Center Parcs stays further by buying from that country's site
If you do decide to book a holiday at a Center Parcs resort on the Continent, double-check the prices on that country's local site. Cheekily, Center Parcs Europe encourages British customers to book parks in mainland Europe through its GB site (centerparcs.com/gb-en), where prices can be steeper.
So check prices across French, Dutch, Belgian and German sites, then compare to the GB site price (which will also been in euros). If you're struggling with the language, the Google Chrome web browser will translate the page at the click of a button – just go on to the foreign site and a box pops up asking if you would like to translate the page.
Remember, whichever Center Parcs Europe site you book through you'll be asked to pay in euros, so make sure you use specialist overseas plastic to get the best rate.
We found a seven-day break in July in a three-bedroom premium cottage in the De Kempervennen in the Netherlands. The GB site came up as €1,679 (£1,499), whereas the Dutch site charged €1,287 (£1,149) – a mega €288 (£257) saving for exactly the same stay.

This isn't always the case though. We've sometimes found breaks a smidgeon cheaper on the UK site, so it pays to check both.
If you're wondering whether you can save on the UK parks this way, the answer is, sadly, no. For example, the German site won't let you book at Sherwood Forest.
We just did Center Parcs Holland at half term for €370. The local website was €140 cheaper than the English site.- Nigel via Twitter

Outside peak times, booking late usually wins – eg, four nights for £199
Center Parcs doesn't do discount codes (the last we could find expired in 2008). However it does offer deals via its last minute deals page – prices come down within roughly eight weeks of travel.

When we checked in April, we found a three-bed lodge in Sherwood Forest available in a week's time for £299, compared with £379 for the same week in 2019. A one-bedroom studio holiday for the same dates could be had for just £199. (Though as we're now in peak season, the cheapest break we can find last minute currently is £379 for a midweek break in a three-bedroom lodge in October.)
Can't book late? Book as early as possible
Of course, the risk with leaving it to the last minute is limited choice and availability. So if you can't be flexible on dates and location, it's probably best to book as early as possible instead.
You can actually start looking as early as 18 months ahead, when Center Parcs releases availability.
Center Parcs is tight-lipped on its precise pricing strategy, so there are no guarantees. But as a general rule, we've found prices for peak times tend to go up the closer you get to the date.
Stay term-time, midweek...
No surprises, Center Parcs prices jump outside term-time. For example, a two-bedroom lodge in Whinfell was £1,948 in the last week of August, compared with £948 in the first week of the September when schools go back. That's £1,000 pricier.
So if you've no kids or pre-schoolers, take full advantage and travel midweek outside school holidays.
... or find hidden cheap booking dates if you've school-age kids
There's a collective 'GRRRRR' from parents about holiday price hikes when term ends. Like flights, hotels and package holidays, the cost of Center Parcs always seems to rocket.

Yet every so often, your school's term dates may differ from everyone else's. This could be due to inset days or just because your council's chosen different dates. These hidden dates can mean huge savings.
For example, this year Leicestershire schools broke up on 13 July, while most others did so on 20 July. When we checked beforehand, we found a week's break in a two-bedroom lodge at Sherwood Forest for £1,248, starting 13 July. The same holiday starting a week later was £1,618.
Schools in Scotland break up earlier than the rest of the UK (eg, this year it was around 29 June), so Scottish families heading down south should consider going away early in the summer.
Use the Gov.uk school holiday dates tool to find out when schools in your area are off, and check directly with your school too, as inset days and term dates can vary.
Then search Google for other schools' dates – this Holiday Lettings blog has a summary of the different 2018/19 dates in England, Scotland, Wales and Northern Ireland.

Also see MSE Jenny's Beat summer holiday price hikes blog for more tips.
Inset days are a boon for cheap long weekends
Inset days are one-off mid-term holiday days which vary by school and are usually for teacher training. With careful forward planning, these can be a boon for nabbing cheap Center Parcs stays, as forumite Cjj found:
We had a Fri and Mon as inset days in Dec. I booked Center Parcs for that weekend, ie, Fri-Mon as I thought it was a perfect time to go. It cost £419.- Forumite Cjj
The larger the group, the cheaper the cost
At Center Parcs, economies of scale usually apply. As a rule of thumb, the larger the group, the cheaper the accommodation per person. If you can go with friends or family, you can slash the cost.
MoneySavers suggest booking a two-storey lodge if two families are going, so you can have a level each.
A four-bedroom lodge in Longleat was £1,338/week in late September – with eight people staying, that works out at £24/night each. For the same week, a one-bedroom studio apartment (with two people staying) was £878 (£63pp/night) and a two-bedroom (with four staying) was £858 (£31pp/night).
Get Martin's Free Money Tips Email
For the latest travel secrets and discounts, join the 10m who get the weekly email.
Bag an 'extra day' free by checking in early and leaving late
The official check-in time at Center Parcs UK, when you can get into your accommodation, is 3pm (3.30pm at Whinfell) – at which point queues are lengthy. However, you're allowed to use the complex from 10am on your day of arrival (except for the Subtropical Swimming Paradise, which you can use from 2pm).

So arrive early, then head down to claim your place once the queues have subsided.

On check-out day, you must hand back the keys to your lodge at 10am, yet you can stay till whenever you like that day. So do it right and you effectively nab an extra day's fun.
Snap up 50% off activities via the Center Parcs app – or look outside the complex
Center Parcs is a place that encourages activity binges, be it archery (£24 per person), building dens (£47 per group) or pirate/princess adventures (£27 per person).
Clocking these off can easily run into £100s, so don't feel pressured. If you've kids, most will be happy to play in the woods or bob along the lazy river.

If you're keen to take part in some paid-for fun though, download the free Center Parcs app from Apple's iOS App Store or the Google Play Store.
The app lets you pre-book activities, and rumour has it you can sometimes grab last minute discounts. We've heard reports of people grabbing deals on activities via the app such as 50% off bowling or private cabana huts at the swimming pool. Center Parcs would not confirm this when we asked though – if a discount appears on your app, please do tell us about it in the Center Parcs forum discussion.
Or escape the complex and book directly with local providers
Alternatively, you can search nearby for local activities outside the complex, which often beat Center Parcs' prices.

As an example, a half-hour pony ride in the Whinfell Forest complex is £19. But book with nearby Leacett Cottage Trekking Centre and it's £17.50.

Got a top Center Parcs tip that we haven't listed? Divulge it in the Cheap Center Parcs discussion.
Spend the day lounging at the pool to save cash – plus bag half-price cabanas
The indoor swimming pools, aka Subtropical Swimming Paradises, are the centrepiece of Center Parcs, boasting wave machines and waterfalls. They're also one of the few free activities, so plan to spend a day bobbing around the lazy river.
Remember to bring towels from home, because beach towel hire is £2 a pop. Even using the swimsuit wringer is 20p, so bring multiple costumes if you have them.
Use the app for half-price cabanas
You can hire a cabana by the pool – little huts with a TV, safe, seats and soft drinks. They're normally about £50 for three hours, but if you keep an eye on the Center Parcs app you can get them almost half-price at £30 according to MoneySavers, though Center Parcs would not confirm this. This still isn't cheap, but some families find them handy.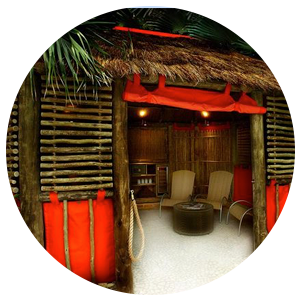 Free under-threes' swimming sessions
Baby Dolphins is a free session for under-threes run before the pool opens while it's quiet to introduce babies and toddlers to the water. These take place at different times and on different days for each village (please check directly with reception as well, as they're subject to change):
Elveden Forest – Wednesdays and Saturdays at 9am
Longleat Forest – Tuesdays and Saturdays at 9.30am
Sherwood Forest – Tuesday, Wednesday and Saturday at 9.15am
Whinfell Forest – Every day from 9.30am
Woburn Forest – Wednesdays and Saturdays at 9am
Take your own bike or consider hiring for longer periods
On yer bike! One of the best ways to see Center Parcs is from a bicycle seat – especially as much of it is so spread out. Of course, the best MoneySaving option is bringing your own bike – remember to bring a lock.
If people can't squeeze adult bikes in the car, some just take the kids' bikes. Scooters can be handy for little ones to zip around on.

If you're hiring, longer periods work out better value per day. Adult bikes start at £19 for 24 hours, and kids at £14. For a family of four, that's £66 for a day's pedalling.
Yet four-night hire starts at £30 for adults and £22 for kids. That's £104 for a family over that period, working out at £26/day.
Avoid the pricey Parc Market and click and collect at a supermarket instead
The majority of accommodation comes with kitchens, meaning you can bite £100s off your holiday food bill by cooking your own food rather than eating out. But swerve the pricey 'Parc Market' – the supermarket within the complex – and cannily do a click-and-collect order to a nearby supermarket instead. Just find your Center Parcs on Google Maps, click nearby and search for 'supermarket'.
To test this, we sent MSE Anthony undercover in the Parc Market at Elveden Forest. A shopping basket of 10 branded goods cost £31 at the Parc Market, while at Tesco the bill was just £21, and that included a £1 click and collect charge.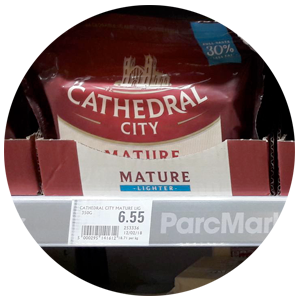 The 10 goods sampled included Cathedral City cheese, Tetley tea, Pringles and Jacob's Creek merlot – where an exact match was unavailable, we used a comparable brand.
For more info on grocery shopping bargains and how to make the most of supermarket coupons, see Extreme Couponing Tips.
Winner winner, yellow sticker
Like the big supermarkets, the Parc Market reduces food as it's about to hit its sell-by date, even though it's still perfectly fine to eat. One TripAdvisor user says: "Go to supermarket shop within the park half an hour before it closes – cheap food always on offer."
Write a meal plan
There are lots of tips on the Old Style board's Menu Planning thread, but really all you need to do is work out what you're going to eat each day and the ingredients you'll need.
Taking your own slow cooker is also highly rated. You can just throw in all your meat and veg in the morning before you head off to your activities, leave it on all day and when you come home you've got a fabulous stew, casserole or soup.
Fill your car with the right kit to avoid paying extra
If you don't watch out, you can easily get stung for lots of added extras at Center Parcs. So be prepared and pack the car with all the handy things you might otherwise end up paying for.
The only logs you're allowed to use in the Center Parcs fireplaces are instant fire-logs. While they can be pricey at the Parc Market, you can often pick them up for about £1 each at Aldi, Home Bargains, Lidl and Poundland.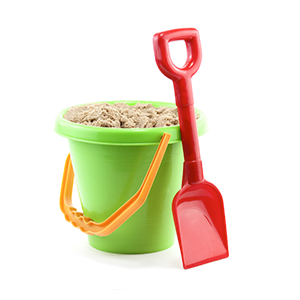 If you've kids, consider taking bird food, a bucket and spade for the lake, and extra chalk for the chalkboard.

You could also take DVDs or, if you have one, a Chromecast or Amazon Fire Stick to plug into the TV. A bike lock is handy for bikes and buggies.

Finally, don't forget the little things for your lodge, such as washing up liquid, tea, sugar, dishwasher tablets, bin bags, olive oil and loo roll.
Slash the cost of a holiday village stay with cheap Center Parcs alternatives
Instead of heading straight to Center Parcs, check out cheaper alternatives too. We list some holiday villages with a similar theme below – set in nature, with self-catering lodges, usually with swimming pools and on-site activities. They're not guaranteed to be cheaper every time, but it's well worth comparing prices before booking.

Even better, start with the question: "What can I afford to spend on this break?", then work out the best holiday you can have on that budget.
If you've found a cheaper alternative to Center Parcs, we'd love to hear about it in the Cheap Center Parcs discussion. For more tips and how to find the right accommodation, see our Cheap UK Hotels, Cheap Hotels and Cheap Holiday Rentals guides.
Treble Tesco points' values on Forest Holidays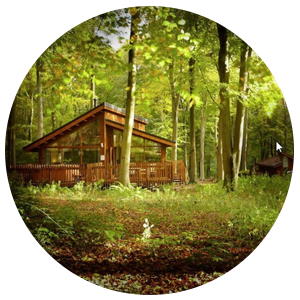 Before spending Tesco vouchers in-store, check Tesco's rewards brochure as it may allow you to get three times the value of your vouchers (£10 becomes £30) on train tickets, jewellery and more. See our Boost Tesco Vouchers guide for more info.
One of the rewards partners is Forest Holidays, which, like Center Parcs, offers lodge-style accommodation in forests. Tesco lets you turn every £5 of Clubcard vouchers into £15 to spend at Forest Holidays.
The company has fab feedback on TripAdvisor, but the downside is vouchers can't be used for the full price of your stay and can only be used up to the value of 25% of your cabin price.
Get Martin's Free Money Tips Email
For the latest shopping secrets and discounts, join the 10m who get the weekly email.