Martin Lewis - Should you equity-release?
Release money from your home while still living there
Get Our Free Money Tips Email!
For all the latest deals, guides and loopholes - join the 12m who get it. Don't miss out

Updated June 2018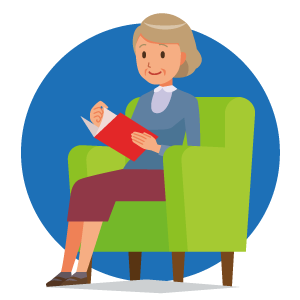 Over 55, struggling for cash, but own your own home? The easy solution, according to the adverts at least, is to do an equity release. But as with a lot of things in life, it's not as straightforward as it seems.
So, here's MoneySavingExpert.com founder Martin Lewis to quickly run you through the key points you need to consider if you want to do an equity release.
In this guide
Other top MSE guides...
If you're over 55 or considering selling or remortgaging your home, you may also find these guides useful:
Over-50s' MoneySaving: Tips on pensions, freebies and more
Cheap Mortgages: How to find the best deal
Selling your property: Step-by-step help with selling your home
Consider downsizing first

Equity release isn't something to be taken on lightly, so before you dive right in, first evaluate whether downsizing your property could be an option. If you can sell up and move on to a smaller home, and live off the excess cash you have made, great. You may also find a property more suitable as you age – fewer stairs, perhaps. Our Selling your property guide has info and tips on selling your home.

If downsizing is right for you, don't put it off.
People in their 60s often say to me: "I'll do it in a few years."
A few years later it's: "Not yet."
And after that it's: "We're now too old to leave."
So if downsizing is right for you, do it sooner.
Having said that, if it's a home where you've lived for years and you have many friends in the community, don't underestimate the personal and social impact of moving away if you can only afford to downsize out of the area. On top of this, the financial costs can be high, with agent fees, removal costs and stamp duty to factor in – so you'll still need money to finance this option initially.
What is equity release?
Equity release is, in a nutshell, a way to unlock the value of your property and turn it into a cash lump sum. You can do this via a number of policies which let you access – or 'release' – the equity (cash) tied up in your home, if you're 55+.
As a rule, you can take the money you release in one lump sum, in several smaller amounts or as a combination of both.
Yet make sure you do it in the right way as if you get it wrong, it can prove expensive, as these tweets show:
Found out my mum had done this when she was hospitalised, it was 8% we now have to sell the house, she will owe approx 106k

— Phil (@Sheffman2) June 26, 2018
my folks did this, then my dad died, mum had to move, £100,000 to pay for a £25,000 release!

— Chris Aram (@chrissyaram) June 26, 2018
How does equity release work?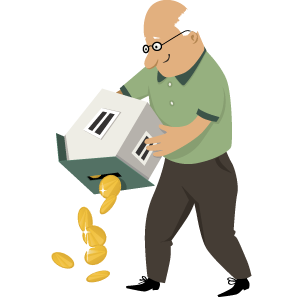 The most common form is a mortgage that isn't paid off until you die. So if you have no one to leave your assets to, it's a decent, though expensive, route to raise cash.
If you do have people to pass assets to, equity release generally means there will be less for them to inherit. Then again, it is your money, so prioritise your own standard of living. Equity release products fall into two main camps:
1. Lifetime mortgage
This is the most popular and for those aged 55+.
Here you borrow some of your home's value at a fixed or capped interest rate (see below for more). With old-style lump-sum lifetime mortgages you don't make repayments, so the interest compounds rapidly as the amount you owe is increasing all the time – in contrast to a normal mortgage.
Now, some newer 'drawdown' versions do allow you to pay back the interest (some even allow you to pay back some of the capital as well) so you can reduce the overall cost. With this type, you can take money out of your property a bit at a time up to an agreed amount – with interest charged on the amount you take, rather than the whole amount available.
A lifetime mortgage is different from a standard mortgage – if this is what you're looking for, check our Cheap Mortgages guide for tips.
2. Home reversion plan
You need to be aged 60+.
Here a provider pays you a tax-free lump sum for a portion of your home at below market value. You can then live in the property (rent-free) until you die. When it's sold, the proceeds are split based on the percentage you own and the lender owns. So if your property value rises significantly, so does the amount it gets.
For example, if you sell a 40% share in a £200,000 property in return for a lump sum of £40,000, this cash you receive is at a huge discount to the £80,000 this share is actually worth (at current market prices) – mainly because the provider will have to wait many years to get its money back. Years later, when you die, if your home is eventually sold for £300,000, the provider would then be entitled to £120,000 – 40% of the proceeds.
Therefore with lifetime mortgages you know the exact rate, while as a generalisation home reversion plans are better if property prices stay flatter, worse if they rise substantially.
How much does equity release cost?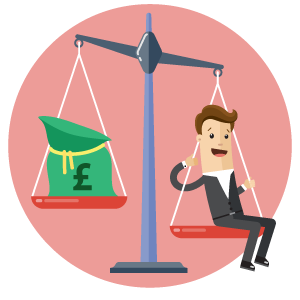 For the lifetime mortgage equity release, the typical rate is 5.14%, significantly higher than most standard mortgages.
The eye-watering price-tag your estate would have to repay comes if you're not making monthly repayments to reduce the debt, so the interest compounds and compounds.
For example, borrow £20,000 aged 60 at 5.14% on a £120,000 home, and the amount you owe doubles every 15 years. So live until 75 and you owe £40,000, live until 90 and you owe £80,000.
As well as the actual cost of the interest, you'll have to pay arrangement fees. These can typically tally £1,500-£3,000 in total, depending on the type of plan being arranged. They can include such costs as application fees, fees for legal work and surveyor fees.
Four equity release tips
If you've read the above and you're sure equity release is right for you, here are a few tips:
1. Don't borrow the full amount you need in one go. The sooner you borrow, the more expensive it is, as the interest has longer to compound. So borrow as little as you need now, and wait as long as you can to do it again.

For example, if you think you may need £40,000 from your home to cover 20 years, only take what you need now and wait to take more until needed. Drawdown lifetime mortgages are set up to make this easier.
2. Ensure you use a company that's a member of the Equity Release Council. This trade body's members must promise a 'no negative equity' guarantee, so your estate will never owe more than your home is worth.
3. Get advice before you do it. Speak to an independent mortgage broker or financial adviser with an equity release qualification to find the best deal. You can find one at Unbiased.co.uk, VouchedFor or the Equity Release Council.
4. It can affect your benefits. Having cash rather than a property can affect the benefits you're entitled to, for example pension credit, universal credit and others. So if you're entitled to those, check the impact first.