Debt Problems
What to do & where to get help
Get Our Free Money Tips Email!
For all the latest deals, guides and loopholes - join the 12m who get it. Don't miss out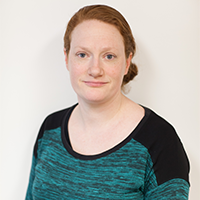 Wendy and Amy | Edited by Helen S
Updated June 2018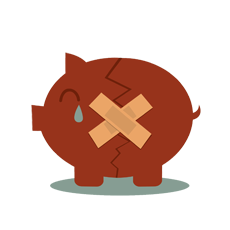 No debt problems are unsolvable. It might not be easy or quick, but there's always a route. And the earlier you deal with 'em, the easier they are to deal with.
Debt isn't just a finance issue. It feeds into all elements of your life. So solutions are wide and varied; from cutting interest costs, budgeting, or simply getting free one-on-one debt help.
Are you in debt crisis?
There are two ways to deal with problem debt. Which one is right for you depends on whether you're in what's technically defined as debt crisis, or if you just have worrying or large debts.
What counts as debt crisis depends on who you ask. There's a strong indication if you answer yes to either of these...
Are you struggling to pay all basic outgoings, eg, mortgage, rent, energy bills and credit card minimums?
- or -
Are your debts (excluding your mortgage) bigger than a year's after-tax income?
Even if your debts are big: if you can service them, even at the minimum level, you're not in debt crisis and a different solution applies.
Quick questions
What do I do if I'm in debt crisis?
First of all, don't panic at the name. I've never yet heard of someone with debts so bad there isn't a path through them. Starting to deal with them will make you feel better and will speed up the process.
Even for those in crisis, the nuclear option, bankruptcy, is rare. Even then, as this email shows there's always hope:
I'd always been brought up to believe being a bankrupt was just one step away from being a burglar; so when it became apparent that my daughter was reeling from the pressure of unpaid debts, bankruptcy wasn't a consideration.

Her debt was that bad, that even living as a pauper she couldn't afford the interest charges. Yet still the credit card companies offered to increase her credit limit and her bank offered to consolidate her loans.

After taking the time to research the matter thoroughly and getting loads of advice, we decided bankruptcy was the best option. Although it's not a step that should be taken lightly, my daughter is alive again.

She has a genuine fresh start after seven years of increasing money pressure, and it has made the world of difference to her. Of course, she has to be careful with her limited resources but is now able to manage and live a reasonable life… and not lie awake at night worrying about money!
The fact you're here is a great start
If you're in crisis, the fact you're here and reading about it is a great start. Many people simply close their eyes to reality and there is nothing worse. Now you know there's a problem, it may feel worse than before. But the fact you're about to sort it out means in reality, you're better off.
First, read the debt help checklist

The debt help checklist below is designed primarily to prevent people from getting into debt crisis, rather than for those already there. Much of the information won't be applicable, but it's worth scanning through for five minutes to see if anything is relevant. It may allow you to meet your minimum outgoings and thus avoid your crisis snowballing out of control.

There's free one-to-one help available

The reason this guide doesn't cover crisis solutions in detail is simple. There's a range of great free, non-profit debt counselling agencies that will give you one-to-one help if you're in crisis; and no web guide can come close to that personal service. Therefore my preferred solution is to direct you to them. See the free debt counselling section.
What do I do if I've got debt problems but I'm not in debt crisis?
Don't visit a debt counselling agency. Not just because they're heavily oversubscribed and should be left to those in urgent need, but more importantly, the solution they use isn't for you.
Debt counselling involves negotiating with creditors and even bankruptcy, IVAs or debt relief orders. These are serious measures, designed for those with limited alternatives, in effect drawing a line and saying "this person is no longer within the system". The result is the debilitation of your credit score and less access to financial and some consumer products.
Instead, there are a couple of sources of help:
Take time to go through the checklist

The debt help checklist below is designed to take you through every single way to take on your debts, cut the costs, and pay them back speedily. So take some time and go through each to check whether it applies to you.

Help and support from those in the same boat

Want help, or want to talk about it? There are many people in the Debt-Free Wannabe forum in a similar boat, all supporting and helping each other reach what they call their "debt-free day", after going through the checklist. This is an amazing resource.
Are you hiding your debts?
Many people hide their debts from friends and family, or sometimes even themselves (by not opening statements or not adding up their liabilities). If that's you, then it's time to come out of the closet. You can only sort your debts out if you know the scale of them. It may feel better not to know, but in the real world it makes things worse.
For those hiding debts from a partner, spouse, family or loved ones...
Seek help, or work out an action plan first, so you're telling them about solutions, not just problems. It's easier to break the news if you can show you're determined to improve.
It's much easier that way. Remember, if you're prepared to take action, the question isn't "will I ever get through this?", but "when will I be through this?"
Do you have physical or mental health / relationship problems?
Debt isn't purely a financial issue. It can be a cause or consequence of many external factors such as health, employment, family or housing problems.
Money worries can break up families, take the roof from over your children's heads, kill confidence, pile on stress, cause depression and even lead some to take their own lives. If you're feeling depressed then Samaritans is always there to help, either through its website or on the phone number 116 123 (UK).
For a full guide to handling debts when stressed, working with banks, getting free one-to-one debt counselling and specific tips for bipolar and depression sufferers, read our free Mental Health & Debt Help PDF booklet.
If you're worried about your relationship, Relate has lots of useful info. For specific help if you, or a friend or family member, have been diagnosed with cancer try the Macmillan support line.
Being chased for debt that's not yours or is over six years old?
There are a number of debt collection agencies, whose job it is to chase down unpaid debts for other companies. Disgustingly, one time-saving tactic used is to fish for the right person by sending demands to all those with the same surname, in the hope someone will pay up.
If you're called or receive a letter asking for money, the onus is on THEM to prove that you DO owe the money and that it's genuine debt. So if the debts aren't yours, don't panic; send a letter to say you're not responsible. National Debtline has a template letter you can use.
For older debts, the law says you can't be pursued in court for civil issues six years after the event (five in Scotland).
So for a personal loan, credit/store card or bank account where there's been no contact for six or more years a lender usually can't get a court action against you. This is increased to 12 years for mortgages/secured loans and indefinite for most tax debts.
Yet contact can mean anything, including making a payment, and that restarts the clock. Courts may also extend the time, for example, if lenders have taken reasonable steps to contact you. Some lenders still chase for the money after that period, but only a court can force you to pay.
If it's happening to you, see the National Debtline factsheet and template letter, or get help before speaking to the creditor.
Before you start
No one ever wants to get into debt. It comes from spending money you don't have. This could be for frivolous reasons, or you may've had a horrible change in circumstances, like a partner dying, personal illness, divorce, mental health problems or losing your job (see the full Redundancy Guide for hints and tips if you have lost your job).
Yet however good or bad your reason, from now on it's irrelevant. The most important thing you can do is get a disciplined handle on your spending.
Debt's a symptom, not the problem. Before tackling it, you must reduce your spending. Not only to stop you borrowing more, but to maximise repayments.
The prime aim of this guide is to cut the cost of your debts, yet if you do that without examining the bigger picture of all your spending it'll be wasted (there are some top tips later on to help).
That's why, in this guide, my prime focus is on cutting the cost of your debts themselves, rather than looking at the bigger picture of all spending.
How bad are your debts?
If you're wondering how bad your debts are, as the old adage says, size isn't everything. What counts is your debt in proportion to your ability to repay.
Are your non-mortgage debts bigger than a year's after-tax salary?
If your non-mortgage debts (usually credit cards and loans) are more than a year's salary after tax, then they're quite severe. After all, that means you'd need to work more than a year to repay them, even if you had no outgoings.
Yet even if your debt is manageable, if you don't know where it came from, that's a big danger signal. Compare these two answers:
So how did you build up debts of this size?
"Well I planned for and budgeted, shopped around to get the cheapest borrowing in order to buy a car/conservatory/caravan and now we're repaying it."
...and compare that with:
So how did you build up debts of this size?
"Well I'm not sure really, I just used my credit card and the cost built up."
The latter is, of course, the most worrying. It means you are spending more than you earn and using borrowing as a means to fill the gap.
If you continue to do that, you'll get in a debt spiral.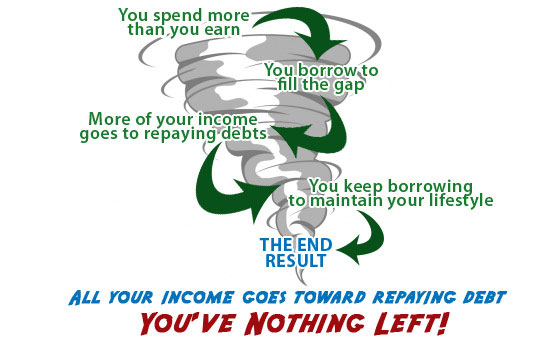 #debtmyths tweets via StepChange
Tweets about "#debtmyths from:MoneyAware"
Never borrow more
Traditional debt help says 'never borrow your way out of a debt problem'. But this ignores the varying cost of different debts.
The MoneySaving approach is: "Never borrow more to get out of a debt problem."
If it's possible to borrow more cheaply elsewhere to replace existing borrowing, then this can provide a huge boost, as lower interest rates mean more of your cash goes towards repaying the actual debt rather than just servicing the interest.
Those with big debts may save £1,000/year in interest by being more savvy with their borrowing.
The debt problems checklist
The idea of the checklist is simple: to explore every option and use each one that works for you.
Most link to more detailed guides focusing on those subjects. Once you've found something that works, don't stop. Continue down the list to see if there's anything else that will help.
Some of the suggestions only work for those with a decent credit history and not too severe debts, but it's still worth checking.
The first step... sort your spending
The following are a few ways to manage your cash and reduce your outgoings that are specifically useful for those with debt problems. If you've time, it's far better to go through the full Money Makeover guide.