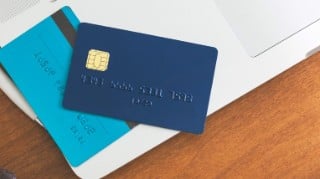 Balance Transfer Credit Cards
Shift existing card debt to 0% interest for up to 29mths
Paying credit card interest? STOP. A balance transfer credit card can save you £1,000s by slashing the interest you pay. Our guide has full info and best buys. Coronavirus financial worries have caused lenders to tighten acceptance criteria, so to help, our Balance Transfer Eligibility Calculator will show the cards you've the best odds of getting.

For all the latest deals, guides and loopholes simply sign up today - it's spam free!
How do balance transfers work?
With a 0% balance transfer you get a new card to pay off debt on old credit and store cards, so you owe it instead, but at 0% interest – sometimes for a small fee. You're debt-free quicker as more of your repayments reduce the debt, rather than pay interest.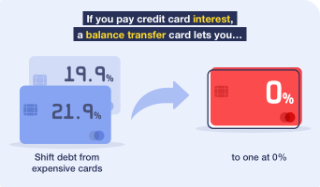 Which balance transfer card is best?
First up, you can't transfer a balance between cards from the same bank/group. So where you're transferring debt from will narrow down the choice. Of those left, which to go for will largely be determined by which cards you're eligible for, as you'll need to pass a credit check as part of any application.
Our eligibility calculator will show your chances of acceptance for most of the top cards in this guide, with no impact to your credit score. If it shows you're eligible for many cards but you're unsure which to pick, follow this rule...
Go for the card with the lowest fee in the time you're sure you can repay it. If unsure, play safe and go for a long 0% period.

The five golden rules
Cheap balance transfer deals are designed to make lenders money when the 0% period ends, as interest rates jump massively (typically to between 18% and 40%). Yet this can be avoided....

Aim to clear the balance before the 0% period ends. Quite simply, divide the amount you owe by the number of months at 0%, then pay at least this every month to pay it off in time. To see the cost of paying off different cards over varying time periods, use our Which Card Is Cheapest? calculator.


If you can't clear it in time, balance-transfer again to another 0% offer. If you can't afford to repay in time, the next best bet is to shift the debt again, before your 0% period ends. If you're not eligible for any cards, you could consider transferring back to the original card you shifted the debt from, if it's still open and cheaper than the interest rate on your current card.

Just because you grabbed a 0% deal, it DOESN'T mean you can get away with paying nothing – you must pay at least the minimum monthly payments, preferably more. Otherwise you will be hit with penalties and some card providers will withdraw the deal, leaving you on an expensive rate.

How much should I aim to pay?

Your aim should be to pay more than the minimum – unless you've pricey debts elsewhere, in which case focus max repayments on them. Minimum payments are designed to make debts last as long as possible, which you should try to avoid – see tips to beat this in Danger: Minimum Repayments.

While balance transfers made to the cards in this guide are interest-free for a number of months, other uses such as spending and cash withdrawals are usually not – and will incur charges and interest.

For cash, you'll usually pay interest from the date of making the cash withdrawal until it's paid off.

This means you'll most probably see an interest charge on the first statement after the cash withdrawal, which is the interest charged from the date you made the cash withdrawal until the date the statement was issued.


But you may also see interest charged on the following statement. There'll be a delay between your statement being drawn up, and you paying it. It may be a couple of days, it may be a couple of weeks. But you'll be charged interest on the cash withdrawal until you pay it off.

There are special cards if you've a need to shift debt AND spend

If you need to spend on the card, it's best to get an all-rounder card, which has a 0% length for both balance transfers and spending, and means you only need to apply for one card. Check the 0% Balance Transfer & Spending guide for full info, or alternatively you could try a separate 0% credit card for purchases.

For most cards, the 0% period is only reserved for balance transfers that are made within the first 60 or 90 days – though always check your card for its time limit, as it does vary. After this has passed, any transfers would incur expensive interest at the card's normal rate, unless it's paid off in full.

This can sometimes apply to the one-off transfer fee too, so it's likely you'd incur a higher fee on later transfers, in addition to interest.

There are some notable exceptions to this though, with certain cards requiring the balance transfer to be requested at the point of applying and other cards allowing transfers at any point during the 0% period. Though as the 0% period usually starts on the day the account is opened, you'd have less interest-free time if you waited.

How to request a balance transfer

When you apply for the new card, it will usually include a 'do you want to transfer debts from other cards?' section. In this, you just put in the details of the other card(s). If you're successful in getting the new card, it will pay the other one(s) off.


If you don't do it at the initial application, you can usually submit the request via your card's online banking or by calling the lender.

For balance transfers, one rule is pretty clear – you can't transfer a balance from a card issued by the same bank (ie, from one Barclaycard to another).

However for some cards it's a bit more complicated, as certain providers extend this to prevent transfers between cards from the same banking group:

| | |
| --- | --- |
| Banking group | Credit cards you can't transfer a balance between |
| Capital One | Capital One, Littlewoods, Luma, Ocean, Post Office (cards issued after November 2019), Thinkmoney and Very |
| HSBC | First Direct, HSBC, John Lewis Finance and M&S Bank |
| NatWest | NatWest, Royal Bank of Scotland (RBS) and Ulster Bank |
| NewDay | Amazon, Argos, Aqua, Burton, Debenhams, Dorothy Perkins, Evans, Fluid, House of Fraser, Laura Ashley, Marbles, Miss Selfridge, Opus, Outfit, Topman, Topshop and Wallis. You're also unable to transfer a balance from a store card or American Express |
| Santander | Cahoot and Santander |
| Virgin Money | B, Clydesdale Bank, Virgin Atlantic, Virgin Money and Yorkshire Bank. You're also unable to transfer a balance from a non-UK issued American Express (e.g. British Airways Amex) |
See which balance transfer cards you've the best chance of getting, in your own personal best-buy table.
Usually, applying is the only way to know if you'll be accepted for a credit card. Yet that marks your credit file, affecting your ability to get future credit. To help, our tool uses a 'soft search' to find your chances of acceptance before applying.

Check your chance of acceptance
Top 0% balance transfer cards
Here are our top-pick cards, all with a long 0% period – go for the lowest fee in the time you're sure you can repay. The very longest charge a one-off fee of the amount of debt you transfer (3% is £30 per £1,000), though there are shorter options with no fee, so no cost if you can clear your debts in 18 months or less. If you're unsure, play safe and go for a long 0% period.
Important. These include 'up to' cards, so poorer credit scorers may get a shorter deal than advertised – unless you're showing as pre-approved in our eligibility calculator. This is the best route as it shows which cards you're most likely to be accepted for.
LENDER

0% PERIOD + FEE (i)

APPLY



Sainsbury's Bank

Longest 0% period, though it's 'up to' 29mths. So some will get 25 or 21mths at 0% and/or the higher 4% fee. After the 0%, it's 21.9% rep APR. Full card spec


- Up to 29mths 0%
- 3% or 4% fee (min £3) (ii)

Check eligibility

Apply*

Longest DEFINITE 0% period and lower fee than above – here all accepted get the full 28mths. After the 0%, it's 21.9% rep APR. Full card spec

- 28mths 0%

- 2.7% fee

Check eligibility

Apply*




MBNA
Decent 0% length and low fee combo, though it's 'up to' 25mths. So poorer credit scorers could get 14mths at 0% and/or the much higher 3.49% fee. This card has a 20.9% rep APR. Full card spec

- Up to 25mths 0%

- 1% or 3.49% fee

Check eligibility

Apply*



Virgin Money
Another low fee, but here all accepted get the full 24mths at 0%. After the 0%, it's 21.9% rep APR. Full card spec

- 24mths 0%

- 1.25% fee

Check eligibility

Apply*




Barclaycard
A low fee + £30 cashback if shifting £2.5k. All accepted get the full 21mths at 0%, plus £30 cashback if transferring £2,500+ within 60 days. Do that and you'll receive a small credit (beating the top no-fee card below) for transfers between £2.5k and £3.3k. After the 0%, it's 21.9% rep APR. Full card spec

- 21mths 0%

- 0.9% fee

Check eligibility

Apply*

Joint-longest 0% period with no fee – all accepted get the full 18mths at 0%. After the 0%, it's 20.9% rep APR. Full card spec

- 18mths 0%

- NO FEE

Check eligibility

Apply*
Top pick balance transfer cards for poorer credit scorers

Warning – after the 0% rate they're VERY expensive, so plan how much to shift. All cards below have a horrid rep APR after the 0% (up to 34.9%), so compare against your current card's interest rate. If that's more, shift as much debt as possible, which'll depend on the credit limit you get. If less, only shift what you're sure you can clear within five to nine months, depending on the card you choose.
LENDER

0% LENGTH + FEE (i)

APPLY




Fluid (ii)
All accepted will get nine months at 0%, though the fee is high. It accepts those with CCJs (1yr+ old) and past bankruptcies (18mths+ old), though starting credit limits are low, from £250 to £2,500. After the 0%, it's 34.9% rep APR. Full card spec
- 9mths 0%
- 4% fee

Check eligibilit

y


Chrome by Vanquis Bank (iii)
A lower fee, so could win if you can pay off your balance in six months. All accepted get a credit limit of £1,000 (max transfer of £900, min £100). After the 0%, it's 29.3% rep APR. Full card spec
- 6mths 0%
- 2.9% fee


Check eligibility

The next best poor credit balance transfer cards. Here are quick details of decent alternatives.
Aqua (ii)

- 6mths 0%

- 3% fee (min £3)

- 34.9% rep APR

Check eligibility

Capital One

- 6mths 0%

- 3% fee

- 34.9% rep APR

Check eligibility

Apply*

Marbles (ii)

- 5mths 0%

- 3% fee

- 34.9% rep APR

Check eligibility
For all the latest deals, guides and loopholes simply sign up today - it's spam free!
Balance Transfer Calculator: Which card is cheapest for you?
Cashback sites may pay you for signing up
As an extra boon, members of specialist cashback websites can be paid when they sign up to some financial products. Do check that it's exactly the same deal though, as terms can be different. And remember the cashback is never 100% guaranteed until it's in your account.
Full help to take advantage of this and pros and cons in our Top Cashback Sites guide.
If you can't get a new 0% card, try the credit card shuffle to cut interest
If you're unable to get any of the cards above (use our eligibility calculator to check), you may still be able to slash the interest by asking for a low-rate or 0% deal on the card you already have.
If you've more than one credit card, you can then shift debt to the card which offers the lowest rate, though you'll need to factor in any one-off transfer fees.
Here's how to do it step by step:
List all your debts. Take stock of your current situation and note down all your existing debts, including an overdraft if you have one. Our credit card shuffle worksheet may help.


Check your account(s) for existing-customer offers. Lenders sometimes offer special deals (either a lower rate or 0% for a set period) for transferring new debt to your existing cards, though usually for a one-off fee. You can usually find these on your online account or by calling your card provider.


Shift debts to the cheapest card. Do a balance transfer to shift your debt from the card(s) charging the most interest to the one charging the least (or the cheapest ones if your credit limit won't allow). You could even consider shifting debt away from any card that will offer you a 0% deal for transferred balances. You can then transfer it back along with debt from other cards to get the 0%. Though be aware of balance transfer fees that could wipe out the gain.


Repay the most expensive debts first – the most crucial part. If you can't shift all your debt to one card, focus as much cash as possible on the most expensive one first and just pay the minimum repayments on any less expensive card. Once that's repaid, shift focus to the next highest-rate card and continue this until you're debt-free.
If you're paying debts at 18.9% APR on one credit card, and you can get a low-rate deal for 6.9% APR on another card you have, you could save about £120 interest in a year on a £1,000 debt.

If you balance-transfer to a card at a special cheap rate, but already hold debts on it with a higher interest rate, the provider biases your repayments towards the higher rate debts first. This is good, as it means the most expensive balance disappears first (it used to be the other way around).

However, it means to get the absolute most out of the shuffle, there's an extra step to follow:

Only focus repayments until the expensive debt's repaid. Once you've done the shuffle, and you know the priority with which you should pay off each lump of debt, make sure you stop once all the expensive layer is gone. For example if you had

Card A. £1,000 balance: £700 at 6%, £300 at 25% interest.
Card B. £400 balance at 18% interest.

You'd want to pay enough to clear the high-interest £300 first and then switch to clearing the £400, before finally paying off the £700. Though remember to always pay at least the minimum on the card you're not focusing on.

The credit card shuffle needs careful management but if you follow the steps above, you could cut the total amount you have to repay by thousands.

Here's an example, showing the interest you'd pay doing a credit card shuffle vs not doing the shuffle. See below table for a full description:

Card & credit limit
WITHOUT SHUFFLE

WITH SHUFFLE
Interest rate

Debt
Total interest (1)


Interest rate

Debt (2)


Total interest (3)

Card A

£3,000



14.9%

£1,500

£141

14.9% on existing debt,
6.9% on new debt
£1,500
£1,500
£526

Card B

£3,000


16.9%

£0

£0

0% for 4 months then 16.9%
£3,000
£235
Card C

£2,000



19.9%

£500

£23

19.9%
£0
£0
Card D

£5,000



17.9%

£5,000

£1,784

17.9%
£1,000
£31
Total
Avg rate = 17.4%

£1,948

Avg rate = 14.1%

£792
(1) £100 monthly repayments on each card until card fully repaid. (2) All debt now balance-transferred; to do this, it was moved off the card and returned. (3) Repaying most expensive debt prioritised while paying minimum on other cards.


With normal debts of £1,500 on Card A, £500 on Card C and £5,000 on Card D, the average interest rate is 17.4%. Repay £100/month on each card and by the time you've cleared the cards in full, the interest totals £1,948.

Yet shuffle as much as possible on to Card A's 6.9% existing-customer offer for new debt and the rest to Card B at four months 0% then 16.9%, and then repay the most expensive debts first. This way the average interest rate is reduced to just under 16%, meaning the interest is only £792, less than half the cost – meaning a massive saving of £1,156.