First-time buyers' guide
Free PDF guide for first-time buyers
Thinking of buying your first home? It's an exciting but complicated venture, not made any easier by the cost-of-living crisis and interest rates being at their highest in years. Our 53-page guide has tips on everything from putting together a deposit to knowing different mortgage types, from finding yourself a broker to getting the top deals. Free to download as a PDF, our guide takes you through ALL the key issues.
First-time buyers' mortgage guide 2023
Need to know the difference between a fixed and a variable mortgage?

Not sure what the definition of 'loan to value' is?
Or want to know what help is available for first-time buyers?
Our guide explains it all, and will give you more certainty when it comes to starting off on the mortgage hunt.
For all the latest deals, guides and loopholes simply sign up today – it's spam-free!
Who's the guide for?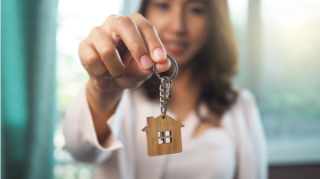 The guide's written for first-time buyers and tells you all you need to know about getting a mortgage on your first home. A first-time buyer is somebody who's never owned a property in the UK or abroad before, though if you're a previous homeowner who's looking to get back on to the property ladder, you should also use this guide.
If you've already got a mortgage and want to cut its cost, consolidate debts or change the deal, read our Remortgage guide instead.

What's in the guide?
If you're a first-time buyer and want a sneak peek of the guide before getting the whole thing, we've got a quick breakdown and intro for each section...
Chapter 1: Consider carefully if a mortgage is right for you and if you can afford it

Is getting a mortgage right for you? Can you really afford it, or will you struggle to make each payment? Remember – renting isn't a dirty word. If it's either continuing to save up, or overstretching and having your first home repossessed, it's a no-brainer. This chapter also covers:
Doing a money makeover and working out what you can afford each month.
Using our Ultimate Mortgage Calculator to gauge how much a mortgage will cost you.
Why lenders tend to cap how much you can borrow at between four and five times your salary, including the need to stress-test you in case mortgage rates shoot up.

Chapter 2: Typically you'll need a 10% deposit to buy a property... but it's still possible if you've got less than that

While 95% mortgages are available, there aren't loads of them and interest rates typically become much cheaper if you've got at least a 10% deposit, which our full guide explains. That said, there is help available if you've only got a small deposit. This chapter covers:
While it's not covered in our PDF guide, Skipton Building Society recently launched the UK's first no-deposit 100% mortgage since 2008. You can read about how it works in our Skipton 100% mortgage news story.
Chapter 3: How to boost your chances of getting a mortgage
Lenders are picky about who they give mortgages to. For example, getting the best mortgage deal doesn't just need a decent deposit, it'll require having a good credit score too. You can boost your score by:
Getting on the electoral roll.
Checking your credit file (for free).
Not missing payments and keeping credit applications down.
We've got the full lowdown on increasing your mortgage hopes in our First-time buyers' guide. Plus also check out our specific Boost your mortgage chances guide and our top tips on how to improve your credit score.

Chapter 4: Decide what type of mortgage you want – fix, variable, tracker, or other...

Once you're confident that a lender will lend to you, you'll need to consider what kind of mortgage you actually want. Our full guide explains exactly what a mortgage is, how it's 'secured' on your home, and lays out the pros and cons of different mortgage types, including:

Repayment and interest-only mortgages.
Fixed-rate and variable-rate mortgages (such as trackers).
Offset and guarantor mortgages.
Chapter 5: Getting a mortgage is tougher if you're self-employed/a contractor

If you're self-employed or a contractor, getting a mortgage is tough as you need cast-iron proof of what you earn. It's easier for employees – they have payslips, but it's much tougher if you work for yourself or don't have a permanent contract.
In this chapter, we tell you what a lender will want to see before it offers you a mortgage, which'll include business accounts and tax returns.
Also see our Self-employed mortgages guide for extra information.
Chapter 6: Don't forget to factor in other costs, including mortgage fees and stamp duty

Make sure when you do the sums, you add the full costs of buying a home and mortgaging. You can try to minimise them, but you can't magic them away. This chapter tells you what to budget for, which includes:
Arrangement fee. Charged by the lender for taking out the mortgage – typically about £1,000+.
Valuation fee. Lenders charge this to see how much your property's worth – typically around £300 to £500.
Legal fees. To cover the cost of all the legal work involved. Budget for £500-£1,500.
Stamp duty. A fee you pay to HM Revenue & Customs based on how much you're buying your property for. First-time buyers in England don't pay stamp duty on the first £425,000 of a main residential property.
For the lowdown on what other costs you need to factor in, read our full First-time buyers' guide.
Chapter 7: How to get a mortgage step-by-step– including going solo or via a broker
You've got two main options when applying for a mortgage: doing it solo by going direct to the lender, or applying via a broker. Our full First-time buyers' guide sets out in detail how both options work, though using a broker is often best as they can whittle down the top deals quickly, often have special deals only available via a broker and also know what type of mortgages would best suit your personal circumstances.
This chapter includes info on:
How different brokers work and which deals they search.
Which brokers are free and what questions to ask them.
How to compare the widest range of mortgages if going solo.
Chapter 8: Watch out for the hard sell on insurance

To compensate for lower profits on headline mortgage rates, some lenders up prices on associated insurance products. This chapter tells you the insurance policies you may face the hard sell on, what you should expect to pay and how to find the cheapest products. The kind of insurance to consider includes:
Mortgage payment protection insurance.
Buildings and contents insurance.
Life cover.
Chapter 9: First-time buyers' quick Q&A

Will the lender lend on your property? What paperwork will you need to get together? How long should you get your mortgage to run for, and why is the 'annual percentage rate' useless? And what about if you want to rent out your property in future? This chapter covers the answers to these and other questions you may have about buying your first home.
Once you've read our First-time buyers' guide, why not check out what mortgage rates are currently available to first-time buyers with our Mortgage best buys tool?

How come the guide's free?
The reason we're able to offer this guide for free is because it is sponsored by fee-free mortgage broker London & Country (L&C). But don't worry – it has no influence on the content, which purely depends on our view of the best way to get the cheapest mortgage deal you can.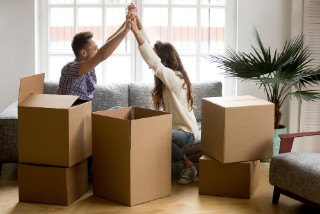 The guide's written with complete editorial independence and it's focused solely on finding you the best deal. This was something we made sure was in the contract with L&C.
Having said that, L&C isn't stupid. We've independently listed it as one of the top brokers for several years now (see our Cheap mortgage finding guide), so it had a pretty good idea it wouldn't come out too badly.
The reason it sponsors the guide is it gets a one-time chance to include its own message promoting its service. Just to assure you, you won't be sent any follow-up advertising, marketing or any of that malarkey.
In the trade, this is known as a payment for 'lead generation', and in this case that means L&C pays for the guide's production and a fee to this site. See more about this site's ethical financial stance.

Looking for more home-buying help?
We've got other guides and blogs to help if you're a first-time buyer looking to get on to the property ladder...
For all the latest deals, guides and loopholes simply sign up today – it's spam-free!
Have your say in our forum!