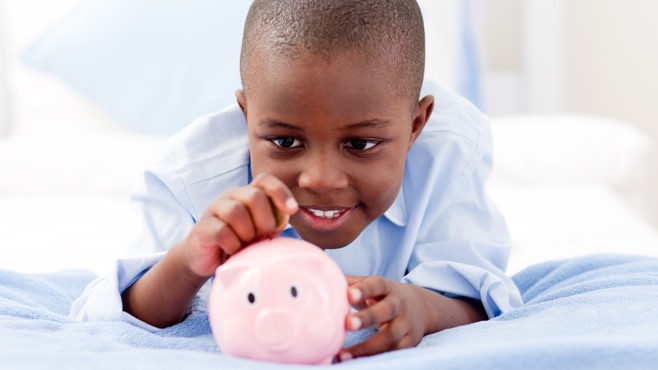 Top Children's Savings Accounts
Teach your kids to save at up to 4% interest
While interest rates for grown-up savers have been dropping, children can still earn up to 4% on their savings – yet many have cash in accounts that pay dismal amounts, depriving them not only of interest, but the lesson that your money can work for you. This is a guide to the top-paying children's accounts, including how to use their tax-free allowance for your gain.

For all the latest deals, guides and loopholes simply sign up today - it's spam free!
Tips on teaching kids to save and other need-to-knows
The simple money lesson for younger children is obvious – put your cash in the bank and it'll grow. But as they get older there's another lesson to be learned – a bank's job is to make money from you, our job is to try to keep our cash.
So here are some top tips for helping kids learn and understand about saving and everything else you need to know about kids' savings.
Top kids' regular savings accounts
These accounts let you save up to £100 a month, usually for a fixed term of a year – so are good for small sums. They often pay high rates of interest, but tend to have withdrawal restrictions. For a more detailed explanation of how the interest works and the pros and cons, read our full adults' Regular Savings guide. Or take a look at the top payers below.

Kids' regular savers – what we'd go for
If you're looking to save smaller amounts every month, the kids' regular saver from Halifax is our top pick. It pays the highest rate at 4% fixed for a year, lets you save up to £100 a month and you can open it online – though it doesn't allow withdrawals.
Barclays's branch-based account pays the next best rate at 3.5%, also fixed for a year. It lets you make withdrawals, but the rate drops to 1.51% for a month if you do – meaning it's still best to avoid taking cash out if possible.
| | | | | | | |
| --- | --- | --- | --- | --- | --- | --- |
| PROVIDER | RATE (AER FIXED) | MIN/MAX MONTHLY DEPOSIT | CAN YOU SKIP MONTHS? | MIN/MAX AGE TO OPEN | HOW TO OPEN | WITHDRAWALS ALLOWED? |
| Halifax | 4% | £10/£100 | ✓ | 0/15 | Online/branch | ❌ (1) |
| Barclays | 3.5% (2) | £5/£100 | ✓ | 0/16 | Branch | ✓ (2) |
| Saffron BS | 3.02% | £5/£100 | ✓ | 0/15 | Post/branch | ✓ |
Top children's easy-access accounts
With easy-access accounts, you add money at will and can usually withdraw it just as easily, making these accounts good for bigger lump sums. Yet rates can change – so it's important to keep an eye on your account and switch if there's a better deal.
Note: Some of the accounts below can only be opened in a branch, and while we know many don't want to go to one now, high-rate alternatives to the crop below are scarce.

Kids' easy-access accounts – what we'd go for
Easy-access accounts are best for saving bigger lump sums – and which account you go for will largely depend on how much you have to save.
If you've got between £1,500 and £2,000, Santander's 123 Mini pays the highest rate at 3% – though if your child's under 13, you'll need your own Santander current account and have to open the Mini account in branch.

Alternatively, HSBC pays 2.5% on £10 to £3,000 (for children aged 7+), while Virgin Money pays 1.75% on up to £25,000 (making it best for really big savers).
ACCOUNT

RATE (AER VARIABLE)

UNLIMITED WITHDRAWALS?

GIVES DEBIT CARD?

MIN/MAX DEPOSIT

HOW TO OPEN

MIN/MAX AGE

Santander*
123 Mini
3% on £1,500 to £2,000 (1)
✓

✓

£1/no max
Branch/ online (2)
0/17 (2)
HSBC
MySavings

2.5% on £10 to £3,000 (3)

✓

✓

£10/no max
Branch
7/17
TSB
Under 19s
2.5% on £1 to £2,500 (4)
✓

✓

£1/no max
Branch
11/18 (5)
Virgin Money
Young Saver
1.75% on £1 to £25,000
✓
❌
£1/£25,000
Phone/ post/ branch
0/15
Children's savings calculator
For calculating the interest on children's savings, we've assumed your child won't pay any tax on their interest.
For all the latest deals, guides and loopholes simply sign up today - it's spam free!