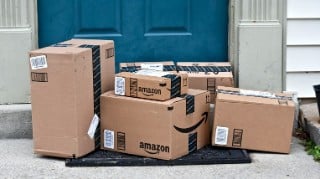 30+ Amazon buying tricks
Including short-lived codes, free delivery loophole & sharing Prime

For all the latest deals, guides and loopholes simply sign up today – it's spam-free!
Latest short-lived Amazon sales, codes & promos
Every so often we spot Amazon offering sales, 'free' credit or short-lived promos. These won't always be for everyone, but it's usually quick to check if you qualify. Generally, you need to have an Amazon account already (some require Prime, though we'll make it clear if you do). Below are current hot short-lived promos we've spotted...
From today (Wednesday 15 September) Amazon Prime members can get a year's unlimited free Deliveroo delivery on takeaway and grocery orders of £25 or more.

You get a year's free Deliveroo Plus Silver membership – it's normally priced at £3.49/month and means you don't pay the up-to-£5 delivery fee providing you've met the minimum spend threshold.

The free delivery will be available from all of the 50,000 restaurants Deliveroo works with (including big chains such as Pizza Express and KFC), as well as supermarkets – handy for last-minute groceries. Note you still need to pay Deliveroo's service fee (typically 50p-£1).

You'll need to be an Amazon Prime member (it includes those on a free trial)

Visit this Deliveroo link and select 'Claim with Amazon Prime'. It will prompt you to sign in to Deliveroo (or create a free account), then enter the email address linked to your Amazon account. You should see a 'Welcome' screen, confirming your Plus membership.

The free Deliveroo Plus membership lasts 12 months unless you cancel your Amazon Prime membership. See full terms.

As this has just been announced, we're still waiting to hear back from Amazon on the full details, including if your Deliveroo Plus membership will automatically renew after 12 months (there's nothing in the T&Cs stating it will) and the offer's end date. We'll update this guide as soon as we know more.
If you've got an Amazon account, you may be able to get a free £6 to spend when you buy £50 of Amazon Top Up credit via this Amazon* link.
This is where you add funds directly to your own gift card balance. It's valid for 10 years, so this is essentially £6 free credit as long as you'll spend £50 on Amazon at some point in the next decade.
Amazon says you should be eligible for this offer if you meet the following criteria:
You haven't topped up your gift card balance in the last three years.
You have made a purchase at Amazon in the past 12 months.
You add at least £50 to your Amazon account via Top Up by 11.59pm on Thursday 30 September.
The 'free' £6 will be automatically added to your Amazon gift card balance – you'll get an email to confirm this has been done.
Some credit/codes Amazon gives can be quite restrictive in what they can be used on, but this one isn't and can be used regardless of the seller (so Amazon AND third-party sellers, though you can't use it to buy gift cards or towards the cost of Prime membership).
If you have Prime (needs to be paid for, not a free trial) and have never used the Amazon Fresh* grocery delivery service before, you can get £10 off a £60 shop until 11.59pm on Sunday 31 October. Simply enter code HELLO10 at checkout.
The minimum spend excludes baby formula, alcohol, gift cards, Amazon devices, electronics and video games.
Amazon Fresh is a grocery delivery service, offering same-day or next-day delivery from 7am to 11pm for Prime members. It stocks thousands of items from big brands and Morrisons' own brand, so you can do a full shop here. Delivery's free on orders of £40 or more.

It's currently available in selected UK postcodes but covers big cities and towns including Cardiff, Birmingham, Glasgow, Liverpool, London etc.
£10 off £60 on first Morrisons shop

via Amazon Prime
If you're a Prime member (excluding a free trial) who's never shopped at Morrisons on Amazon*, you can get £10 off a £60 or more shop until 11.59pm on 31 December 2021. Once you've selected your delivery slot and reached the qualifying spend (excludes alcohol and baby formula), enter code 10FIRSTOFF at the checkout. Delivery's free for orders over £40.
Morrisons on Amazon is slightly different from buying directly from Morrisons. Its groceries are handpicked by Morrisons but delivered by Amazon, with same-day delivery when you order before 3pm. See Morrisons' special offers* for extra savings on your shopping.

It's available in a number of areas across the UK, including Birmingham, Bristol, Cardiff, Edinburgh, Exeter, Glasgow, Leeds, Liverpool, London, Manchester, Newcastle, Norwich, Portsmouth, Sheffield, Southampton, Swansea and Wrexham.
The code only works for Morrisons items ordered via Amazon's website or app. Even if you've shopped from Morrisons' own website, as long as you haven't ordered from it via Amazon, you count as a newbie and will be eligible for this offer.
Quick way to check your 'personalised' short-lived Amazon offers
Amazon's short-lived promos are often only available to selected accounts, so it's not always easy to know which offers you can get.
Handily, there's a hidden page on Amazon's site which shows you all the short-lived offers you're currently eligible for, as long as you're logged in.
Simply take a look at your 'personalised' promotions* page. You can then activate any offers you want to use.
For all the latest guides, deals and loopholes simply sign up today – it's spam-free!
Long-term & ongoing Amazon cost cutters
Here are our top tips and tricks for saving money at the online giant – let us know yours in the Amazon Buying Tips forum thread.
For all the latest guides, deals and loopholes simply sign up today – it's spam-free!