How to Start Saving
Get max interest from every penny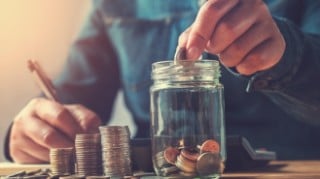 Want to start saving but don't know where to put your money? Our Savings Fountain shows you where to stash your cash in order to get the best possible interest rates and incentives, plus the full guide runs you through other quick-win savings tips.
Get Our Free Money Tips Email!
For all the latest deals, guides and loopholes - join the 12m who get it. Don't miss out
Two questions before you start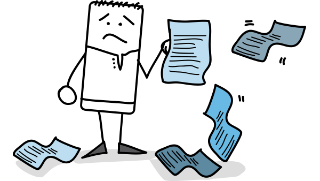 1. Do you have any debts?
If you do, it's generally better to pay off debts before starting to save. The interest you pay on debts is normally much higher than the interest earned on savings. So pay off your debts with your savings and you're better off.
However, there can be exceptions to this rule of thumb. See our Repay Debts or Save? guide.
2. Do you want to save or invest?
It's important to understand the difference between saving and investing as a start point.
Saving – You put money away in complete safety, and get it all back plus interest.
Investing – You risk losing some of your cash for the chance it'll grow quicker.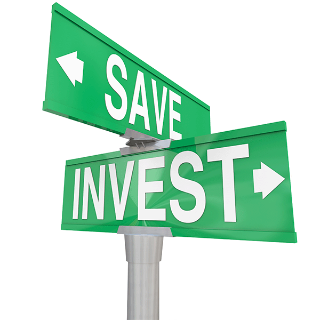 Whether you should be saving or investing depends on your circumstances. Over the long term, investing usually outperforms savings. Unfortunately, as investing comes with a risk, this isn't guaranteed. Get it wrong, or even just get the timing wrong, and you could end up with less than you started with.
Of course, investing is not just the stock market. Property, wines, antiques, and starting a business can all be seen as types of investment. They all involve you putting money away in the hope that its value will increase, but with the risk you may lose cash.
If you can't afford or don't want to take any risk with your cash, then saving is for you - so read on. If you want to invest, see our Share dealing and Stocks and Shares ISA guides.
Different types of savings have different rules on how much you can put in and when. To max your interest, you need to pour money where it'll pay best.
Think of it like a champagne fountain – put your cash into the best-paying savings vehicle possible, then when that's full and overflowing, fill up the next best, and so on.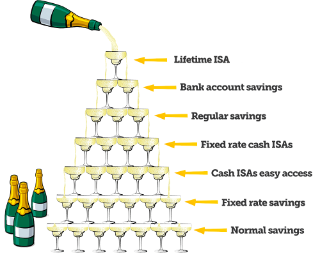 Get Our Free Money Tips Email!
For all the latest deals, guides and loopholes - join the 12m who get it. Don't miss out
Nine quick savings tips
Before you rush off to pour cash in the fountain, here are a few key tips...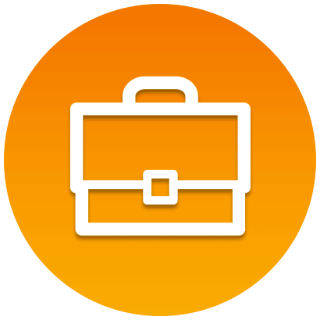 From 6 April 2016 the personal savings allowance means every basic-rate taxpayer can now earn £1,000 interest without paying tax on it, equivalent to the interest on almost £66,700 in the top easy-access savings account. Higher-rate taxpayers can earn £500 interest before paying tax, but additional-rate taxpayers don't get an allowance.

This means that savings interest will be tax-free for 95% of taxpayers. Plus, interest earned on ISA cash doesn't count towards this allowance – so say you earn £500 interest on ISA cash and you're a basic-rate taxpayer, you'll still have your full £1,000 personal savings allowance to cover other interest.
Earn more in savings interest than your allowance and you'll pay tax at your normal rate on the amount that exceeds it (so 20% for basic-rate and 40% for higher-rate). For full details, see the Personal Savings Allowance guide.
2. Cash ISAs may still be worth it for some
If you're a non-taxpayer a cash ISA may still be worth it. While there's no tax gain and the new personal savings allowance means that unless you earn a substantial amount in interest you wouldn't pay tax on it anyway, ISAs occasionally pay higher rates than equivalent savings.
Even if the ISA rates aren't higher, if there's little in it fixed cash ISAs have more access, and if you become a taxpayer again, the cash is protected then.
Plus, if you do have a lot in savings, and you become a taxpayer again, your ISA interest won't count towards your personal savings allowance so you'll keep more of your interest from other accounts. See our 'Top cash ISAs' guide for why it's still a decent option.
3. Put savings in the name of the lower-rate taxpayer
If you're in a couple and one of you pays tax at a higher rate then, providing you trust each other, put non-ISA savings in the name of the lower taxpayer and you'll take home more, as the lower taxpayer gets a higher personal savings allowance.
For those who aren't married/civil partners, there is a tiny risk if one of you died within seven years of this that there'd be inheritance tax on it.
The first £85,000 per person, per financial institution is guaranteed.
So, if you've got less than £85,000, there's no problem. Those with bigger savings, in the unlikely event a bank or building society went bust, for total peace of mind shouldn't put more than £85,000 in any one institution. Spread it around instead. For full info, read the full Are My Savings Safe? guide.
5. Check your local credit union or building society
On rare occasions a credit union or local building society will beat generally available savings rates. See Credit Union Finder.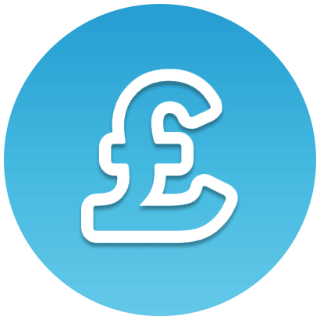 The Savings Fountain above is based on current rates, but if you're a bigger saver, then maxing your cash ISA allowance each year means you're protecting an ever bigger pot of cash from EVER being taxed. If rates rise you'll be very glad they're covered, as the personal savings allowance looks generous now, but won't cover too much in savings if interest rates go back up to historical norms. ISA interest stays tax-free ALWAYS.

7. Kids get better rates
Under 16s can often earn more, and get a personal allowance as you do, but if you're planning saving in their name, there are limits. See top children's savings, top junior ISAs & top Child Trust Funds.
8. Ditch and switch after introductory bonus rates
Introductory bonus rates are temporarily higher interest to attract new customers. They're actually a good thing for many, as they effectively act as a minimum rate guarantee during the introductory period – typically 12 months. But once that period is over, the rate will drop, often to next to nothing, so make sure you switch.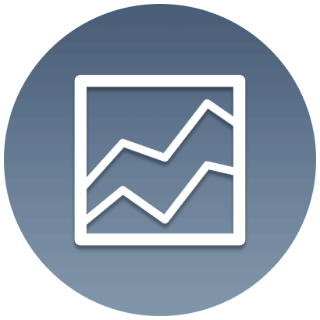 9. Know the exact rate you'll get
Banks quote one of two different interest rates. The gross rate is the flat amount paid while the Annual Equivalent Rate (AER) takes into account interest compounded over the year. Check which rate you're being quoted and compare like with like. Read about the difference between AER and gross interest.
Join the MSE Forum Discussion