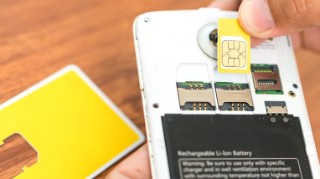 Best Pay-as-you-go Sim Deals
Including the top data bundles, from £5/mth for 2GB
When you hear 'pay-as-you-go', you might think of the early days of mobiles, when it was common to pay upfront for each pricey call and text. But now it's possible to get great value PAYG 'bundles', giving a better value allowance and tighter control over your bill.
Concerned about a credit check or want a tighter control over your bill? A pay-as-you-go bundle is probably a good bet. Read on...
Happy to commit to a contract? Sim only generally offers better value.
Want a new phone but can't afford to buy it upfront? Traditional mobile contracts usually cost more – but can sometimes be beaten, see our Cheap Mobile Finder tool to see more options.

What is a pay-as-you-go deal?
A Sim is the little chip that slots into your phone and gives you a set monthly allowance of minutes, texts and data. A pay-as-you-go (PAYG) deal, as the name suggests, means you pay upfront and are not tied in to any contract or commitment. You'll also have to have your own handset to put the Sim into already, or buy one separately.
There's no credit check, which most of our top pick Sim only deals require, though these often offer better value.
There are two main types, 'traditional PAYG' where you buy credit and pay for calls, texts and data as you use them and bundled PAYG which gets you an allowance for a set price, which usually lasts a month.
If that's what you're after – or even if you just want a backup Sim for occasional use – then here you'll find all you need to know about pay-as-you-go, including where to find the best deals and our own top picks.
'Traditional' PAYG – where you really do pay as you go. This is the traditional model where you top up with credit and are then charged for each minute, text and MB as you use it. Though a couple of providers do this cheaply, it's generally worse value so is better for an emergency-use or backup Sim. These are the top providers' rates:

'Traditional' PAYG rates compared

TABLE_CELL_STYLE

CALLS
TEXTS
DATA
1pMobile

(EE)

1p/min
1p
1p/MB
Three*
10p/min
10p
5p/MB
Asda Mobile (1)
8p/min
4p
5p/MB
Giffgaff*
25p/min
10p
5p/MB (2)
Vodafone*
35p/min
20p

10p (3)

Prices correct as of 18 February 2021. (1) ASDA Mobile isn't taking on newbies right now as it's in the process of changing the network it uses from EE to the Vodafone network. (2) From Tue 23 Feb, the price will increase to 10p/MB. (3) It's £2 per 50MB then 10p per MB thereafter.

PAYG 'bundles' – where you pay before you go, for a bundle. What tends to give better value is buying a bundle of minutes, texts and data with your credit once you've topped up. These bundles nearly always last for a month, after which you'll need to buy another. There are many to choose from (see our top picks below). As a rough guide, here's what a tenner will get you:

£10 PAYG bundles compared

TABLE_CELL_STYLE

CALLS

TEXTS

DATA
Vodafone*
250 mins
Unltd
3GB
EE
100 mins
Unltd
4GB
Asda Mobile (1)
600 mins
Unltd
7GB
Giffgaff*
Unltd
Unltd
6GB
Three (incl roaming)
Unltd
Unltd
6GB
O2*
Unltd
Unltd
6GB
Prices correct as of 18 February 2021. (1) ASDA Mobile isn't taking on newbies right now as it's in the process of changing the network it uses from EE to the Vodafone network.

If you have an existing handset which you originally bought on a traditional contract, it may be locked to the network that sold it to you (to check, just pop in another network's Sim). If so, you'll need to get it unlocked in order to make sure your new provider's Sim will work in it.

All the networks will now do this for free if your contract's minimum term has expired – however, if it hasn't, or you bought the phone on PAYG, they may charge up to £15. Unlocking usually takes up to 10 days – see the Mobile Unlocking guide for a full list of providers' unlocking policies and how to do it.

Thankfully, from next year mobile companies will be banned from selling locked phones which only work with their network. See our MSE news story for more details.

If you don't get close to using your allowance of minutes, data and texts each month, you're essentially overpaying for your contract. Bust your limit, though, and the extra charges can be costly.

If you want to check your usage, our handy Data Calculator tool can help you. Key in your usage (for when you're not using Wifi) and it'll give you a general idea of how much data you need.

Alternatively, Billmonitor* is also available. It's currently the only tool that is accredited by Ofcom that'll tap in to your actual mobile bill. It will analyse your bills from the last three months to determine your average usage and suggest deals based on this. It works for customers of EE, O2, Tesco Mobile, Three and Vodafone.

Don't overestimate how much data you need – most use less than 3GB a month.

And even though apps are becoming ever more data-hungry, don't fall for mobile firms pushing high-data deals.

Try and choose a contract with a data allowance you actually need. Plus with free Wi-Fi readily available, you may find you actually use less now than you used to.

In our last MSE poll on data use, to which almost 5,000 MSE users responded, only 10% actually used more than 10GB a month, while 68% used less than 3GB.


You can get an idea of signal strength in a particular area with Ofcom's Telecoms Coverage Checker. This'll show you results for the four main networks – EE, O2, Three and Vodafone. Don't just put your home address in either – check where you work and anywhere else you want to be sure of getting good reception.

Many other smaller mobile providers 'piggyback' off these networks, using their signal, and they can better offer better value – the signal's the same so you can still check in advance using Ofcom's tool. See a full list of which provider is on which network in our Mobile Piggybacking guide.

For a more accurate indication than Ofcom's checker can give you, it may be worth picking up a free pay-as-you-go Sim from the network you're considering, topping it up with a bit of credit and putting it to the test before committing.

Most contracts require at least 30 days' notice to cancel, meaning as a minimum you'll have to pay for this many days once you tell your provider you're leaving. Plans roll over at the same price, and if yours came with a handset this could be £50+/month – so you don't want to be paying for it any longer than necessary.

The first thing you want to do before even looking for a new deal is call up, tell 'em you want to leave and request your PAC (porting authorisation code) to keep your number. Then use the 30-day notice period to find yourself a new deal while the clock ticks down.

If you change your mind within that time you can always tell your network that you've decided to stay – plus it's more likely to get in touch with a better deal once it thinks you're serious about leaving (always do your homework before agreeing to anything it offers though).

Switching to a cheaper deal with another network has got a lot easier. Under new rules from regulator Ofcom, which came into effect on 1 July 2019, you no longer have to call your current provider to ditch it, so you avoid the hard sell of it trying to make you stay. Here's how to switch providers and keep your number :

Request a switching code by text. Simply text 'PAC' for free to 65075 on any network and you'll be sent your 'porting authorisation code' (PAC) immediately via text so you can keep your number. To get a new number, text 'STAC' to 75075.

Its text must include important info such as any exit penalties, outstanding handset costs or credit balances.


You need to give the switching code to your new provider within 30 days. You'll then be switched within one working day. You won't need to contact your old provider again.


What's more, if you're out of your minimum contract period, mobile providers are now banned from charging you for the remainder of your notice period after you've switched (which is typically 30 days), putting an end to paying for your old and new contract at the same time.

If you're still in contract you could be charged early termination fees for leaving – check how much you'd be charged by sending a text with the word 'INFO' to 85075.

Though the process varies by provider and you may be able to do it on the phone, once you've got your new (temporary) number from your new network, you'll usually then need to fill in an online form. If you're switching from another provider, the links below tell you each network's process for porting.


The number switch takes place the next working day after you give your PAC to the new provider.

It's a different process if you're swapping within the same provider.

If you're switching to a new tariff on the same network, for example if you're on pay-as-you-go and upgrading to a contract, you shouldn't need to carry out this process – just call your mobile provider's customer service helpline and they should be able to sort it.
Best Sims for occasional/backup use

For occasional/backup use – what we'd go for
If you want the absolute cheapest PAYG Sim and you're a low usage user, then it's 1pMobile. It piggybacks off EE's network and it's 1p for each minute, every text and for each MB of data you use. However, you have to top up at least £10 every four months in order to keep it active, so if you only use your phone very rarely, it's probably not for you.
For those who just need a phone for temporary/emergency use or if EE isn't great in your area, then Three's PAYG Sim might be better for you. It's slightly more expensive than 1pMobile for each text and minute, but there's no minimum top-up requirement – though you do need to use it at least once every six months – so it could work out cheaper in the long run.
PROVIDER (network it uses)

DATA

MINS

TEXTS


ANYTHING ELSE?

1pMobile*

(EE)

1p/MB
1p/min
1p
Top up £10 every four months or you'll be disconnected.
Asda

(Vodafone) (1)

5p/MB
8p/min
4p
Call time is limited to two hours. For longer calls, you'll need to hand up and re-dial.
Three*
5p/MB
10p/min
10p
It'll only work in 3G-compatible or later handsets.
Lebara Mobile*

(Vodafone)

9p/MB
25p/min
19p
Best PAYG bundles
These deals still have no contract but come loaded with a bundle of minutes, texts and data with your credit each month.

PAYG bundles – what we'd go for
For us, for general use it has to be our blagged Lebara Sim (which uses the Vodafone network) with 3GB/mth of data, unlimited minutes and texts. It's £2.50/mth for the first three months, then £5/mth thereafter. It's still a one-month rolling contract, so you can cancel at any time.
If you know Vodafone isn't good in your area or you need more data, then there's the 10GB Sim from Smarty, which is powered by Three. You get 10GB of data and unlimited minutes and texts for just £7/mth on a one-month contract, so you can cancel at anytime.
PROVIDER (network it uses)

DATA

MINS

TEXTS

COST

Lebara* (Vodafone)


Top pick


MSE Blagged
3GB
Unltd
Unltd
Equiv £4.38/mth over 12 months – it's £2.50/mth for the first three months, then £5/mth thereafter (1)
Smarty* (Three's no-frills provider)


Top pick

10GB
Unltd
Unltd
£7/mth (2)
Voxi*

(Vodafone's no-frills provider)

12GB
Unltd
Unltd
£10/mth
Giffgaff*

(O2)

6GB (3)
Unltd
Unltd
£10/mth
Vodafone*
5GB
Unltd
Unltd
£10/mth
O2*
15GB
Unltd
Unltd
£15/mth
Smarty*

(Three)

Unltd
Unltd
Unltd
£20/mth

(1) It's a one-month Sim, but to help you compare, the equivalent cost is calculated over a 12-month period. (2) It's usually £9/mth but until 11.59pm Tue 16 March, you pay £7/mth for the first 12mth period. It's still a one-month contract, so you can cancel anytime. (3) You can get 9GB/mth data if you set to auto-renew each month.
Best for roaming abroad – incl the USA & Australia
From 1 January 2021, networks no longer have to guarantee free roaming in the European Union, as the Brexit transition period comes to a close. However, the major firms have confirmed they plan to continue to let you use your UK allowance of minutes, texts and data in all European Union countries (plus Iceland, Liechtenstein and Norway), although they could always change their approach in the future. Outside of the EU, some providers charge an eye-watering amount to use your phone and if you're not careful, your mobile bill could set you back more than your trip. So it's important you plan ahead of your trip.

For roaming abroad – what we'd go for
Three is the standout when it comes to roaming. Get any PAYG Sim from Three* and you'll be able to use your standard allowance in 71 destinations – 42 additional countries outside of the EU – including Australia and the USA.
You can either top-up and pay its standard rates of 10p/min, 10p/text and 5p/Mb, or if you plan to use your phone a lot while abroad, it might be worth getting a bundle. Its cheapest is £10 and gives 4GB data and unlimited minutes and texts for 30 days.
The beauty of this PAYG Three Sim is as you're not tied into a contract, you can keep your existing UK contract if you want and just use this Sim for use abroad – which is what we think it's best for. Just make sure you use the Sim in the UK at least once before you travel to fully activate it.
It's also worth checking if you can get an overseas bundle from your current network, as these can often work out cheaper than its standard rates and could be a good option if you don't want the hassle of another Sim just for your holiday – see our Cheap Roaming guide for more.
How to complain about your network
The mobile industry doesn't have the best customer service reputation and while a provider may be good for some, it can be hell for others. Common problems include limited network coverage, slow data speeds, unexpected charges and more. It's always worth trying to call your provider first, but if not then…

Free tool to help you complain
This tool helps you draft and manage your complaint. It's totally free to use, and it's offered by Resolver, a firm we work with to help people get complaints justice.
If the complaint isn't resolved, Resolver can escalate it to the free Ombudsman Services (or CISAS if you're complaining about Virgin Mobile).
Important: if your issue is about a voucher or incentive that was part of an MSE Blagged deal, then instead just let us know by emailing voucherhelp@moneysavingexpert.com as that's usually quicker.