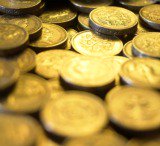 Low-paid workers will suffer a wage cut in real terms despite an increase from today in the national minimum wage, according to union leaders.
The TUC union says that with the retail prices index (RPI) rate of inflation running at 2.9%, the 1.8% rise in the statutory hourly rate will lead to a "squeeze" on the living standards of almost a million, mainly female, workers.
The adult rate increases by 11p an hour to £6.19, but there will be no change to the £4.98 an hour for 18 to 20-year-olds and £3.68 an hour for workers above school leaving age, but under 18.
The rate for apprentices will increase by 5p to £2.65 an hour.
TUC general secretary Brendan Barber says: "While we are pleased that Government has rejected the siren calls of some employers to freeze the minimum wage for adult workers and apprentices, these increases are far below inflation and will leave the lowest-paid facing a real terms cut.
"These new rates are a particular blow to younger people who will face the biggest hit on their living standards. There is no evidence that the minimum wage has had an adverse impact on young people's employment so it is hard to see the logic behind their pay freeze.
"Today's rate increases do not do enough to help hard-pressed families. We need a bolder increase next year otherwise the real incomes of minimum wage workers will continue to fall, along with consumer demand."