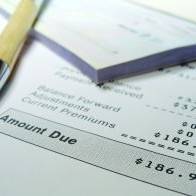 The number of people going bankrupt has fallen to a 15-year low in England and Wales, according to official figures published today.
Statistics from the Insolvency Service show that 4,886 bankruptcy orders were made between July and September – a fall of nearly 19% compared with the same period in 2013 – and the lowest number recorded since 1999. (See MSE's Debt problems guide on what to do and where to get help).
Bankruptcy, which is one of three types of formal personal insolvency, tends to be seen as a "last resort" and cases have been on a downward trend since 2010 as other forms of insolvency have been introduced.
Debt Relief Orders (DROs), introduced in 2009 and aimed at people with smaller amounts of debt, accounted for 6,808 cases of insolvency during July and September this year. This was a 3% fall compared with the previous quarter.
And while Individual Voluntary Arrangements (IVAs) reached a record high in the second quarter of this year, the data published by the Insolvency Service today shows that they fell back by 9% during July and September 2014, with 13,143 cases recorded.
Overall, in the three months to September this year, a total of 24,837 insolvencies were recorded in England and Wales, marking an 8% decrease on the previous quarter and the lowest figure recorded since last winter.
What are the different forms of personal insolvency?
Bankruptcy order: A form of debt relief available to anyone unable to pay their debts. Assets are sold and distributed to creditors. The discharge from debts usually takes place 12 months after the bankruptcy order is granted.
Debt Relief Orders (DROs): Introduced in April 2009, a DRO is available to those who have a low income, low assets and less than £15,000 of debt. Assets aren't distributed to creditors and a discharge from debts takes place 12 months after the DRO is granted.
Individual Voluntary Arrangements (IVA): This is a voluntary agreement to repay creditors some or all of what they're owed. Once approved by 75% or more of creditors, the arrangement is binding. IVAs are supervised by licensed insolvency practitioners.