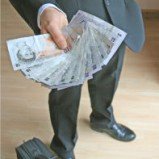 The Bank of England is officially withdrawing old £10 notes on 1 March next year.
Following the September launch of the new £10 note, featuring Jane Austen, the Bank has announced the old £10 Charles Darwin note will stop being legal tender at 11.59pm on 1 March 2018.
More than half of the older £10 notes have already been taken out of circulation, but there are still 359 million old tenners in use. They will be removed from circulation over the coming months.
You will be able to exchange old tenners AFTER 1 March
If you happen to find an old-style £10 note in the years ahead, fear not – while it won't be legal tender, the Bank of England guarantees that all UK banknotes hold their value for "all time". That means you can still exchange it at face value with the Bank of England in London, in person or by post (at your own risk).
In practice though, you probably won't need to do that. Most banks and building societies usually continue to accept them too – though the Bank of England stresses this is "at the discretion of the individual institution".
It's worth noting the Bank of England's guarantee that notes will hold their value DOESN'T apply to coins, so this won't work for the older £1 coins which were withdrawn in October. However, again, many banks continue to accept old coins from their customers. See our Piggybank warning for more.
More currency changes in the pipeline
New polymer £20 notes will be launched in 2020, and will feature British artist J.M.W. Turner. You can see a sneak preview on the Bank of England's website.
The Bank has no plans to replace the existing £50 note.