Can I get help towards my child's school uniform costs?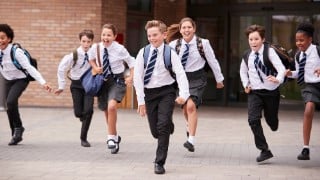 If you're on a low income, you could get as much as £200 a year towards the cost of your child's school uniform – saving you £100s or even £1,000s (if you have more than one child) over their school years. With coronavirus plunging 100,000s into new financial hardship, many will be newly eligible, so check now to see if you're one of them and what you could get.
With the average annual cost of a secondary school uniform in the UK currently standing at £340 and primary school uniform at £255, it's a significant expense for many families. But there's a little-known grant – offered by some local authorities – that struggling families can apply for to help shoulder this cost.
But while the grant is available right across Northern Ireland, Wales and Scotland, it isn't in England. Instead it's up to individual local authorities to decide whether they want to offer the grant, so it's a bit of a "postcode lottery" as to whether your council will offer you any extra help.
Am I eligible?
While local authorities can set their own eligibility criteria, in general the minimum requirement to get the grant is to qualify for (but not necessarily get) free school meals. Here's the lowdown:

1. You need to qualify for free school meals
To qualify for free school meals – and therefore potentially also get help with school uniform costs – you'd need to be getting at least one of the following means-tested benefits:
Income support

Income-based jobseeker's allowance
Income-related employment and support allowance
Support under Part VI of the Immigration and Asylum Act 1999
The guaranteed element of pension credit
Child tax credit
Working tax credit run-on – paid for four weeks after you stop qualifying for working tax credit
Universal credit
Help with school uniform costs is reserved for people who are on low incomes and with small savings, and while there aren't any exact cut-off points for the grant itself, there will be for most of the benefits above. For example, to receive child tax credit you can't have an annual gross income of more than £16,190 in England, Northern Ireland and Wales, and £16,105 in Scotland.
Not getting any benefits, but think you might be entitled to? Use our 10-minute benefit checker to make sure you're not missing out on vital cash. If you don't currently get free school meals, but think you should, you can apply on the official Government website here.
2. If you are in England or Scotland, your local authority can include additional criteria
For example, in the London Borough of Bexley, in addition to getting free school meals, to be eligible to get up to £62.50 per child you will need to show "exceptional circumstances". The council says an example of this would be "if all of the children's school clothing had been destroyed in a house fire".
How much can I get?
The school uniform grant operates differently across the UK – both in terms of eligibility criteria, what it's called and the amount of funding available for eligible pupils. Use Gov.uk's free tool to see what your local authority offers. But in short:
England – uniform grant
How much? Up to £150 per year, per child.
Good to know. Since the grant is not compulsory in England, many English councils no longer offer it – it's estimated that only 27 of 149 councils offer any support at all. For example, the London Borough of Islington offers eligible pupils the full £150, while Southwark offers £45, and Haringey offers £60 for students moving from primary to secondary schools.

Recent reports found that no local authorities in the north-east of England currently provide a grant, and only one across the whole of the south and east of England and only three in the Midlands offered funding. Find more information on your local authority's website – use the Gov.uk checker to find yours.
Northern Ireland – uniform grant

How much? Up to £78 per year, per child.
Good to know. The amount you'll get depends on what school year your child is in. It's £35.75 for a primary school pupil, £51 for a post-primary/special school pupil under 15 years old, and £56 for a post-primary/special school pupil over 15 years old. In addition, you can get £22 for a post-primary/special school pupil's PE kit. The full lowdown is on the NI Direct website.
Scotland – school clothing grant
How much? At least £120 per primary school child (£150 per secondary school child), per financial year.
Good to know. Local authorities can offer more. The financial year is between 1 April and 31 March. Scottish law says everybody who is eligible will get at least £120 – however, local councils can set their own specific eligibility criteria and deadlines. Find more information on the mygov.scot website.
Wales – pupil development grant
How much? £200 per year, per child for year 7 pupils, and £125 for reception, years 1, 3, 5, 8, 9 and 10 pupils.
Good to know. All eligible pupils receive the same amount, and the eligibility criteria is standard across Wales. Find more information on the Welsh Government website.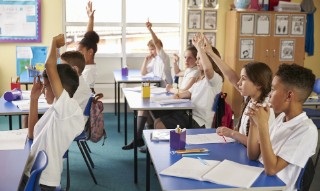 How and when do I apply?
Applications should be made directly to your local authority. Many councils set their own deadlines, but applications generally open by the end of June and stay open until at least the end of September. MSE checked more than 20 local councils and, of those that offered the grant, many didn't close for applications until well into the school year. To apply:
First, contact your local council. Use the Government's free tool to find your local authority's application page and see what the deadlines are for your local area.


Make sure you have relevant documents to hand. All the councils we checked that offer the grant require proof of address (such as a utility bill or council tax statement), proof of identity (driver's licence) and proof of guardianship of your child (birth certificate, adoption papers). You also need proof you receive the relevant means-tested benefit – this could be letters from the Department for Work and Pensions, or a printout or screenshot from your online journal if you receive universal credit – although several councils said they will simply check their own benefits system.


The grant is likely to be paid directly into your bank account. How the grant is paid varies from council to council, but typically it's paid straight into your bank account. Less commonly, it is paid as a reimbursement upon sending in receipts from approved retailers. MSE contacted several participating local authorities and the average wait time was between 10 and 15 working days once you submit your application.
Yes. The grant will not be automatically renewed. Some councils require a new application for each child in each qualifying year, but some helpfully provide a "pre-populated" form, meaning subsequent applications are quicker.

No. All of the participating councils that MSE contacted required that parents submit an application for the current school year, and no council offered to backdate a grant.
Other ways to cut the cost of school uniforms
If you don't have any luck with getting the grant from your council, don't despair – you might still be able to get help elsewhere.
Many schools offer support to families who need financial assistance with uniforms, and have a number of options available, including the pupil premium grant (PPG) funding. While parents can't apply for PPG funding directly, this essentially provides extra support for families in need, so it's always a good idea to speak to your school directly.
But if you can't get help that way, here are other ideas to help keep uniform costs down:
Cheap supermarket uniforms. Various supermarkets offer full, generic uniform bundles from as little as £4 – these are plain coloured clothes with no unique school badges. This is excellent value if your child's school allows generic uniforms. See what's on offer in our Cheap school uniform deals section. Tip: If you do need items with a logo, sometimes it's cheaper to buy a generic sweatshirt and iron on a badge yourself – this can work out cheaper than the official sweatshirts.


Keep an eye out for sales. You can often get 20% or 25% off school uniform when M&S and Tu (Sainsbury's) do their blanket clothing discounts a few times a year.


Buy second-hand uniforms from your school. Ask about your school's second-hand school uniform sales, which usually happen a few times a year. Sometimes you can be lucky and grab bargain uniform for just a few quid.


Check local Facebook groups and other online marketplaces. eBay and Facebook Marketplace can be a treasure trove – look out for bundles. We've spotted a bundle of five M&S summer gingham dresses for £1.65.


Check if you can get other financial help. If you're struggling, there's a lot more cash out there to help than you may think. Charities, the Government and even companies have funds which are available to help, especially if you've got children. Millions of pounds' worth of grants, loans and tax credits go unclaimed. Check here to see if there's any help available to you.
For all the latest deals, guides and loopholes simply sign up today – it's spam-free!
Join the MSE Forum discussion