British Airways and Ryanair to be investigated over refusing cash refunds for flights passengers legally couldn't take due to Covid-19 lockdowns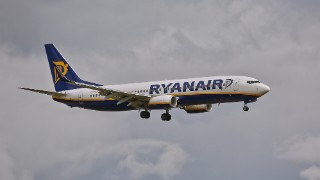 British Airways and Ryanair are to be investigated over concerns they broke consumer law by failing to offer cash refunds to passengers who couldn't legally travel due to Government restrictions during the Covid-19 pandemic.
Watchdog the Competition and Markets Authority (CMA) said that during periods of lockdown in the UK, both British Airways and Ryanair refused to give cash refunds to people who were lawfully unable to fly, with British Airways offering vouchers or rebooking and Ryanair providing the option to rebook.
The competition regulator has written to the airlines as it is concerned that by failing to offer people their money back, both airlines may have breached consumer law and left people unfairly out of pocket. For full info on your refund rights if your trip's disrupted by the pandemic, see our Coronavirus Travel Rights guide.
CMA: 'We believe these people should have been offered their money back'
Today's announcement follows several investigations by the CMA into holiday firms and airlines and their behaviour towards consumers during the coronavirus pandemic. The regulator first launched its probe into whether airlines in general had broken consumer law in December 2020.
However, the CMA is only at the initial stage of its investigation into both British Airways and Ryanair and it stresses that the enquiry does not mean either firm has done anything wrong at this stage. The CMA added that Ryanair has since repaid a small number of customers in cash having reviewed the specifics of their case.

How the investigation will now progress depends on the evidence – this could include the CMA closing the investigation if it believes consumer protection law hasn't been breached, securing commitments from the companies to address any identified concerns, by offering redress to consumers, or taking court action.
Andrea Coscelli, chief executive of the CMA, said: "While we understand that airlines have had a tough time during the pandemic, people should not be left unfairly out of pocket for following the law. Customers booked these flights in good faith and were legally unable to take them due to circumstances entirely outside of their control. We believe these people should have been offered their money back."
What are my rights if I can't take my flight due to coronavirus laws?
Travel firms SHOULD offer you a full cash refund for cancelled trips, although we know that many have been slow to do so.
However, even if companies are dragging their heels, your right to a refund is clear:
With most cancelled flights, you're due a full refund within seven days. Most cancelled flights fall under flight delay rules (which have been written into UK law, and cover all flights leaving the UK or EU, as well as flights to the UK/EU on a UK/EU airline). These state you're entitled to choose between:

• EITHER a refund for the flight that was cancelled.
• OR an alternative flight (airlines call this re-routing) to your destination.

With cancelled package holidays, you're due a full refund within 14 days. Package holidaymakers whose trips are cancelled are entitled to all their money back under the Package Travel Regulations.



With other travel bookings (hotels, car hire etc), the rules are less clear-cut but you SHOULD still get a refund. Generally speaking, if the service you have booked isn't provided, you should be refunded – and that's a principle the UK competition watchdog has clearly supported. Enforcing it may be tricky though, especially if the firm is abroad where local laws may be different to those in the UK – so there are no guarantees.
For full info on your refund rights if your trip's disrupted by the pandemic, see our Coronavirus Travel Rights guide.
What do British Airways and Ryanair say?
A British Airways spokesperson said: "It is incredible that the Government is seeking to punish further an industry that is on its knees, after prohibiting airlines from meaningful flying for well over a year now. Any action taken against our industry will only serve to destabilise it, with potential consequences for jobs, business, connectivity and the UK economy.​"
A spokesperson for Ryanair added: "Ryanair has approached such refund requests on a case by case basis and has paid refunds in justified cases. Since June 2020, all our customers have also had the ability to rebook their flights without paying a change fee and millions of our UK customers have availed of this option."
For all the latest deals, guides and loopholes simply sign up today – it's spam-free!
Join the MSE Forum discussion