The UK's biggest consumer website MoneySavingExpert.com is today launching a monthly Bills Tracker that will measure the rise and fall of the typical costs of running a home. The new index will use official data (1) supplied by the Office for National Statistics (ONS) to create a better picture of how the core expenses faced by families are changing, such as mortgage repayments, electricity, petrol, car insurance and council tax.
The first set of figures from MSE's Bills Tracker show household costs increased by 2.1% in the 12 months to July 2017. While this is lower than the current headline rate of inflation (2) of 2.6%, the new data reveals that core household bills have been rising faster than other expenses - like food and clothing - for the majority of the past 18 months (3).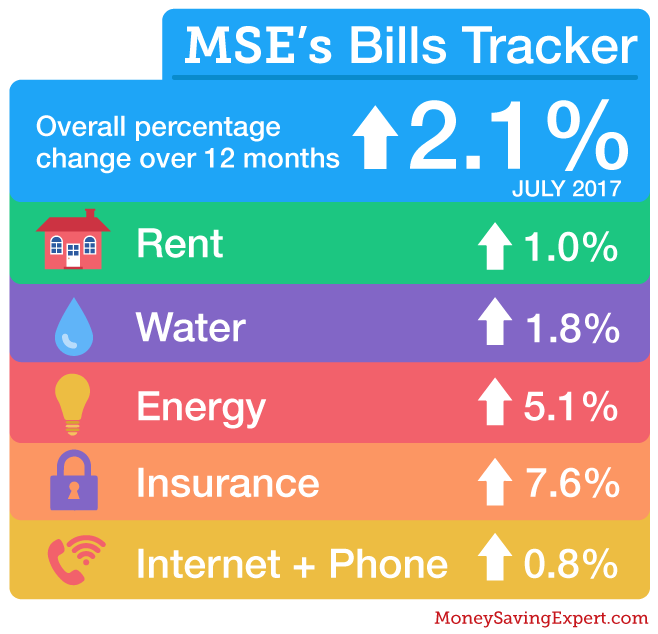 The MoneySavingExpert.com Bills Tracker only focuses on the unavoidable costs of living. It strips out items from the main inflation index – ones you're unlikely to buy often if at all, such as 'rugs', 'door handles', a 'ten-pin bowling session' or 'knitting wool', leaving around 40 expenses you're highly likely to face every month. In other words, this is a real bills index reflecting typical household costs.
Guy Anker, managing editor at MoneySavingExpert.com said: "What we're seeing here is the biggest impact of inflation – on the pound in your pocket, the household expenses almost everyone has and the things you spend the most money on.
"It's cold comfort for many, but there are things you can do to ease the pinch – the average home can save £300 a year by switching energy provider, you can tackle sky-high insurance costs with a quick comparison, and we know that many make huge savings by haggling with their broadband, phone and TV providers. Spending just a few hours on your outgoings can save hundreds, if not thousands, so it's well worth doing as costs keep rising."
What costs are covered by MSE's Bills Tracker?
Rent and 'owner occupier housing costs'.These are measures of rental costs and the costs associated with owning a home such as a mortgage, maintenance and buildings insurance. ONS measures these using something called 'rental equivalence', which estimates the amount the homeowners would pay to rent their own home.For the 12 months to July 2017,these increased by 1% and 2%.
Water costs.This is comprised of water supply and sewerage collection charges.For the year to July 2017, these increased by 1.8%.
Energy costs.This includes electricity and gas tariffs and other fuels like natural gas, kerosene and coal.For the year to July 2017, these increased by 5.1%.
Council tax.This is the average council tax bill in Great Britain and the average rates bills in Northern Ireland.For the year to July 2017, these increased by 3.8%.
Fuel.Including diesel and petrol.For the year to July 2017, diesel increased by 2.4% and petrol by 1.9%.
Phone and internet.This includes landline, mobile phone (handset and charges) and internet costs.For the year to July 2017, these increased by 0.8%.
TV licence and subscriptions. This includes TV licence costs and digital TV subscriptions.For the year to July 2017, this increased by 1%.
Insurance.Including contents, health, travel and car insurance.For the year to July 2017, these increased by 7.6%.
Other financial services.This includes costs such as mortgage arrangement fees, bank charges like overdraft fees, credit card fees and stockbrokers' fees.For the year to July 2017, these decreased by 1%.
-ends-
Notes to editors
(1) The ONS publishes different measures of inflation, and MSE has requested specific data to come up with a realistic figure for the average change in a typical household's core outgoings. Our figure uses elements of CPIH (the Consumer Prices Index including owner occupiers' housing costs).
(2) CPIH is the most comprehensive measure of inflation. It looks at the prices of a 'basket' of 700 goods and services listed in the Consumer Prices Index (CPI), such as clothes, food and furniture - and then adds in costs associated with owning a home, and council tax.
(3) Percentage change in household costs vs CPIH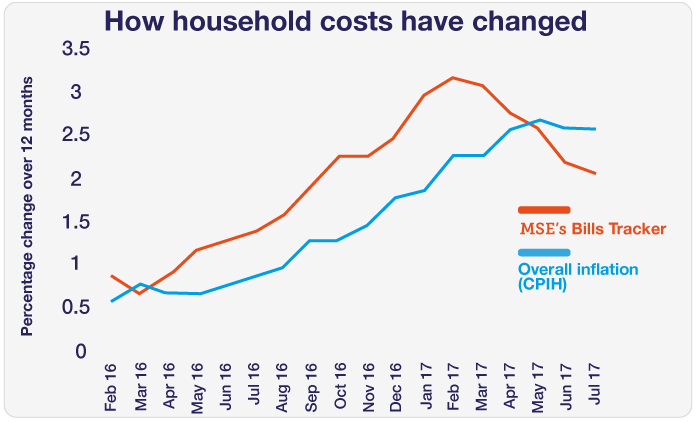 For more comments, interviews and the figures in full, please contact:
Katie Watts
Tel: 020 3846 2631
Mob: 07875 415 378
katie.watts@moneysavingexpert.com
About Martin Lewis: Martin Lewis OBE, Money Saving Expert, is the journalist and consumer campaigner who created MoneySavingExpert.com and is now the site's Executive Chair. Martin also founded and chairs the Money and Mental Health Policy Institute charity.

He's the UK's most-googled man, Citizens Advice's Consumer Champion of the Year, and has spearheaded major financial justice campaigns including bank charges reclaiming (over seven million template letters downloaded), PPI reclaiming (over six million) and a successful large-scale campaign to get financial education in schools. He has his own prime-time ITV programme, The Martin Lewis Money Show, as well as a range of other regular media slots. He was appointed OBE in the Queen's Birthday Honours in June 2014.
About MoneySavingExpert.com: MoneySavingExpert.com is dedicated to cutting consumers' bills and fighting their corner. The free-to-use consumer finance help resource aims to show people how to save money on anything and everything, and campaigns for financial justice. It was set up in 2003 for just £100, and its free-to-use, ethical stance quickly made it the UK's biggest independent money website, according to internet ranking site Alexa.com, and the number one 'Business and Finance – Business Information' site, according to Hitwise. It has more than 12 million people opted-in to receive the weekly MSE's Money Tips email, and more than 16 million unique monthly site users who visit more than 28 million times a month. In September 2012, it joined the MoneySupermarket.com Group PLC.