Martin Lewis warning over financial regulator's PPI adverts
Latest 'Arnie' campaign tells consumers to search "FCA PPI"
Consumers could lose a third of their PPI compensation as claims handlers top official site in rankings
Martin Lewis urges FCA to "urgently change the call to action"
Martin Lewis is warning Payment Proteaction Insurance (PPI) claimants not to follow advice on the financial regulator's new Arnold Schwarzenegger adverts, as they could end up losing a third of their payout to a claims handler.
The Financial Conduct Authority (FCA) tells people to search "FCA PPI" on its new radio and poster adverts, which encourage people to check if they were mis-sold. But MoneySavingExpert.com has found instances where firms which charge people up to 36% to claim PPI will be the top result for this term because they are using paid-for adverts.
MoneySavingExpert.com, the UK's biggest consumer website, which was founded by Martin, is issuing a strong reminder that people do NOT need to pay a company to reclaim PPI on their behalf, and can keep 100% of any compensation.
Directing claimants to use the "FCA PPI" search term rather than giving the official www.fca.org.uk/ppi address is risky as the FCA cannot guarantee to be the top result every time someone searches that term.
While the official FCA site does generally come top in organic search - which is ranked by relevance to the search terms - paid adverts sit above this and so are the first things people see.
When MSE tested the search term "FCA PPI" on different search engines, including Google, it found multiple instances where paid-for claims firms came above the official FCA website in the search results, such as the one below. The FCA is the fourth result in the list of adverts and the firms ranking above it take up to a 36% cut on a no-win-no-fee basis.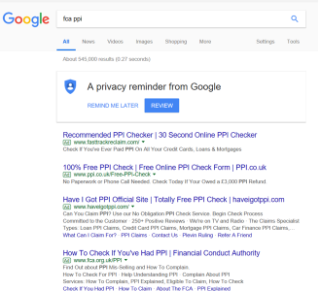 Source: MoneySavingExpert.com
Martin Lewis, founder of MoneySavingExpert.com said: "The FCA may be trying hard, but it has got this wrong. It needs to urgently change the call to action in these adverts. These ads are there to target hard-to-reach people who've not already reclaimed PPI in the last decade. A good chunk of those people will be vulnerable, or not particularly web savvy. Over the years the Google ad blurred the visual lines between what's an ad and what's a search result, so both look similar – for those unfamiliar, mistakes are easy.


"The FCA is using what is effectively public funds to pay Google to try and get high up in the search rankings. Yet many claims firms have deep pockets as they've made easy money by taking 30% of people's PPI payouts – so they're willing to shell out big bucks to lead the google ad rankings for the term PPI. It's therefore likely many people will wrongly click to claims management firms' sites thinking the regulator wants them to. At worst they'll find themselves paying to reclaim when they thought it was free, but I suspect many more simply won't 'be back' after they wrongly see there's a cost, stopping them taking any action."
For full details, including a response from the FCA, visit the MSE news story.
Full, free reclaiming help is available at MSE's Reclaim PPI for Free guide.