MSE confronts scammer sending PPI letter claiming to be from… MSE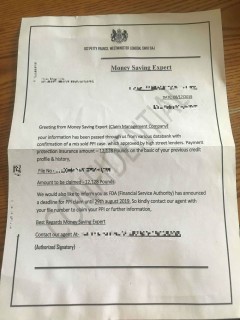 During the phone call the MSE reporter revealed he worked for MoneySavingExpert.com. Yet the person on the end of the phone chose to double down on the claims that they were in fact from MSE. When MSE called back to give a right of reply to this story, the person who answered declined to comment, then proceeded to insist they are from MSE.
MSE never cold calls, knocks on doors or contacts people in this way and would never give permission for a claims management firm to use its name.
This video is copyright of MoneySavingExpert.com. Do not share or reproduce.
Kirsty Good, Head of Campaigns at MoneySavingExpert.com said: "For years MoneySavingExpert has been fighting a growing number of scammers who use our trusted name to con consumers out of hundreds, and at times, thousands of pounds.

"As a simple rule, be incredibly wary of anyone calling you, texting you, emailing you or knocking on your door, trying to sell you a product or service that you haven't requested. And know, MSE will NEVER come to your doorstep, cold call you, or try to sell you a product or service. We're a journalistic website and we don't do that.
"If you've received a letter like this one or you think you've fallen foul of a scam using MSE's name, support is available from Citizens Advice Scams Action through its website or helpline.
"We are currently facing a scams epidemic in the UK – be extra vigilant."
-ends-
What to do if you've been scammed
Below is a need-to-know checklist of what you should do.
If you've already responded to a scam, end all further communication immediately.
Call your bank directly and cancel any recurring payments.
Report the scam to the police through Action Fraud on 0300 123 2040, or report a scam anonymously on its website.
If you wish to seek further advice, contact Citizens Advice Scams Action through the website, or call its online scams helpline on 0300 330 3003. Alternatively, you can contact the Financial Conduct Authority's helpline on 0800 111 6768.