Financial advisers
Picking & paying for an IFA
Taking financial advice does come with a cost. But when it comes to making life-changing financial decisions, it might save you money in the long run. This guide will help you understand what a financial adviser is, whether you need to use one and how to find one. Plus, most importantly, how much it'll cost.
What is a financial adviser?
While the advice isn't free and DIY options are available, if you're looking at getting a complex product, even some money-savvy people see the value in paying for an adviser to ensure they get it right.
There are two types of financial advisors you can speak to:
Independent financial advisers (IFAs). If an adviser is 'independent' or a firm advertises that it gives 'independent advice' this means that it's able to advise and sell products from any provider right across the market. Therefore you should get the very best advice and products tailored just for you.
Restricted advisers. In contrast, and as the name suggests, if an adviser or firm is restricted it can only recommend certain products or product providers to you. The adviser should clearly be able to explain the nature of the restriction to you, but if you're not sure, ask.
Which one should I use?
If you're going to get professional advice, check it's from an IFA. This is best if you're starting out with financial advice, as it's often difficult to identify why restricted advisers are restricted. Some will be restricted by products they advise on (not always bad), and some by provider (often bad, as other providers may have better deals). So in short:
If you're using an adviser, always always make sure it's an independent financial adviser.
If you've already got a financial adviser and you're not sure if they're independent or not – just ask. They should be able to clearly explain whether they are independent and if they are restricted, the nature of the restriction.

You may want to use a restricted adviser in some instances. If you've done your research and you're only looking for advice on one specific area or product, pensions for example, then a specialist pensions adviser who can search the whole of the market, but only within that area, could be the best choice.

When would I need to use an adviser?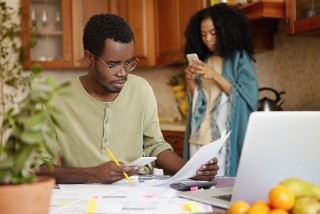 Of course you don't have to use a financial adviser. However, if you don't know much about the financial decision you need to make or don't feel confident, it might be best to get professional advice on some or all of the following products:
Annuities.

Financial or tax planning.

Mortgages and equity release.

Protection insurance, such as life insurance, critical illness, and income protection.

Pensions and pension transfers (though here if you're 50 or over, before you get an IFA, it's worth booking a free Pension Wise appointment, which offers impartial guidance on your retirement options).
How much does a financial adviser cost?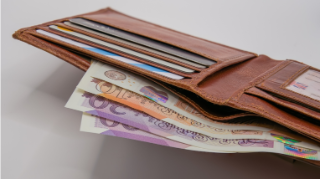 For years, IFAs were paid in one of two ways – either by fees (you paid upfront) or commission (they took an ongoing cut, which varied per product). By law they were required to give you the option of either.
But IFAs are now banned from accepting commission from providers on products such as investments and pensions. Instead, they must charge a fee they agree with you (though they can still accept commission from providers for life, critical illness and income protection insurance policies, and mortgage broking).
What are the fees like?
This will depend on whether you pay an hourly fee, a flat fee or a 'commission-style' fee. Often the initial meeting or conversation with a financial adviser where they find out what sort of products you need is free, but check just in case you get landed with a bill.
From then on, you'll have to pay. You can do this in three ways, depending on which adviser you pick:
Percentage fee: This is the most common way for advisers to charge, perhaps because it most closely resembles how they used to charge under the commission model. It's based on a percentage of the money you want advice on or managed.

You'll usually pay an initial percentage charge for becoming a client and investing your money, then an ongoing percentage charge for each year they continue to manage your money. This percentage can range anywhere from 0.5% to 5%, so make sure you ask.
Fixed fee per service: These fees are charged each time you go to the adviser for different 'projects', such as consolidating your pensions, or investing. These are best for people that don't want ongoing advice and just need help with a specific job.


Hourly charge: Some advisers are moving more to a model which resembles solicitors or accountants and charging on an hourly basis. If you choose to go down this route, make sure you're given a full breakdown of the work they've done and how long it took.

Hourly charges can be anything from between £50 to £250 an hour, so make sure you ask before you go ahead.
How do I find a financial adviser?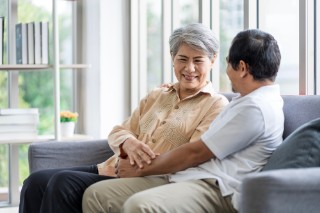 First things first, speak to family and friends and find out if they've used an independent financial adviser in your local area. Of course, just because they've had a good (or bad) experience with them, it doesn't mean that you'll have the same experience, but it's certainly a good starting point.
Failing that, the following websites are a good place to start:
Site
Details and special offers

Unbiased*


Unbiased.co.uk* has a network of 27,000 independent and restricted whole-of-market advisers.


To see advisers in your local area, you'll need to enter some personal details, such as your name, email address and the value of the assets you want advice about. Their online form* allows you to search advisers by speciality, advice areas, level of wealth and adviser qualifications, so you can find the best adviser for you.

How to get a free financial health check



Unbiased offers a free 30 minute session with a local financial adviser on a range of products:

- Free pension check* for retirement or pensions planning
- Free financial health check* for general financial planning

- Free investment check* to manage your investments
- Free mortgage check* for first-timers or remortgagors.


To make sure you get the most out of any of these checks, it's a good idea to have a summary of your financial situation to hand – any savings, debt, incomings, outgoings – and future plans.

VouchedFor has a network of over 5,500 independent and restricted financial advisers to chose from. Just enter your postcode and it will list your local advisers.


If you're willing to share some personal details, such as your name, email address and the value of the assets you want advice about, VouchedFor* can offer a more personalised service. If you want advice on mortgages, you can use the VouchedFor* Mortgage Adviser tool.


How to get a free financial health check



You can also request a free over the phone/or face-to-face financial health check from VouchedFor*.


You can use the session to get advice on anything from how to decide if you can afford to purchase a property, or how to make the most of tax-free savings schemes, to how to plan for a comfortable retirement.
The four questions to ask an adviser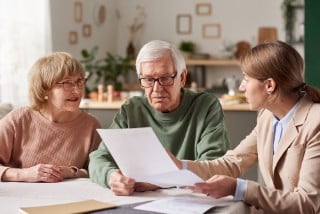 Don't feel embarrassed. You're potentially going to be transacting a lot of money via this person, so you have every right to ask questions and make sure you're confident in your decision.
Usually your first meeting with a financial adviser is free, so you're under no pressure to use them if you're not impressed, or you simply don't 'click'. If you go in armed with the below list of questions (and any others you have of your own) you'll be best placed to make a decision.
1. Are you independent or restricted?
This is probably the most important question you can ask and it's best to make it your first so you know where you stand. An independent financial adviser will be able to search the whole of the market to get the best product for you, and must be entirely unbiased to call themselves independent.
Advisers who are not able to search the whole market, or are tied to certain providers, must class themselves as 'restricted advisers'.
If you find a restricted adviser, check what their restriction is. Some are called restricted because they have, for example, chosen to specialise in certain areas such as pensions and won't offer advise on anything else.
However, other restricted advisers are tied to certain providers and will only be able to offer you products from those providers, or none at all if there are no products they can advise on that match what you want. Always check if the adviser you are consulting meets your needs. If in doubt, always, always look for an independent adviser.
2. How will I receive the advice?
You should ask whether the advice will be given to you face-to-face, on the phone, via email or in a report. If you have a preference, ask if there are different prices for each.
The adviser should send you an outline of their recommendations, which is usually called a 'suitability report'. Read and check this carefully to ensure it reflects the discussion you had with the adviser and that you understand why they recommended a particular product.
3. Are you authorised?
The FCA monitors firms to check they are qualified and above board. Before you meet any IFA, do a quick search on the FCA's website to check they're fully authorised.
4. What qualifications do you have?
The FCA requires all IFAs to pass what they call 'Level 4 qualifications' – so you should be looking for a diploma-level certificate, such as the Diploma in Financial Planning (DipFP) (formerly the Advanced Financial Planning Certificate), or even better, the Advanced Diploma in Financial Planning (ADFP).

To get these, the IFA has to sit advanced exams. They can choose which subjects to specialise in, such as pensions and investment, though the taxation qualification is compulsory.
The adviser also needs to have an annual Statement of Professional Standing (SPS), issued by an FCA-accredited body. This will attest to their qualifications and their accreditation on the FCA's register. This should be displayed in their office – if not, ask to see it.
The top qualifications IFAs can get is Certified Financial Planner or Chartered Financial Planner, which put them up there with accountants. For a full list of IFA qualifications, go to Unbiased.co.uk* – your adviser must hold at least a Level 4 qualification.
I got the wrong advice – what can I do?
If you feel you've been mis-advised, you need to collect as much paperwork as you can find, then write to the firm that sold you the product and explain clearly and concisely why you think the advice you were given was wrong.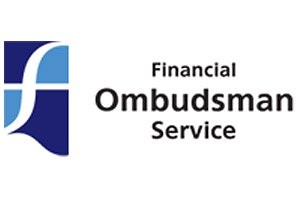 If you're still not satisfied with the firm's response, you have the right to take your complaint to the Financial Ombudsman Service, which can award compensation. This is a free service, so never pay to reclaim, you'll just lose even more money.
For full details on how to claim, go the Financial Ombudsman Service website.
Remember, when it comes to investing, 'low risk' isn't the same as 'no risk'. You can still lose your money. Provided the adviser has explained this, there are no grounds for complaint.
However, if they told you that you couldn't lose money with a product, and you did, then you were mis-advised. In a nutshell, for investments you're complaining about the way you were sold, not the performance of a product.
How do I know if I was mis-advised?
Take a non-financial example to start with. Imagine you go into a store and tell the shop assistant you're looking to buy a washing machine that has a tumble dryer combined with it. Then when you take it home and use it you discover there's no tumble dryer setting on the machine. There's nothing wrong with the actual washing machine (it still washes your clothes), but it's not what you wanted it for, so it's been mis-sold to you.
The same applies with financial products. The adviser you choose must advice you on products that are suitable for your needs and most importantly explain to you what the product both does and doesn't do. If they don't do this then you may be able to claim compensation.
What happens if my IFA has gone out of business?
You may still be able to get compensation if the firm you used has gone bust and can't afford to pay you anything. You'll need to go to the Financial Services Compensation Scheme (FSCS) – the compensation of last resort.
For all the latest deals, guides and loopholes simply sign up today – it's spam free!
Have your say in our forum!