Who will get my pension savings if I die before I retire?
If you have a workplace or private pension, completing an 'expression of wish' form with your provider, and making sure it's up to date, will let them know who you'd like your pensions savings to go to if you die before you retire.
What is an 'expression of wish' form?
You can't leave pension savings in your will, so if you die before taking your private and/or company pension, the pension provider (or pension trustees) has to decide what to do with it.
An 'expression of wish and nomination' form, as it's officially called, tells your pension provider who should receive your pension savings (the 'beneficiaries') if you die before you retire. And although it's not legally binding on the provider, they will take your wishes into account when deciding who to pay your pension out to.
How do I fill out an expression of wish form?
Each pension provider will have their own expression of wishes form, and they'll ask you complete one as soon as you sign up to the scheme – although it's not mandatory, it is recommended.
An expression of wishes form will generally ask you the following:
Your name, national insurance number and pension account number.
The name, address, date of birth and relationship of the beneficiaries you choose. This can be just one person or as many as you like.
The percentage of savings you'd like each beneficiary to have. You can choose different percentages for different people, but the total for all beneficiaries must add up to 100%.
An example of the relevant part of the form from big pension provider Aegon is below, though most forms are similar. Some may allow you to leave a portion of your pension to charity, or have space for any relevant additional information.
You can update your expression of wish any time by contacting your pension provider. If you have an online account, many providers will also have the form online. Any new form you complete will take priority over older ones.
If you can't find it online, call your pension provider who will be able to tell you where to find the relevant part of their website, or to send you a form through the post.
Who can I nominate as a beneficiary?
This depends on what kind of pension you have.
Money purchase pensions. Anyone - this could be a partner, relative, child, friend or even an acquaintance. You can also usually nominate charities, if you wish to.


Final salary schemes. You can't just nominate anyone, but you can nominate people in accordance with the scheme rules. These vary between providers, so you'll need to check with yours.
Important: If you nominate someone under age 18, a pension provider will usually only be able to pay out to them if a trust or other suitable arrangement has been set up for them.
Is there any specific phrasing I should use on the form?
Most forms just ask for the details of who you want the pension paid out to, and give you relevant fields to do that, so you may not face this.
However, some forms have a free text area, where you could specify what you would like to happen if the beneficiaries aren't around or can't be found.
But the most important point is to keep your wording as simple and to the point as possible. Avoid trying to cover a multitude of eventualities. Though it might be tempting to include highly specific scenarios, this can lead to an increased risk of misinterpretation.
Always, always review your wishes form after big life events
Don't think of this form as a "one off". As we've mentioned above you can update your form at any time - but this becomes urgent when your circumstances change.

For example, if you split up with a partner and don't change your wishes form, your ex may get the payout from your pension. As Floochy highlighted after Martin Lewis tweeted about this...
Will a pension provider always follow my wishes?
As mentioned, you can nominate whoever you want to receive pension savings – it could be a partner, relative, child, friend or even an acquaintance.
Yet while an expression of wish form is important indicator of your want to happen, which the pension provider will take it into account, it's still up to the discretion of the provider as to who it's actually paid out to. There might be circumstances when the provider decides not to follow your expression of wishes.
For example, if you had young children, and your expression of wish states that you'd like a friend to receive your pension fund, then the pension provider should also take your children's needs into consideration.
Or if you've remarried, yet your expression of wish is older and names an ex-partner, the pension provider will have a duty to make sure that your savings go to the most appropriate person.
What if my beneficiaries die before me?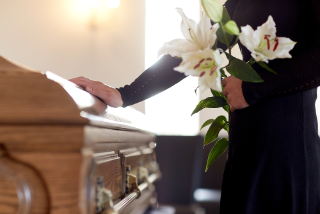 If it isn't possible to pay the pension savings to the beneficiaries you have named on your expression of wishes, your administrator will assess your circumstances and choose different beneficiaries.

You could consider naming alternative beneficiaries. For example, your expression of wishes could state that you would like to leave your pension to your spouse, but if they've died before you, you could state that you would like the funds split equally between your children.

Naming an alternative beneficiary will give you more certainty over what will happen to your funds. However, as mentioned above, you should be wary not to make your expression of wishes too complicated (for example, by giving several alternative scenarios) as this is more likely to result in ambiguity and complications.
For all the latest deals, guides and loopholes simply sign up today - it's spam free!