Returning unwanted Christmas gifts
Whether it's a Christmas jumper that doesn't fit or a gadget you'll never use, chances are at some point you've received a present you don't want. But there's no need to let an unwanted gift go to waste – this guide explains how to return it, sell it, regift it or just give it away.
For all the latest deals, guides and loopholes, simply sign up today – it's spam free!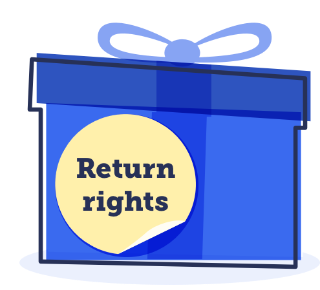 Return rights

summary

Before we get into the full guide, here's a quick general summary of your return rights as set out in the law.
If an item's faulty, by law the buyer can get a refund whether bought in-store or online.
If bought online, by phone or mail order, most items can be returned and refunded if done quickly, no matter what the reason.
If bought in a store, unless faulty you've no extra rights in law.
However, stores are often more generous than what the law states.

Stores often go above and beyond the legal rights above. Many have generous returns polices and will at least offer an exchange. Often the buyer doesn't have to return an item if you've a gift receipt.
It's also worth noting:


You may have longer for items bought over the 'festive period' (sometimes as far back as the end of October/November), as many retailers extend the time you have to take something back.
Technically only the buyer has rights, but if you've received a gift you can try yourself as many stores are accommodating.
You may need a receipt or proof of purchase (which may mean a difficult chat with the buyer to fess up).
If bought on card, any refund will often go back to the card used.
Now let's go into more detail with our returning unwanted Christmas presents FAQs...

What are my return rights for a faulty item, whether bought in a store or online?
Regardless of how you bought something (whether in store, online, by phone or mail order), if you're returning an item that's faulty, by law you can get a full refund if you return it within 30 days, though it's best to do it as soon as possible. After 30 days, the store's obliged to provide a repair or replacement item in the first instance – though of course it may choose to offer you a refund if you ask.
If you didn't buy the item but have a gift receipt, many stores effectively transfer the same rights to you, though this isn't specifically stated in consumer law. Even without a gift receipt, it's worth trying as you never know.
What counts as a faulty item?
When you buy an item from a retailer, you have basic statutory rights. An item you buy (or has been bought for you) must be of satisfactory quality (in other words not broken or damaged), as described, fit for purpose (so not unusable) and last a reasonable length of time (which will vary by item).
Know your SAD FART rights. Goods bought must be...
S

atisfactory quality,


A

s


D

escribed
F

it for purpose


A

nd last a


R

easonable length of


T

ime
Other faulty item need-to-knows

Even if the item's second-hand or reduced, it doesn't mean you get second-rate consumer rights, except where the seller pointed out the specific problems before you bought.


The same consumer rights rules apply to second-hand and sale goods from shops. They must be of satisfactory quality and, if they're faulty, you can return them. It's worth stressing that the second-hand price will be taken into account.

Watch out too if the goods were uber-cheap because of a blindingly-obvious flaw. In this case, the shop could refuse to refund you.

For second-hand goods from a private seller (someone who doesn't sell goods for all or part of their living), your rights are nowhere near as strong as when buying from a shop.


The only protection is that it's correctly described and the owner has the right to sell it. So if the seller says nowt or little about the goods and you buy it, then that's it. Even if it's shoddy, you weren't mis-sold, so have no comeback. Though you do if they lie to you.

When returning items, beware shops trying the oldest trick in the book – saying they're not responsible for the shoddy goods and you must call the manufacturer. This is total nonsense.


If a company fobs you off by saying "go to the maker instead", it's wrong. It's the retailer's job to sort it.

It doesn't matter if it's an iPad from a high street shop or a designer frock from a department store. If something's broken, torn, ripped or faulty, the seller has a legal duty to put it right as your contract is with it.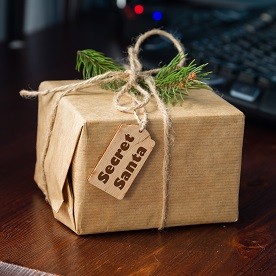 I've been given a present I don't want that was bought in a store – can I just return it?
Legally, neither you nor the buyer have any automatic right to return items bought in stores, unless they're faulty.
Many shops have their own, more generous return policies, which means the buyer may be able to return the present and get a refund, exchange or credit note. But if that's the case, this is a voluntary goodwill gesture offered at the shop's discretion, not a legal right – and it doesn't necessarily extend to you as the recipient.
That said, many shops do allow the recipient to return gifts even if they have a gift receipt or proof of purchase, such as the sales receipt. Again it's a voluntary goodwill gesture, and it's much more likely you'll get an exchange or credit note rather than a refund, but it's usually offered if you ask, particularly by big chains, so it's always worth trying.
Of course, if you weren't given a gift receipt when you got the present, or any other proof of purchase, then you may need to have an awkward conversation with whoever bought you the gift to get some proof of purchase to be able to return it. If you're uncomfortable doing that, you could try with the store anyway, but there are no guarantees it'll work.
What happens if the present was bought online and I just don't want it?
If your gift was bought online, over the phone or by mail order, then the good news is the person who bought it has return rights under the Consumer Contracts Regulations. Though as we explain later, some stores may have more generous voluntary policies.
Essentially, they have 14 days after they receive their order to notify the seller that they intend to return the item and get a full refund – and if they choose to do this, they then have a further 14 days after notifying the seller to actually return the item. So even if there's nothing wrong with the item and you just want to get something else, unless it's something perishable or personalised, you can ask the person who gave it to you to return it. However, if not faulty, you may still need to pay delivery costs.
If you have a gift receipt, while you don't have the same legal rights, most stores will allow you to exchange something, even if they won't offer a refund. For example, Marks & Spencer says if you have a gift receipt for an item bought online, you can return it to one of its stores and you'll receive a credit note. If you return it via the post, the refund will go to the original payment card.
Without a gift receipt, even if a retailer does let someone other than the buyer return an item, you'll still probably have to go via the buyer, as any refund would go to the original payment card and any exchange would likely be delivered to the same address.
I have a gift receipt for a present which I don't want – can I return it?
As we've already stated, you don't have a legal right to a refund or exchange for items bought in-store that aren't faulty, though you have more rights online. Yet many stores have more generous policies in reality. Let's assume for this example that the store is willing to offer something...
Return rights, whether legally enforced or voluntary, generally apply only to the person who actually paid for the item, and you'll usually need a receipt to prove it.

However, if you have a gift receipt or the present-giver got the shop assistant to write both on your receipt and the store's copy of the receipt that it was a gift, for example 'bought as a gift for Bob', then having this should help you as the recipient can at least exchange the item.
While gift receipts aren't specifically covered by consumer rights law and aren't offered by every retailer, if a store's willing to provide a gift receipt, it generally means it's willing to help you.
Do I get extra time to return things at Christmas?
In some shops, yes. For example, John Lewis' standard refund policy allows customers to return items and get a refund within 35 days. However, over the Christmas period it extends its policy, so this year goods bought between 27 September 2022 and 24 December 2022 can be returned up until 28 January 2023.
While Marks & Spencer normally operates a 'goodwill' returns policy, which gives customers 35 days to return or exchange an item with a receipt, for items bought in store or online between 13 October 2022 and 24 December 2022, it has an additional Christmas returns policy, which means if the 35 days have expired you can still return items until 28 January 2023.
Bear in mind that if the item you want to return isn't faulty, you may still need to pay delivery costs to return it, but this will vary by retailer. The above are just examples but do check with the store what its return policy is around Christmas.
I don't have a receipt. Do I absolutely need it?
If you weren't given a gift receipt and the item you're returning isn't faulty, it's definitely worth trying to get the original receipt from the person who bought the present – some shops may allow you to return items without one, but it depends on the individual store's returns policy.

If the gift is faulty, you don't need a receipt – you simply need to show 'proof of purchase' such as a bank statement or credit card statement.
Do I need the same credit or debit card an item was bought with?
Not necessarily – but if you don't have it, you may find it difficult because some shops will only process refunds via the same payment method. So if your Nan bought that scarf on her debit or credit card, it won't be possible to give you cash for it. You may have to settle on exchanging the item or getting a credit note.

Can't I just regift my present to a niece/friend/great-auntie-once-removed?
Absolutely. This is probably the easiest and most cost-effective way of disposing of an unwanted gift.

It might be a good idea to keep a drawer or cardboard box in your wardrobe for such gifts and make it your first port of call before you buy anything new. Just make sure you don't give it back to the person who gave it to you in the first place. Putting a tag on it when you receive it will help prevent any future regifting embarrassments.
If I can't get a refund, exchange or credit note, what are my options? Can I sell it?
Yes, this is an excellent option. Flogging your unwanted presents is a good way of converting them into cash without offending anyone.
You can try selling items on eBay, local Facebook selling groups and other sites such as Gumtree and Vinted – but bear in mind that in January lots of people will be doing the same, so prices can dip. See our 40+ eBay selling tips, Facebook selling tips and Vinted selling tips for more.
For CDs, DVDs, computer games and books, there are specialist trade-in sites which make selling quick and easy, though again you may not always get the best price.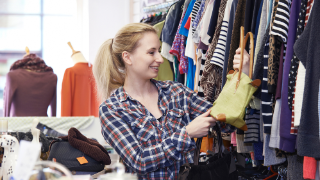 What about giving it away to a charity shop?
Many charity shops across the UK are crying out for good quality, unwanted or duplicate gifts, and you'll get a warm fuzzy feeling for doing something good.
Some charity shops even accept donations by post, especially if they sell online. For example, the British Heart Foundation accepts smaller quality items such as branded clothing, jewellery and technology using its freepost donation service.
Alternatively, you could list the item on Freecycle or other giving sites – see our Freecycle & Freegle guide for more details.
For all the latest deals, guides and loopholes, simply sign up today – it's spam free!
Have your say in our forum!