The Three Most Important Lessons You've Never Been Taught
Back to MoneySaving Basics
Get Our Free Money Tips Email!
For all the latest deals, guides and loopholes - join the 12m who get it. Don't miss out
The bestselling step-by-step detailed guide to saving money, cutting debts and getting more for less.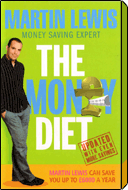 The Money Diet book is my baby, I'd always wanted to try and put the techniques, strategy and philosophy of MoneySaving in one place, so when the first edition of the Money Diet was published in March 2004, it was a very proud moment.
originally told my publisher it'd have a shelf-life of 18 months as the world of money moves so fast. Yet when I sat down with the task of rewriting and updating it for the second edition, I was surprised to discover most of the book was still relevant. Plus as MoneySaving has developed I had another 100 pages of new stuff to add.
The latest edition was published in 2006, so while some of the specifics are now out of date, it's packed with information and MoneySaving strategies that still work now.
The book is split into a number of MoneySaving sections:

The Calorie Counter. A product by product list of ways to save money, looking at how much you'll save, how long it takes and whether it's hard or easy to do.

Financial Fitness for Life. This is all about how to think like a smart consumer and stop being ripped off. It focuses on 10 golden ingredients including: Forget Loyalty; the Piggybanking Budgeting Technique; Know Yourself; High Street Haggling; Getting Your Own Back; and, of course, Spotting Loopholes.

The Crash Diet. No spiel, I won't lie to you. This section is similar to the stuff this site, but in a different format.

Healthy Eating. My complete guide to saving money on mortgages, debt and credit cards. A range of new techniques, with a holistic approach, interlinking what debt to use when and how, plus special sections on how credit scoring really works and what to do if you are in debt crisis.

The Adversarial Consumer Society. To be totally honest this section is a bit of a personal indulgence. The adversarial consumer society is my philosophy, my passion and my politics and it's what drives me and MoneySaving. It explains the 'companies are the enemy' stance behind MoneySaving; sales staff get training to close deals, so why shouldn't consumers have buying training?

This is a conversation as well as a guide. I wanted it to feel more like an easy chat than a lecture, so it's peppered with my personal 'Martin's Money Memories' - stories about me, the media, people I've met and their money.
The Three Most Important Lessons You've Never Been Taught
"The hour-long guide, designed to start you on the path to beating the system, grabbing the best deals and avoiding being ripped off."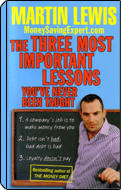 The Three Most Important Lessons You've Never Been Taught is a survival guide to living in one of the world's most competitive consumer economies. We need to change the way we think about money. This book is designed to start you on the path to beating the system, grabbing the best deals and avoid being ripped off... and it only takes an hour to read.
The ITV1 Tonight programme gave me a challenge: take a class of ordinary teenagers for one day and turn them into junior MoneySavingExperts. It was a scary concept and like nothing I'd tried before. Yet the results were astonishing: after class, the 12 pupils went home and saved their families a whopping £5,050.

Think about that. These children, with just a day's worth of lessons, were able to go home and in a significant way re-work some elements of their parents' finances. Why? Simple; because as a nation we're close to being illiterate about money and debt, are scared of finances, are taught to be loyal and listen to the bank manager. This is wrong, it's a travesty that we're a nation where when our kids go to University they are educated into debt, but never about debt.

At that point I decided it was time to try and change this mindset. So for the kids themselves I launched the free Teen Cash Guide, and then I started work on a slightly reworked version for adults; and that's exactly what this book is. As this book is based on information that should be readily taught in schools, I'm donating all my proceeds to the MSE Charitable Fund.

Lesson One: Know your enemy; a company isn't your friend

This chapter's all about understanding our relationships with companies. Remember they spend billions each year on advertising, marketing and teaching their staff to sell. And we don't get any buyers' training. Understanding how they operate and try to make us spend is the core start point.

Lesson Two: Debt isn't bad; bad debt is bad. Learn to tell them apart.

The biggest single gap in our education is debt. The days of 'neither a borrower nor a lender be' are long gone. These days we are forced to borrow to get a higher education; or to buy a house. Debt isn't bad, provided it's understood, planned for, budgeted for and as cheap as can be. Yet most people simply don't have the tools to do that. This lesson provides them.

Lesson Three: Loyalty is for losers; how to be a savvy shopper

Do you want to be the type of customer who's business is fought for, or simply taken for granted? If you are loyal companies will love you, precisely because they don't have to do any work to keep you. You subsidise those who get the good deals, and the advertising to pay for them. Lesson three teaches how to maximise your gain from companies.
Thrifty Ways For Modern Days
Edited by Martin Lewis
"The book full of fun hints and tips on living life thriftily and ethically."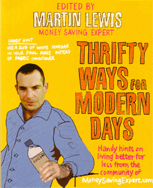 This book is jam packed with handy thrift hints and tips from the 'Old-Style' community of MoneySavingExpert.com for how to live life cheaply, healthily, ethically and thriftily.
Based on the collective wisdom of the scores of contributors to the MoneySaving Old-Style section of the Forum, the Old Style board started when many of the older visitors to the site decided to share their accumulated knowledge with other younger users. It swiftly developed into a discussion on living life cheaply, healthily, ethically and thriftily.
As this book is based on collective wisdom, I'm donating all my proceeds to the MSE Charitable Fund.
It's a fun 250 page compendium of tips and info on a huge range of household subjects. The tips come from hundreds of Old-Stylers, and the book is edited together by me in a way that makes it both a fun read, good to flick through, and a directory of hints and tips for virtually any task.
Get Our Free Money Tips Email!
For all the latest deals, guides and loopholes - join the 12m who get it. Don't miss out