If you click a link with an * to go through to a provider, we may get paid. This usually only happens if you get a product from it. This is what funds our team of journalists, and keeps us free to use. Yet there are two crucial things you need to know about this.
This never impacts our editorial recommendations – if it's in, it's in there because we independently rate it best.
You'll always get as good a deal (or better) than if you went direct.
For a more detailed explanation see How MSE is financed.
Should I get a five or 10-year fixed mortgage? Pros and cons
Currently, interest rates on many five and 10-year fixes are not far off those of shorter deals – in some cases they're actually better. But should you be fixing your mortgage for this long? This guide takes you through what you need to consider.
How do rates on five and 10-year fixes compare to two-year deals?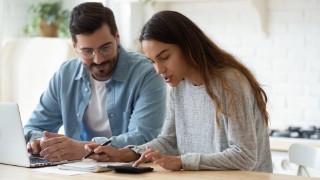 It used to be the case that the longer you fixed for, the higher the interest rate. This was because the lender was guaranteeing your rate while taking on the risk that rates would rise in future.
Yet turmoil in the mortgage market, which began in 2022, saw this pattern change. It meant that rates became – and typically continue be – better the longer you're fixing for.
Essentially, lenders expect this period of higher interest rates to be a shorter-term issue, and are expecting the cost of borrowing to decrease at some point in the future – so they're willing to offer better interest rates on longer deals.
This table shows how rates on 10-year fixes currently compare with two-year and five-year deals:

| | | | |
| --- | --- | --- | --- |
| Loan-to-value | 2-year fix | 5-year fix | 10-year fix |
| 60% | 5.61% | 4.99% | 5.04% |
| 75% | 5.61% | 4.99% | 5.04% |
| 90% | 5.89% | 5.49% | 5.34% |
Do remember that mortgage deals can be there one day and gone the next, so the table above is an indication only. One way of comparing the latest mortgage rates is by putting your details into our Mortgage best buys tool.
What are the pros and cons of locking into a longer fix?
When comparing mortgages we'd always urge you to seek the advice of a mortgage broker. And with the mortgage market currently in a state of flux this applies even more than normal (see our Cheap mortgage finding guide for more on how to get in touch with a broker).
If you're interested in a longer term fix, a broker will be able to advise how these compare to shorter deals and variable rate deals (see our What mortgage to choose guide for more on the differences between fixes and variables).
In brief though, here are the pros and cons of fixing your mortgage for the longer term:
Pros of fixing for the longer term
Protection against future interest rate hikes. The main reason to fix a mortgage is to lock in today's interest rate for a set period, such as for two, five, 10 years or longer. Once you're locked in, it doesn't matter whether interest rates elsewhere go up or down, your interest rate will stay the same for the length you've locked in. So if you're worried interest rates will increase over the coming months and years, this is one way to to protect yourself against this.

You're likely pay less in fees. Every time you set-up a new mortgage you may have to pay fees to do so – the biggest typically being the arrangement fee. This can set you back anything from £100s to £1,000+. If you had a 25-year mortgage, and you were to remortgage ten times over that period, these fees can add up.

But if you're fixing for five or 10 years, or even longer, you'll pay fewer of these fees, especially compared with someone who changes their mortgage every couple of years.


You're protected if lenders' criteria change. If mortgage providers tighten their affordability criteria in the coming years, you could find yourself unable to remortgage with a new lender at a competitive rate. A longer deal could insulate you against this, at least until the fix ends.


You'll have fewer mortgage-related credit checks. Every time you apply for a new mortgage deal, you face a thorough credit check – so in the months before remortgaging it's best to hold off on applying for other credit products to avoid bringing down your score with multiple applications. So if you're remortgaging every couple of years, you'd need to factor this into your other financial planning. With a longer fix, you'll be less restricted.
Cons of a fixing for the longer term
You could end up paying more if interest rates come down. If interest rates fall over the few years, you could look back at the end of your term and realise it would have been cheaper to take multiple shorter fixes.

There's no guarantee you'll be able to take the mortgage with you if you move home. While many mortgages are 'portable' meaning you can take them with you penalty-free if you move to another property there's no guarantee – for example, if the property you want to move to doesn't fit your lender's criteria.

If you can't port and still want to move, you will likely have to pay an early repayment charge. For more on how porting works, see our Port a mortgage guide.
You'll likely be charged if you want to clear the mortgage early. For example, if you come into some money or other life plans change. Lenders tend to allow you to overpay by 10% of your overall mortgage balance each year, but overpay by more than that and, again, you'll likely face having to pay an early repayment charge (ERC).
How long should I fix for?
There's no right answer to how long you should fix for – as so much depends on your own financial circumstances – it's not all about rate. The less spare cash you have to meet rate rises and the more you value budgeting certainty, the more you might hedge towards fixing, and fixing longer.
But while a lengthier fix can give you certainty, do remember that if you need to leave the mortgage during the term of the fix, you could face an early repayment charge if you can't take it with you.
Again, with decisions like this, a mortgage broker can talk you through how suitable different length mortgages are for your situations. So, if you're remortgaging, head to our Cheap mortgage finding guide for more on how to get in touch with a broker.

Looking for more mortgage help?
We've got lots of other helpful guides:
For all the latest deals, guides and loopholes simply sign up today – it's spam-free!
Have your say in our forum!
Have your say...