Buy your freehold
How to buy the freehold or get the right to manage
Get Our Free Money Tips Email!
For all the latest deals, guides and loopholes - join the 12m who get it. Don't miss out

Archived July 2015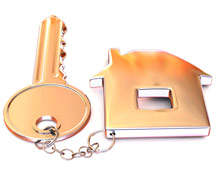 It sounds bonkers. We're happy to stump up six-figure sums for flats, when often someone else owns the land they stand on. Leaseholders must pay £10,000s to extend leases, and unfair service charges are rife.
Yet in England and Wales powerful laws mean leaseholders can force the freeholder to sell the freehold or they can just take over their building's management. This step-by-step guide shows how to fight back.
Is it worth buying my freehold?
Legislation has made it easier for leaseholders to take control and buy their freehold, effectively giving the freeholder the boot.
It's all about a legal process called collective enfranchisement, which gives you the right to club together with other leaseholders to buy the freehold for a fair market price. This underused right was brought in by a 1993 law, and boosted by the Commonhold and Leasehold Reform Act 2002.
Lease extensions are cheaper
If you don't own the freehold, leases can cost £10,000s to extend, especially if they drop to 80 years or less. Plus leaseholders must pay ground rent (usually small) and service charges (often a fair whack) to the freeholder.
You could add value to your flat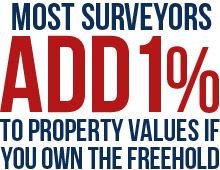 Estate agency Kinleigh Folkard & Hayward says most surveyors add an additional 1% to a flat's value for the benefit of the freehold, compared with an identical flat with the same number of years on the lease but no freehold.
Some inspiration ...
Here are a few MoneySavers' experiences for inspiration, but remember this won't work for everyone. If you've bought a share of the freehold, please post your experiences, good and bad, in the Buying a share of the freehold discussion.
Buy the freehold vs right to manage
Leaseholders who want more control over their flat have two options. They can buy the freehold, but under the Commonhold and Leasehold Reform Act 2002, most leaseholders can apply with other leaseholders for the 'right to manage' their building.
How much does buying my freehold cost?
The cost (exc. fees) is roughly the same as for extending the lease by 90 years.
The bulk of the cost is the share of the freehold itself. There's no set price. It depends on lease's length, flats' values and ground rent. It also rests on negotiations and the surveyors' valuation. The shorter the lease, the higher the cost.
Get Our Free Money Tips Email!
For all the latest deals, guides and loopholes - join the 10m who get it. Don't miss out
Buy the freehold – step-by-step guide
To qualify to buy the freehold, generally you need:
At least two flats in the building, a lease longer than 21 years and for at least 50% of leaseholders to take part.
How to buy the freehold
The process typically takes about a year – more if you have a meanie freeholder who is determined to drag it out. You will need expert advice from a solicitor specialising in collective enfranchisement.
Step 1. Galvanise the other flat owners
The first job is to see if the other residents are up for it. To buy the freehold, at least 50% of the buildings' flats need to take part, eg, if there are four flats, at least two must agree.
Have a natter to the other residents – why not print this guide or send them a link to it? Of course, if other flat-owners can't afford it, don't pressurise them. Try not to stress if you can't get 100% of flats to join in – it could well not be possible.
At this point many will ask "how much does it cost?" Provide an estimate using the how much does it cost section above, but do make clear this could differ wildly from the true cost.
Some very large blocks appoint a professional project manager to avoid lumbering one flat-owner with a multitude of tasks.
A quick note: residents must keep paying current freeholders' service charges until they've bought the freehold, even if they've a beef with them. If any leaseholders are in arrears, you must pay their share back before you can take over the freehold.
Step 2. Find a solicitor
Expert advice is absolutely crucial: the solicitor will help to prepare and serve the initial notice, negotiate a final price and amend the leases.
Don't think just because a lawyer did your divorce, they can do this job too. Ensure you place the project in the hands of a solicitor specialising in collective enfranchisement – freeholders can exploits mistakes made by the ill-advised.
The Leasehold Advisory Service lists solicitors that specialise in leasehold law, and the Law Society's Find a Solicitor tool has a section on conveyancing. Also try The Association of Leasehold Enfranchisement Practitioners' site.
Don't be afraid to consider someone from further afield; they needn't be nearby. It's perfectly possible to use someone in Newcastle when you live in central London, and it can be much cheaper. Check whether the fee is fixed or an estimate.
The more flats that take part, the cheaper each flat's legal costs. But the more the freeholder tries to drag it out, the more expensive.
The Leasehold Advisory Service advises residents to sign legally binding participation agreements to avoid logistical headaches – especially if it's a large block.
If there is no agreement, flat-owners may back out at the last minute, and you might not have enough funds or be able to meet the 50% requirement. Your solicitor can help with this.
Step 3: Value the freehold
The next step is to value the freehold. Hire a chartered surveyor who is an expert in collective enfranchisement to give a valuation a best and worst valuation, using local experience.
The Leasehold Advisory Service lists surveyors specialising in leasehold. Also try the Association of Leasehold Enfranchisement Practitioners' site. Expect to pay £500-£600 per flat, less outside London and the South of England.
Step 4. Set up a company
Enfranchising blocks must decide a 'nominee purchaser' who will buy the freehold. This can be a person or group of people, but it's usually a limited company set up by the group of leaseholders for the purpose of buying the freehold.
Setting up a company can cost between £200-£400ish plus VAT, and you need to set it up before serving the initial notice on your freeholder. You'll have to file accounts and elect directors of the company, who will take decisions after you bag the freehold. Your solicitor will help with all this, plus Companies House also has lots of good free advice on starting and running a company.
Flat-owners who volunteer to become a director of the company have the same duties and liabilities as directors of other limited companies. So do consider directors' insurance to protect yourself - your solicitor will be able to tell you more about this.
Step 5: Negotiate the price
Your solicitor may informally approach the freeholder first (if they agree, your legal costs may be slightly cheaper). If this doesn't work, they will issue an initial notice, stating your offer, which every participating leaseholder must personally sign.
From the moment the notice is served, the leaseholders are liable for the freeholders' reasonable legal and valuation costs, so ensure the notice is correct and complete.
The freeholder usually has two months to reply – if they don't, you can buy the freehold at that price. They'll then come in with a counter-offer and negotiations will bounce back and forth. If you can't thrash out a fair price, you can get the cost decided by First-Tier Tribunal, the arbiter of lease disputes.
You're eligible to go to tribunal from two months after the freeholder's counter notice was due.
Some sneaky freeholders try to stall by claiming they are happy to sell at a fair price, but then mysteriously never finalise details. Give 'em a deadline to send you a contract of sale with a fair price. Otherwise, go to a First-Tier Tribunal.
Step 6. Go to a First-Tier Tribunal
If the freeholder drives too hard a bargain, take the case to the local First-Tier Tribunal. It will set a figure. Crucially, remember:
You must apply to the First-Tier Tribunal within six months of when the freeholder's counter notice was due. Miss this window and you'll have to start all over again.
Once you apply, you usually need to wait about four months for a hearing, though it varies. The First-Tier Tribunal sends a written decision. It is possible to appeal in rare cases; consult your solicitor.
The Leasehold Advisory Service publishes lists of past First-Tier Tribunal enfranchisement decisions, though you'll need to be dedicated to wade through the legal jargon. Also see News on the Block's bulletin, which summarises key decisions. You can search and read extracts for free, but need a subscription for full info.
Once the matter's settled and you've a new lease of life (sorry), it's a good idea to get your solicitor to extend everyone's leases to 999 years. The Federation of Private Residents' Associations (FPRA) has a useful pack about what to include in a lease after you've purchased a freehold, which costs £18.
At this stage flat owners take control of the building's management. See further info for more on this.
If you have a mortgage you may also need to transfer the mortgage from the old lease onto the new one. Some mortgage companies charge and admin fee for this, not normally more than £75.
The freeholder must offer flat-owners the freehold
If a freeholder wants to sell the freehold, by law the must first offer it to the flat-owners in the building. It is a criminal offence not to.
Right to manage - step-by-step guide
Under the Commonhold and Leasehold Reform Act 2002, most leaseholders have the 'right to manage' their building. You don't have to prove any negligence, poor service or wrong doing.