Buy your freehold
How to buy the freehold or get the right to manage
It sounds daft. We're happy to stump up six-figure sums for flats, when often someone else owns the land they stand on. Leaseholders must pay £10,000s to extend leases, and unfair service charges are rife. Yet in England and Wales powerful laws mean leaseholders can force the freeholder to sell the freehold or they can just take over their building's management This step-by-step guide shows how to fight back.
For all the latest guides, deals and loopholes simply sign up today – it's spam-free!
Is it worth buying my freehold?
Legislation has made it easier for leaseholders to take control and buy their freehold, effectively giving the freeholder the boot.
It's all about a legal process called collective enfranchisement, which gives you the right to club together with other leaseholders to buy the freehold for a fair market price. This underused right was brought in by a 1993 law, and boosted by the Commonhold and Leasehold Reform Act 2002.
There are over four million leasehold flats in England and Wales and it's the most common form of flat ownership.
Freehold

This where you own your pad outright (and the land it stands on) and pay maintenance costs. As a rule of thumb, most houses are freehold and most flats leasehold.

Leasehold

If you own a leasehold flat, you effectively rent it for a period of time. The freeholder (or landlord) is usually responsible for insuring the building and maintaining communal areas.

Share of freehold

This is where a building's flat-owners club together to each buy a share of the freehold. They are responsible for insuring and maintaining the building.

Commonhold

Commonhold was introduced in 2002. It's similar to share of freehold, but there is no lease, so the years don't count down. Few have taken up this form of property ownership, so it is relatively untested.
Lease extensions are cheaper
If you don't own the freehold, leases can cost £10,000s to extend, especially if they drop to 80 years or less. Plus leaseholders must pay ground rent (usually small) and service charges (often a fair whack) to the freeholder.
Buy the freehold and you can usually extend the lease to 999 years for free. The only outlay would be legal fees.
It's important to realise a flat with a share of the freehold differs from a freehold house. Flat-owners with a share of the freehold own the freehold jointly with a building's other freeholders.
Flat-owners with a share of freehold still have a lease. They could still need to extend (though it should be free).
The cost of the freehold is similar to a 90-year lease extension, so if this is the only reason you want to buy the freehold, you may want to just Extend Your Lease instead.
There is a magic number of years below which freeholds and lease extensions become much pricier to buy. That magic number is …
If your lease has 83 years left, it's time to really start looking seriously into buying the freehold and extending your lease.
Freedom from your freeholder
Papers run stories of freeholders who charge £100,000s for work costing £50,000, and while you can go to the Leasehold Valuation Tribunal to challenge unfair charges, it costs £1,000s. Freeholders are free to pick costly providers and may pick the products and insurance policies that pay the most commission.
You've so much more control when you own a share of the freehold. Of course, you still need to pay for these services, but hopefully you will pick reasonable, quality providers – and finally fix that broken lift.
You could add value to your flat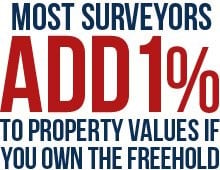 Estate agency Kinleigh Folkard & Hayward says most surveyors add an additional 1% to a flat's value for the benefit of the freehold, compared with an identical flat with the same number of years on the lease but no freehold.
The real gain is if you've a flat with a short lease that would have put buyers off, and you extend the lease at the same time as you buy a share of the freehold.
If you already had a decent length lease, eg, 999 or 99 years, buying a share of freehold will make little profit. You would still have to pay the same legal costs as someone with a short lease, but would only add a smidge to the flat's value.
Do ask estate agents, solicitors and surveyors how much value it could add.
LEASE LENGTH

FREEHOLD COST

PROFESSIONAL FEES (2)

TOTAL

POTENTIAL ADDED VALUE(3)

999 years
£3,500
£2,000
£5,500
£2,000
95 years
£5,000
£2,000
£7,000
£7,000
85 years
£6,000
£2,000
£8,000
£12,000
79 years
£8,500
£2,000
£10,500
£18,000
Freehold costs based on Leasehold Advisory Service data. Costs are per flat for a straightforward case and can vary dramatically. Based on £200 annual ground rent and block of 4 flats with all flats taking part - legal fees would be cheaper per flat for larger blocks. 1) £200,000 is value with 999 year lease, ie, added values would not take the value over £200,000. 2) This includes the leaseholders' legal fees & valuation fees, plus the freeholder's legal & valuation fees. 3) Estimates by Kinleigh Folkard & Hayward. These are typical values for straightforward cases and will vary.
Some inspiration ...
Here are a few MoneySavers' experiences for inspiration, but remember this won't work for everyone. If you've bought a share of the freehold, please post your experiences, good and bad, in the Buying a share of the freehold discussion.
"We bought a share of the freehold because we were being charged £1,000/year for buildings insurance. When we bought our own, this fell to £300/year. The freehold cost £1,500 per flat, including legal fees. We saved £700 on insurance in the first year.
"We also gained control over maintenance expenses. Before this, the freeholder would dismiss suggestions that she was forcing us to overpay and just hand us a huge bill."
MoneySaver 'westernpromise' - Jan 2012
"I have bought a share of freehold in two properties and yes, would do again as long as the price is right. In these cases the leases were less than 70 years, so one benefit was that we were able extend the lease more cheaply.
"Having a share of freehold does seem to make properties more saleable. In both cases we had poor managing agents, and it was a huge bonus to take control of the management and improve the upkeep."
MoneySaver 'squoog' - Jan 2012
We hope this guide will help you make sense of the process. This is a complex area of law, though – you also need a solicitor with expertise in the area to guide you through.
Just a note that in this guide, the word freeholder means the person who flat owners pay service charge to (otherwise known as the 'landlord'). Sometimes landlords pay rent to an even bigger company that owns the freehold and is legally known as the 'freeholder'. We've chosen to use the word 'freeholder' instead of landlord in all cases to avoid confusion with landlords who let out flats.
For all the latest guides, deals and loopholes simply sign up today – it's spam-free!
Buy the freehold vs right to manage
Leaseholders who want more control over their flat have two options. They can buy the freehold, but under the Commonhold and Leasehold Reform Act 2002, most leaseholders can apply with other leaseholders for the 'right to manage' their building.
If you don't want more control over your building, but just want to extend your lease (a good idea if it's nearing 80 years), read our Extend Your Lease guide.
Buy the freehold: Pros & cons
This is the doozy. Buy the freehold and you can usually extend the lease to 999 years for nowt (except for legal fees).
You control service charges.
You can choose value-for money, quality providers.
You normally don't need to pay ground rent.
Leases can come with a raft of conditions, which can come as a surprise after you've laid out £100,000s on your own place. For example, you may need the freeholder's permission to let the flat or keep a cat.
It can add value to your home.
Buyers generally prefer share of freehold flats to leasehold.
This is a costly manoeuvre.
Hopefully, buying a share of the freehold will ultimately add value.
The process usually takes about a year, but can drag out for longer if the freeholder attempts to thwart your attempts. You must be determined and patient.
You rely on your neighbours' co-operation.
Everybody needs good neighbours – especially if you buy the freehold together. If your building has two flats and you're bezzie mates, you could be on easy street.
Yet residents of large flat blocks can find it a stretch to pull together as an effective, organised team. Frankly, the more flats in the building, the more chance of spats – and no independent freeholder to sort things out. Add to this that some owners will probably be elusive buy-to-let landlords, who may be hard to contact.
With great power, comes great responsibility.
The new freeholders need to set up a freehold company, do the accounts, arrange insurance and keep the place spick and span. Only do this if you're happy to do some (or all) of the admin. If these jobs don't get done, it could wipe value off your flat quicker than dodgy stone cladding.
There will still be disagreements.
Even though you and neighbours will probably own the new freehold company, some will still have gripes about services charges. Reaching a consensus can be a nightmare. If Mrs Mangle tries to stonewall some repair work, claiming it was not essential, it may be difficult to force her.
The lease stays the same.
Even when you purchase the freehold, any conditions in the leases stay exactly the same, so it's wise to get a solicitor to update poorly-written or unjust leases at the same time.
Otherwise unfair conditions can still be enforced, as the new company that owns the freehold is totally separate to the individual tenants. Of course, the new company (residents) may choose not to enforce all conditions, but it's worth doing in case.
Right to manage: Pros & Cons
Buying the freehold can cost tens of thousands of pounds. You can invoke your right to manage for free (except for legal costs).
You control service charges.
As with buying the freehold, you still need to pay for these services, but hopefully you will pick fairly priced providers.
Right to manage is a simple process and usually takes five to six months, compared to a year to buy the freehold.
Little scope for freeholders to challenge.
Unlike buying a share of the freehold, there are no price negotiations.
You have great responsibility (but not much power).
The right to manage gives you all the responsibility for the building, but fewer of the perks. It's also unlikely to boost your house price.
You must still pay to extend the lease.
Even if you have the right to manage, you must still pay to extend you lease. Read the full Extend Your Lease guide for help.
You can't change the lease.
This means badly-drafted leases won't change. Though in some cases you may be able to go to the Leasehold Valuation Tribunal to get unjust leases changed.
The freeholder can still use lease conditions to excerise control.
For example, you could still have to apply to it if you want to put in a conservatory. The right to manage company has an obligation to monitor that homeowners are complying with lease conditions and report them to the freeholder if not.
Your freeholder is still around.
They can sit on the right to manage company's board and go to tribunal to end your right to manage if they claim you're doing a poor job. Plus, you and the other leaseholds in the building must cover the costs of the freeholder that are incurred during the management transfer process.
How much does buying my freehold cost?
The cost (exc. fees) is roughly the same as for extending the lease by 90 years.
The bulk of the cost is the share of the freehold itself. There's no set price. It depends on lease's length, flats' values and ground rent. It also rests on negotiations and the surveyors' valuation. The shorter the lease, the higher the cost.
As a rough rule of thumb, the cost of a share of the freehold for one flat (excluding legal fees) is similar to the cost of extending a lease by 90 years.
If you ask surveyors round for a quote on an official valuation, they will often volunteer a rough estimate of freehold's price and how much value it could add to your flat. You can also call solicitors for quotes, who may also be able to give an indication.
Freehold costs are decided by a complicated formula and vary dramatically.
The cost of the freehold itself depends, by law, on the following formula, and you must pay some or all of the following. (For further help, read the Leasehold Advisory Service's full help on valuing the freehold.)

Marriage value

If the lease is 80 years or less, you must also pay 50% of the flat's 'marriage value'. This is the amount of extra value a share of the freehold would add to your property. But remember you pay no marriage value if the lease is over 80 years. So if you've, say, 82 years left, act now.

Ground rent



You must cover the freeholder's lost ground rent over the lease's length, plus interest. This interest rate is called a 'discount rate', which the valuer decides based on how good an investment the pad is. For example, a Kensington penthouse will probably be a safer investment and thus have a higher interest rate than a large block in an insalubrious area.

Other costs to factor in
On top of the cost of your share of the freehold, you pay a few other fees:
Legal costs vary hugely, depending on the situation's complexity. Solicitors typically charge £4,000ish in total for dealing with a freehold purchase for five flats. Count on £500ish extra per flat to extend the lease to 999 years (worth doing while you're at it).

Usually the more flats that take part, the cheaper your individual legal costs. This is because the time spent is similar, regardless of whether there are two or 20 flats. Costs will be more if you go to a First-Tier Tribunal, though this is not usually necessary.
Valuation fees.

A surveyor will need to value the flat and freehold. Again, fees vary but expect to pay £500 to £600 per flat.

Stamp duty.

Stamp duty applies to lease extensions and freehold purchases in the same way as any other home purchase. However, this is unlikely to affect most flat-owners, as you don't have to pay anything if the purchase price is £125,000 or less. Use our Stamp Duty Calculator to check if it affects you.

The freeholder's fees.

You'll need to pay the current freeholder's valuation and legal fees. Sadly, they have no incentive to use a reasonably priced solicitor, but if they take the mickey, you may be able to take the case to the First-Tier Tribunal.
How to pay for it
Hopefully, buying the freehold will add value, but don't take out credit cards or loans to do it.
Mortgage broker London & Country says most lenders will extend a mortgage to pay for buying a share of the freehold or a lease extension. You'd still need enough room on the mortgage to cover it and be able to meet the repayments though. Lenders may be cautious if you've a really short lease.
Plus, remember, borrowing's cost isn't just about the rate, it's about how long it's for. The longer, the costlier – and most mortgages are over much longer periods than loans or credit cards. Do your sums with our Mortgage Calculator and see the Remortgage Guide.
Ready to get a mortgage? We've lots more guides, tools & tips to help…
How much does getting the right to manage cost?
Using your right to manage is far cheaper than buying the freehold. You pay no fee for the right to manage itself. Yet there are still costs to bear in mind.
With the right to manage, you don't need a valuer, so you save a whole chunk of professional fees.
Legal fees.

Legal fees vary according to a block's size, but typically range from £500 for a building with two flats to £1,000 for 20 flats. If the case goes to a First-Tier Tribunal, you'll have to pay more, generally an extra £1,500ish. (All prices are per building, not per flat.)

The freeholder's reasonable costs.

Leaseholders bear the current freeholder's reasonable costs. These are harder to predict, but could start at £2000 for a block of ten flats, plus VAT. For smaller blocks, the minimum cost could be £1000 even if there are only two flats. If you think these costs are too high, you may be able to challenge them at a First-Tier Tribunal.
Buy the freehold: step-by-step guide
To qualify to buy the freehold, generally you need:
At least two flats in the building, a lease longer than 21 years and for at least 50% of leaseholders to take part.
You'll need to be willing to take on some responsibility for your buildings' management. There are plenty of other legal conditions.
You need a long lease

A long lease is considered to be one longer than 21 years. It can't be a commercial lease.

Your building must qualify

The building must contain at least two flats, and at least two thirds must be leasehold, ie, not owned by the freeholder. At least 75% must be used for residential, not business, purposes. A flat-owner can't own more than two flats in the building and still take part.

Finally, if the freeholder lives in the building (or an adult member of their family has lived there for the last 12 months) and they lived there before it was converted into flats, you've no right to buy the freehold.

Certain properties are excluded

It's a no-go if it's a charitable housing trust, National Trust, crown or cathedral precinct property.

How to buy the freehold

The process typically takes about a year – more if you have a meanie freeholder who is determined to drag it out. You will need expert advice from a solicitor specialising in collective enfranchisement.
The freeholder must offer flat-owners the freehold
If a freeholder wants to sell the freehold, by law the must first offer it to the flat-owners in the building. It is a criminal offence not to.
Flat-owners may receive a notice from their freeholder informing them that the freeholder wants to sell and the price being asked. If you do not accept in time, the freehold can be sold on the open market. So if you get a notice or find the freehold was sold without giving you notice, contact a solicitor immediately.
Quick questions:
Right to manage: step-by-step guide
Under the Commonhold and Leasehold Reform Act 2002, most leaseholders have the 'right to manage' their building. You don't have to prove any negligence, poor service or wrong doing.
This doesn't necessarily mean managing the building by yourself – many blocks appoint a third party managing agent of their choosing to carry out the management for them.
While many blocks are eligible, you should probably only consider if you've beef with your property management company, for example, excessive service charges, substandard work or aggressive service charge collecting. It's always better to contact your freeholder or property management company directly to resolve the issues.
The qualification criteria for both buying the freehold and right to manage are the same. So if you can get 50% of the flat owners to participate and have enough money, you may as well go all the way and buy the freehold. For similar effort, the prize is greater.
With right to manage, you still pay for lease extensions and it's unlikely to boost your flat's price.
Is your building eligible?
Not all buildings can get the right to manage - there are a few exclusions. The bullets below give a steer, but bear in mind the law is complicated, so you'll need to ask a solicitor.
Two-thirds of the flats must be let by tenants whose lease was originally granted for 21 years or more.
It can be part-commercial but the non-residential part of the building must be no more than 25% of floor space.
You won't qualify if the landlord of any of the qualifying tenants is a local housing authority.
How to take over the building's management
The process will hopefully be speedier than buying your freehold. If you have a managing agent in mind to take on the management tasks, it is quite possible they will handle the right-to-manage process for you for free on the understanding that you appoint them to manage the building afterwards. To find one, see further help below.
Step 1. Set up a right to manage company.

Try to get 50% of flat owners together first to ensure you have enough people and aren't wasting your time and money.

You will then need to form a right-to-manage (RTM) company. A solicitor could help – the Leasehold Advisory Service lists solicitors that specialise in leasehold law. Also try The Association of Leasehold Enfranchisement Practitioners' site.

Step 2. Ask the other flat owners to take part.

The new company then formally invites all the building's leaseholders to take part, with a 'notice to participate', which your solicitor will help you draft.

Step 3. Tell the freeholder.

Once at least 50% agree, your solicitor will send a 'claim notice', telling your freeholder you want to take up your right to manage. The freeholder will then either accept or challenge your notice. There is then a period of at least four months from service of the claim notice until the right to manage is acquired.

Some freeholders dispute the claim. Don't give up – they only do it because at this point many flat-owners abandon the claim.

If they challenge, you can apply to the First-Tier Tribunal to take over the management.

Step 4: Take control.

Some blocks then appoint a managing agent to maintain the property, to arrange insurance and also collect flat-owners' service charge dues etc. See further info for help on managing your building.

You must invite the freeholder to join your right-to-manage company. The logic behind this is that the freeholder still owns the structure of the building and the land it sits on, and so has an interest in how the building continues to be managed.
Also see the Leasehold Advisory Service's info on how to get the right to manage.
Further help & advice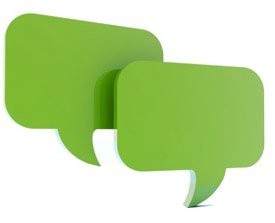 The Leasehold Advisory Service has a wealth of free advice on leasehold law, including service charges, extending your lease, buying the freehold, right to manage and applying to the First-Tier Tribunal.
You can also get advice in person or by calling 020 7383 9800.
Help managing your building
Sure, it might have been difficult buying your freehold or getting the right to manage, but now the real work starts. At this stage flat owners take control of the building's management, from repairing the roof to changing light bulbs.
Some large blocks pay a management agent to work on their behalf, which collects service changes and arranges insurance. For more info, contact the Association of Residential Managing Agents. The Royal Institution of Chartered Surveyors (RICS) also lists members that are residential managing agents.
The Federation of Private Residents' Associations (FPRA) has a pack about setting up a residents association, which costs £18. You may also decide to build up a sinking fund to pay for repairs. Your solicitor can advise on all these issues.
This guide will continue to develop over time. Please feed back on how you find this info and your successes and failures.
For all the latest deals, guides and loopholes simply sign up today - it's spam free!
Have your say in our forum!