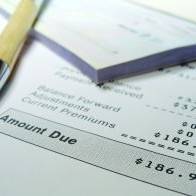 The cost of living in the UK is still falling, for some, according to Government inflation figures announced today.
The Retail Prices Index (RPI), which measures the cost of living over the past year, including mortgage costs, rose from minus 1.2% in April to minus 1.1% in May.
However, only those whose mortgage costs have plummeted over recent months will feel the force of deflation. The Office for National Statistics, which publishes inflation figures, points out that excluding mortgage interest costs, the RPI index rose by 1.6% over the past year.
The 0.1% point rise in RPI inflation has been attributed to falling mortgage payments this time a year ago, following a 0.25% point base rate cut in April 2008.
The Consumer Prices Index (CPI), which measures living costs without mortgage costs, was down from 2.3% in April to 2.2% in May. This is still above the Government target of 2% and demonstrates that many are still seeing the cost of living rise.
Yet the slight fall in CPI inflation is set against the backdrop of rising tobacco and alcohol costs following April's Budget, suggesting that rises in other food and household costs could be on the wane.