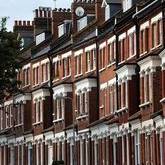 House prices rose in March after suffering their first drop in eight months in February, figures show today.
The average cost of a home rose by 1.1% during March to stand at £168,521, according to mortgage lender Halifax.
Prices fell 1.6% in February as bleak winter weather at the beginning of the year and the return of a lower £125,000 stamp duty threshold dampened demand.
Halifax says there are signs the rate of house price increases could be slowing.
Taken together, prices for the first three months of the year were 0.6% higher than the last quarter of 2009, well below the previous 3.6% quarterly increase.
Halifax housing economist Martin Ellis says: "There are signs an increase in the number of properties available for sale is beginning to reduce the imbalance between supply and demand.
"This should help to contain the upward pressure on house prices."
Commentators have also said February's falls could be down to a wider slowing in the market, as well as the one-off factors of the weather and stamp duty levels.
Figures from the Bank of England last month showed the number of mortgages approved for house purchase dropped for the third consecutive month during February to a nine-month low, suggesting activity in the housing market continues to be subdued.
Howard Archer, chief UK economist at IHS Global Insight, says the large house prices rises experienced since last year "are out of kilter with the overall economic fundamentals".
"The Halifax data reinforces our suspicion that house prices will be erratic in 2010, and we still suspect prices may very well be no better than flat over the year," he adds.
"Admittedly, it remains to be seen how much support to housing market activity and prices comes from the Government bringing in a stamp duty holiday for the next two years for first-time buyers on all properties costing up to £250,000."
Halifax says house prices in the three months to March were up 5.2% on the same period last year, the largest annual increase since December 2007.
It also says prices are 9.1% above their lowest point in April last year.
Further reading/Key links
Valuation loophole: Free House Price Info
Cheap home loan debt: Cheap Mortgage Finding
Latest house prices: Nationwide, Land Registry, Halifax