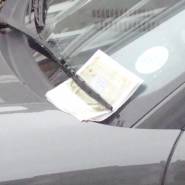 A campaigning motorist from Sunderland has lost his test case legal battle against controlled parking zones that he claims are "too large".
Had Neil Herron won his case, it could have affected the legitimacy of parking tickets issued across the country in other "over-sized" controlled parking zones and led to thousands of motorists applying to have parking fines quashed.
Herron, 47, a former market trader, argued that the zone in Sunderland city centre is so large it confuses drivers with its signs and is unlawful (see the Parking Appeals guide).
He wanted a ruling that 39 penalty charge notices issued against him for parking on single yellow lines in the zone are unenforceable, challenging decisions rejecting his claim by the National Parking Appeals Service.
But Mr Justice Bean, sitting at the High Court in London, ruled against his challenge.
The judge said Mr Herron's case was "entirely based on technicality and utterly devoid of merit".
His lawyers had argued at a recent hearing that local authorities were relying on the confusion generated by the zones to make money out of parking fines, an accusation which was hotly disputed.
Further reading/Key links
Dispute parking tickets: Parking Appeals (public land), Private Parking,
Cut motoring costs: Cheap Petrol & Diesel