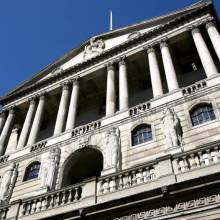 Interest rates have been kept on hold today as policymakers maintain their "wait-and-see" approach ahead of government plans to tackle the UK's deficit.
The Bank of England's Monetary Policy Committee (MPC) pegged rates at a record low of 0.5% and left its £200 billion programme to boost the money supply unchanged after its two-day meeting (see the Top Savings and Cheap Mortgage Finding guides for the best rates for your cash and homeloan).
The committee has not budged on policy since last November and will want to weigh up the impact of Chancellor George Osborne's emergency Budget - due on June 22 - on inflation before making its next move.
The coalition has announced £6.2 billion in spending cuts so far and rates may stay at record lows for longer to offset more of the likely pain ahead and prevent the UK sliding back into recession.
IHS Global Insight economist Howard Archer says: "The Government's plans will become a lot clearer in the emergency Budget and this will undoubtedly play a major role in the Bank of England's thinking on how monetary policy pans out over the coming months.
"Even if the bulk of fiscal tightening does not start until 2011/12, once people know more details of what is coming it could very well have a dampening impact on their behaviour."
Mr Archer predicts rates to stay at 0.5% into next year, although the Organisation for Economic Co-operation and Development has said the Bank should wait no longer than the final quarter of the year before moving and expects interest rates to reach 3.5% by the end of 2011.
A fine balance
The MPC is having to weigh up a fragile UK recovery and current European turmoil against risking the return of soaring inflation if rates stay low for too long.
The cost of living - measured by the change in the Consumer Price Index (CPI) - hit a 17-month high of 3.7% in April, although Bank governor Mervyn King believes it will fall back to its 2% target "within a year".
In an open letter to the Chancellor, the governor blamed high oil costs, a weaker pound and the rise in VAT to 17.5% in January for the consumer prices index (CPI) being higher than expected over the past year.
Further reading/Key links
Boost your rate: Top Savings
Cut-price homeloans: Cheap Mortgage Finding