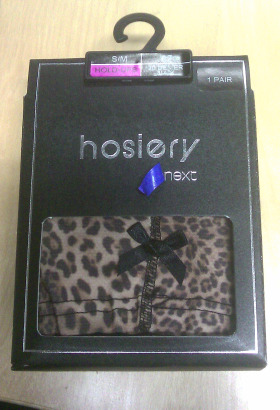 Next, the high street fashion retailer, believes stock stolen from one of its lorries last year is being sold at bargain store Poundland.
Yesterday Next contacted MoneySavingExpert.com regarding the £1 tights deal we revealed in last week's email. The tights had a label on covering up the Next brand, similar to the Boots No.7 products re-labeled and sold in the store (see the full Disguised Poundland Bargains guide).
Next alleges that, following a raid on a delivery lorry in September 2009, the tights – normal price £7 per pair – were among the stock taken.
After a Next employee saw the story, they spotted the tights on sale in Poundland (for £1 a pair), and believed the product code on the item matched the stolen tights', the retailer began investigating.
However, there is no implication whatsoever that Poundland was knowingly involved in any theft or was aware the items could be stolen.
A Next spokesperson confirmed the company's suspicions:
"Having purchased some samples of the tights on sale, we suspect the stock to have come from a consignment that was stolen last year. All of our investigations are pointing to this at the moment.
"Poundland, which would have no reason to know the stock had been stolen from us, has been made aware of our suspicions and the police have been informed.
"I can confirm that Poundland has agreed to remove the items from sale and the matter is under police investigation."
When contacted by MSE, Poundland chief executive Jim McCarthy issued this statement:
"Poundland acquired the Next goods through a trusted supplier channel and until yesterday was unaware of the possibility that this stock could be stolen.
"We are aware that the origin of these products is under investigation by the police and are working closely with Next to resolve this matter.
"We have agreed to remove the items from sale with immediate effect.
MSE has contacted Leicestershire Police force, who are investigating the matter, and are waiting for their comments on the case.
£7 tights for £1
Martin Lewis, the creator of MoneySavingExpert.com comments:

"For a while these tights were for sale and people thought they were legitimately saving cash on them. The original prices were stuck on the top, and they usually retail for £7 and £6."

"All customers needed to do to reveal the product's real identity was peel back the little black sticker located under the 'hosiery' writing. That in itself doesn't indicate a theft, as they could simply be a rebrand from a different factory. Yet now it seems they possibly were a real steal."