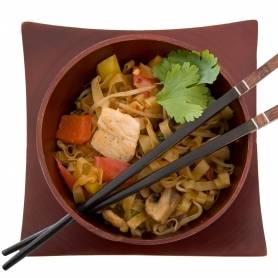 Men are more likely than women to fraudulently bag themselves a free meal.
Our poll of 12,226 people also found the younger you are, the more likely you are to wriggle out of paying for your lunch or dinner (see the Restaurant Vouchers guide).
We asked users whether they would have a loyalty card stamped by a stolen stamp to get free food, even though it is against the law.
Men under 30 were most likely to steal in this way as four out of five (79%) of those sampled would take the stamp compared to three quarters (74%) of women of the same age.
While men are more likely than women to commit theft throughout the age groups, as both genders get older, the proportion of people likely to do it drops radically.
Less than one in four of over 50s women (23%) would use the stamp in this way.
Martin Lewis, MoneysavingExpert.com creator, 38, says: "I was inspired to ask this question after overhearing one chap boast to his mate that his friend had nicked a Nando's stamp and would stamp cards for free food.
"I must admit to being a little shocked that the majority of people are willing to use a card even though we expressly explained it is likely to be fraud or theft. Then again, looking at the trend of answers, maybe this just shows I'm getting old."
Below are the results, from the question: if your friend had a stamp (for Nando's or anywhere else) would you use it?
Further reading/Key links
Cheap eating: Restaurant Deals
Cheap entertainment: Days Out Deals