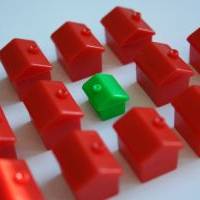 House prices will edge ahead by 2% next year but property values will be 16% higher by the end of 2014, an economics consultancy predicted today.
The Centre for Economics and Business Research (CEBR) expects house prices to rise by only 2.2% in 2011 as unemployment increases on the back of public sector cuts and household incomes remain under pressure (see the Free House Price Valuation guide).
But it expects low interest rates, further quantitative easing (printing money) from the Bank of England and the ongoing housing shortage in the UK to offer some support to the market.
As a result, it predicts values to be 16% above their current level by the end of 2014.
The forecast contrasts significantly with those from many other economists.
Howard Archer, of IHS Global Insight, expects house prices to fall by 10% during the coming year, while Capital Economics still expects a 20% slide in values between now and the end of 2012.
'Rise significantly'
Douglas McWilliams, chief executive of the CEBR, says: "Quantitative easing is a very powerful medicine and is likely to have a strong impact on the housing market eventually.
"House prices may not move much during 2011 but they are likely to rise significantly in the following three years on the back of quantitative easing to offset the impact of the fiscal retrenchment."
The group expects house prices to end this year just under 7% higher than they started it, at an average of £179,411.
Sluggish growth in 2011 will be followed by stronger increases of 4% in 2012, 5.4% in 2013 and 4% in 2014, to leave the average property costing £208,816, it adds.
The CEBR says a decision by the Bank of England to embark on a fresh round of quantitative easing would reduce long-term interest rates and help to boost mortgage lending.
As a result, it expects the number of mortgages advanced each month to rise from its current level of just 47,000 to around 77,000 by 2014, although this figure is still below the peak of 119,000 in 2006.
Further reading/Key links
Valuation loophole: Free house price valuation
Cut home loan debt: The Remortgage Guide, Free Mortgage Guide
Latest house prices: Nationwide, Land Registry, Halifax